Mobile Ed: Essentials Bundle (3 courses)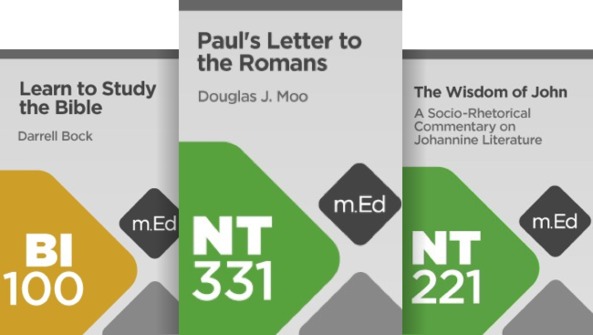 Overview
The Mobile Ed: Essentials Bundle features three of our most popular and highest-rated courses—and this is no surprise. Douglas Moo, Ben Witherington III, and Darrell Bock are some of today's most respected scholars. Not only are they experts in their fields, they are passionate about their subjects—and it shows. These courses are phenomenal.
In BI100 you'll learn Dr. Bock's framework for Bible study and how to put each concept into practice using Logos 6's newest features. In NT221 Dr. Witherington walks you through John's entire corpus (Gospel of John, 1–3 John, and Revelation), and in NT331 Dr. Moo provides a comprehensive look at Paul's Letter to the Romans.
Individual Courses
Dr. Darrell Bock, one of the world's foremost biblical scholars, has distilled his decades of research and teaching experience into this single course on how to study the Bible with Logos 6. This is the ideal companion to your Logos 6 base package.
Dr. Bock begins by teaching you how to read Scripture in four basic steps. Then he teaches you how to study Scripture by understanding the original context and genre it was written in. He describes the social, literary, and historical elements of context; following that, he covers genres, like narrative and biography, and subgenres, like those in the Psalms.
Dr. Bock's teaching is paired with nearly a dozen Logos 6 training videos. You will learn how to use the new features in Logos 6 as you explore the life of the Apostle Peter, uncover the literary context of Ruth, find all of the Davidic Psalms about God's faithfulness, and more. If you want to study the Bible on a deeper level using Logos 6, and you need a place to start, this course was designed for you.
Contents:
Getting Ready to Study the Bible
Reading the Passage: Four Steps
Working with Contexts
Using Logos
Recognizing Genre
Putting It All Together
Dr. Darrell L. Bock research professor of New Testament studies and professor of spiritual development and culture at Dallas Theological Seminary, serves as editor-at-large for Christianity Today, and is on the board of Chosen People Ministries and Wheaton College. From 2000 to 2001, Dr. Bock served as president of the Evangelical Theological Society.

Why is the Johannine literature—Gospel of John, 1–3 John, and Revelation—so different from the other books in the New Testament? What does the style of these books tell us about Jesus and his message to the church? Dr. Ben Witherington III—one the world's top evangelical scholars—walks through one-third of the New Testament and covers several genres so you will encounter these familiar books with fresh eyes. He examines these books not only as a group, but also individually with an emphasis on the social and historical context of each one.
Dr. Witherington packed the last three decades of his research on Johannine literature into this course, designed specifically for Mobile Ed. Read the Johannine literature as you never have before—through the lens of Jewish wisdom literature—and deepen your understanding of God's Word.
Contents:
Introduction to the Gospel of John
The Gospel of John: Prologue
The Gospel of John: The Book of Signs
The Gospel of John: The Book of Glory
The Gospel of John: Epilogue
Introduction to John's Epistles
Second John: Truth and Love in the Church
Third John: Troubleshooting in the Church
First John: Theological Ethics
Introduction to the Book of Revelation
Revelation: Inaugural Vision and Seven Messages to Churches
Revelation: Visions of Heavenly Worship
Revelation: Seven Seals and Trumpets
Dr. Ben Witherington III is considered one of the foremost evangelical scholars in the world and is an elected member of the prestigious Studiorum Novi Testamenti Societas (SNTS), a society dedicated to New Testament studies. Dr. Witherington received his MDiv from Gordon-Conwell Theological Seminary and his PhD from the University of Durham. He currently serves as the Amos Professor of New Testament for Doctoral Studies at Asbury Theological Seminary, and on the doctoral faculty at St. Andrews University in Scotland.
Paul's epistle to the Romans is one of the most important theological treatises ever written. In this upper-division course, Douglas Moo traces the major theological themes of Romans, following Paul's flow of thought from argument to argument. Moo covers essential historical and theological backgrounds, and brings students into Romans' traditional interpretations and the newer ideas developed by the New Perspective on Paul.
Contents:
Introduction
The Universal Reign of Sin
Justification by Faith
The Hope of Salvation
God's Faithfulness and Israel
Christian Conduct
Dr. Douglas Moo teaches New Testament at Wheaton College in Wheaton, Illinois. For over 20 years, his ministry was based at Trinity Evangelical Divinity School in Deerfield, Illinois. His academic interests revolve around the interface of exegesis and theology. Dr. Moo seeks to model to students a rigorous approach to the Greek text that always asks the "so what" questions of ultimate significance and application. The Pauline and general epistles have been his special focus within the NT canon.
As Seen on Faithlife Today
Getting the most out of Mobile Ed
Logos Mobile Education is a highly effective cross-platform learning environment that integrates world class teaching with the powerful study tools and theological libraries available in Logos Bible Software. Every course provides links to additional resources and suggested readings that supplement the lecture material at the end of every transcript segment.