Essays on Women in Earliest Christianity (2 vols.)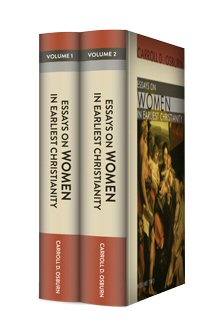 Essays on Women in Earliest Christianity (2 vols.)
•
Runs on Windows, Mac and mobile.
Overview
How can modern Christians understand God's intention for a woman's role in the church? Carroll Osburn's two volumes exemplify recent research on women in the Bible and the early church. These volumes include essays on women from the Old and New Testament as well as women during the initial few centuries of Church history. Define the role these early women played in the Church, and explore how they lived lives devoted to God with essays that cover a variety of topics. Pastors will gain insight and wisdom as a pastor on how to affirm and enable women to worship and serve.
In the Logos editions, these volumes are enhanced by amazing functionality. Important terms link to dictionaries, encyclopedias, and a wealth of other resources in your digital library. Perform powerful searches to find exactly what you're looking for. Take the discussion with you using tablet and mobile apps. With Logos Bible Software, the most efficient and comprehensive research tools are in one place, so you get the most out of your study.
Key Features
Examines the roles of historical women during the initial stage of the Church
Focuses on a feminine aspect of worship and belief
Contains multiple perspectives from a large group of contributors
Individual Titles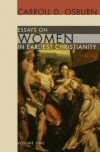 This book focuses on an often neglected topic: women and their important role as deaconesses, examples of godliness, and co-laborers for the gospel. Essays on women in Earliest Christianity contains a variety of perspectives from many authors who have laid out the biblical and historical examples of feminine Christian worship.
Contents
"Women in the Church in Recent Discussion" by Kathy J. Pulley
"Women in the Old Testament" by John T. Willis
"Women in Hellenistic and Roman Worlds (323 BCE–138 CE)" by Gregory E. Sterling
"Jewish Women in the Greco-Roman Era" by Randall D. Chesnutt
"'Neither Male and Female' (Gal. 3:28)" by Jan Faver Hailey
"'Phoebe' and 'Junia(s)'—Rom. 16:1–2,7" by James Walters
"1 Cor. 11:2–16— A Re-investigation" by Mark C. Black
"The Interpretation of 1 Cor. 14:34–35" by Carroll D. Osburn
"'Submission' in Eph. 5:21–33" by Kenneth V. Neller
"Women in the Earlier Philippian Church (Acts 16:13–15; Phil. 4:2–3) in Recent Scholarship" by J. Paul Pollard
"Admonitions to Women in 1 Tim. 2:8–15" by Thomas C. Geer, Jr.
"The Identity of the 'Women' in 1 Tim. 3:11" by Barry L. Blackburn
"The 'Widows' in 1 Tim. 5:3–16" by Marcia D. Moore
"Titus 2:5—Must Women Stay at Home?" by Stanley N. Helton
"The Submission of Wives in 1 Peter" by James W. Thompson
"Markan Characterization of Women" by Frederick D. Aquino and A. Brian McLemore
"Women in Matthew's Gospel: A Methodological Study" by Larry Chouinard
"Women in the Gospel of Luke" by Allen Black
"'Anti-Feminist' Tendency in the 'Western' Text of Acts?" by Jeffrey W. Childers and L. Curt Niccum
"Women in the Post-Apostolic Church" by Everett Ferguson
This is the most balanced and enlightening collection of essays on women in early Christianity that I have seen. . . Hermeneutical questions are raised that will stimulate discussion and will provide insight to anyone dealing with the role of women in the Church.
—Klyne Snodgrass, professor, North Park Theological Seminary
These wide-ranging essays mark an important contribution to a most significant issue in the contemporary church. Not all will agree with every opinion offered, but all can profit from a careful reading of this . . . thoughtful and probing book.
—E. Earle Ellis, research professor of theology emeritus, Southwestern Baptist Theological Seminary
The contributions to this volume are thorough, well written, carefully researched. . . Some of them may even be considered definitive. A volume of this magnitude will be received with gratitude by all who are engaged in the study of this agonizingly important issue.
—John McRay, professor emeritus of New Testament and archaeology, Wheaton College Graduate School
Volume two continues the discussion of women in early Christianity. Topics include Sarah, Deborah, women in the Gospel of John, gender roles, and more. The authors also examine the role of women in the church to help readers gain a deeper understanding of this important issue in modern Christianity.
Contents
"In the Beginning: Male and Female (Gen 1–3)" by Rick R. Marrs
"Sarah—Her Life and Legacy" by Jack W. Vancil
"Deborah—Judge, Prophetess, Military Leader, and Mother in Israel" by Charme E. Robarts
"'Wise Women' in the Bible: Identifying a Trajectory" by Michael S. Moore
"Huldah and Other Biblical Prophetesses" by John T. Willis
"Mate, Mother, and Metaphor: Gomer and Israel in Hosea 1–3" by Timothy M. Willis
"The Capable Wife (Prov 31:10–31)" by Jack P. Lewis
"A Note on Luke 18:29–30" by John McRay and Carroll D. Osburn
"Women in the Gospel of John" by Frank Wheeler
"ΥΠΑΝΔΡΟΣ—Subordination of Women in Rom 7:2" by James C. Walters
"1 Cor 7:4—Authority Over the Body" by Robert F. Hull, Jr.
"Priscilla and Aquila—Co-Workers in Christ" by Wendell Willis
"Women and Prophecy in the Corinthian Church" by Gary Selby
"1 Cor 11:2–16—Public or Private?" by Carroll D. Osburn
"Was Sarah a Believer? Reflections on Hebrews 11:11" by James Thompson
"Tertullian—Against Women?" by Earl Lavender
"Women Ministers in Constantinian Christianity" by Frederick W. Norris
"Women in the European Middle Ages" by Dale Pauls
"The Problem of Credulity of Women in the History of Christian Thought" by Gerald C. Tiffin
"Gender Roles and Conservative Churches: 1870–1930" by Kathy J. Pulley
"The Cult of True Womanhood and the Disciple Path to Female Preaching" by Fred A. Bailey
"The Role of Women in the New Testament Doctrine of Ministry" by Allan J. McNicol
"Women in the Church: The Hermeneutical Problem" by Thomas H. Olbricht
This second collection of essays is a worthy successor to the earlier volume. Again we have a well researched and balanced set of articles discussing the role of women in particular Bible passages and in Christian tradition from Tertullian to modern times. The book as a whole provides a helpful link between detailed scholarly interpretation of the scriptures and modern practice.
—J. Keith Elliott, reader in New Testament textual criticism, University of Leeds
About Carroll Osburn
Carroll Osburn is the retired Carmichael-Walling Distinguished Professor of New Testament at Abilene Christian University, where he taught at the College of Biblical Studies for 17 years.
More details about these resources