Mobile Ed: BI181 Introducing Bible Translations (2 hour course)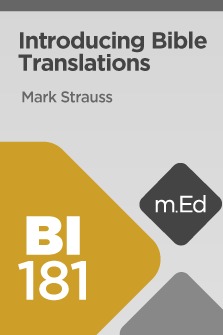 Mobile Ed: BI181 Introducing Bible Translations (2 hour course)
•
Runs on Windows, Mac and mobile.
Overview
Bible translation expert Dr. Mark Strauss introduces the philosophies of translation in order to equip students in their selection of a specific version (or versions) of the Bible. Dr. Strauss compares functional and formal equivalence and describes the strengths and weaknesses of each. He discusses elements of language such as gender terminology, idioms, and metaphors to reveal the importance of this often-overlooked but fundamental part of preaching, teaching, and personal Bible study.
Learning Objectives
Upon successful completion you should be able to:
Define the terms "formal equivalence" and "functional equivalence"
Describe key strengths and weaknesses of both formal equivalent translations and functional equivalent translations
List examples of formal equivalent, functional equivalent, and mediating translations
Describe ways languages can differ and the limitations those differences place on translation
Discuss the difficulties of translating idioms, metaphors, and collocations
Discuss the issue of grammatical gender versus biological gender and what that means for Bible translation
Course Outline
Introduction
Introducing the Speaker and the Course
Unit 1: Introduction to Bible Translation
Language and Translation
Philosophies of Translation
Comparing Translations Using the Version River Graph
Need for Translations
Examining the Various Translations of "Gospel"
Unit 2: Translation Processes
Lexical Semantics
Studying "Grace" with the Bible Sense Lexicon
Gender Language
Translating Idioms
Helpful Resources for Translating Biblical Idioms
Translating Metaphors
Using the UBS Handbooks to Help Translate Metaphors
Translating Collocations
Searching the NET Bible Notes for Collocations
The Precedence of Meaning over Form
Creating a Parallel Bible Layout in Logos
Unit 3: Translation Philosophies
Strengths of Formal Equivalence
Using Visual Filters to Highlight Greek Words in English Translations
Strengths of Functional Equivalence
Conclusion
Comparing Translations Using the Text Comparison Tool
Product Details
Title: BI181 Introducing Bible Translations
Instructor: Mark L. Strauss
Publisher: Lexham Press
Publication Date: 2014
Product Type: Logos Mobile Education
Resource Type: Courseware, including transcripts, audio, and video resources
Courses: 1
Video Hours: 2
About Dr. Mark L. Strauss
Dr. Mark L. Strauss is the professor of New Testament at Bethel Seminary in San Diego. He has written several books, including The Davidic Messiah in Luke-Acts, Distorting Scripture? The Challenge of Bible Translation and Gender Accuracy, and Luke in the Zondervan Illustrated Bible Background Commentary series.
Getting the most out of Mobile Ed
Logos Mobile Education is a highly effective cross-platform learning environment that integrates world class teaching with the powerful study tools and theological libraries available in Logos Bible Software. Every course provides links to additional resources and suggested readings that supplement the lecture material at the end of every transcript segment.
This course was produced with screencast videos. These videos provide tutorials showing you how to use Logos Bible Software in ways that are tied directly into the content of the course. We are now producing Activities resources as a replacement for screencast videos. We plan on updating this course to include this additional Activities resource in the future for no extra charge.
More details about these resources