Mobile Ed: LD202 Communication and Organizational Leadership (11 hour course)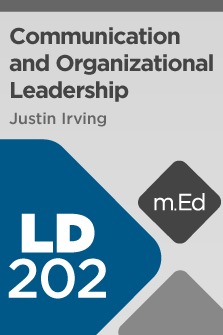 Mobile Ed: LD202 Communication and Organizational Leadership (11 hour course)
•
Runs on Windows, Mac and mobile.
Overview
Conflict and change are inevitable in community. In LD202, Dr. Irving takes a macro-level approach to leadership, considering questions of organizational purpose, mission, and identity. A variety of communication and leadership strategies are introduced, combined with biblically based principles, to help you face the challenges that are most likely to arise in your ministry or non-profit organization. This course identifies the right questions to ask in order to identify an organization's mission, the appropriate strategies to get there, and how the Leadership Communication Pyramid can help create and support organizations that bring about lasting change. Using Scripture as a foundation for this communication and leadership work, LD202 is an invaluable aid for anyone who wants to help organizations function successfully.
Course Outline
Introduction
Introducing the Speaker
Introducing the Course
Unit 1: The Leadership Communication Pyramid
The Three Sides of the Leadership Communication Pyramid
The Base of the Leadership Communication Pyramid
Organizational Culture
Organizational Conflict
Visionary Change
Our Guide through the Course
Unit 2: Foundations of Communication
The Components of Leadership Communication
Types of Communication
Levels of Communication
The Shannon-Weaver Model of Communication Theory
The Schramm Model of Communication Theory
The Sanford, Hunt, and Bracey Model of Communication Theory
The Tubbs Model of Communication Theory
An Integrated Model of Communication Theory
The Leader as Communicator
The Ontology of the Communicator
The Attitude of the Communicator
The Behavior of the Communicator
Formulating the Message
Story, Values, and Emotional Intelligence Inform the Core Message
Pathways and Characteristics of Communication Channels
Other-Centered Communication
Communication Concepts from General Leadership Studies
Review and Summary of Communication Theory
Barriers to Effective Communication
Bridges to Effective Communication
Unit 3: Leadership Theory: Grounded in Scripture
Leadership vs. Management Communication
Transactional vs. Transformational Leadership
Communicating as a Transformational Leader
Scripture, the Christian Story, and Organizational Leadership
Christian Love
Christian Truth
Christian Purpose and Mission
Life in Christ and the Leader's Capacity to Lead
Assessing Competence and Context
Summary of Leadership Communication
Unit 4: Leading Organizational Culture
Primary Questions in Organizational Culture
The Definition and Dimensions of Organizational Culture
Culture vs. Identity
Purpose as an Element of Culture
Levels of Purpose
Developing Statements of Purpose
What Purpose Provides
An Organization's Mission
Effective Mission Statements
The Elements of Strategy
Effective Strategies
The Role of Values and Beliefs
Value Statements Address Several Categories
Value Domains
Effective Value Statements
The Function and Purpose of Vision
Demystifying Vision
Essential Aspects of Vision
The Components of Vision and Why Vision Is So Powerful
Another Look at the Essential Characteristics of Vision
Leadership, Vision, and the Bible
Stages of Culture Leadership
Foundational Considerations for Organizational Culture
Back at the Intersection
A Summary of Organizational Culture
Unit 5: Leading through Organizational Conflict
Glorifying God through Inevitable Conflict
Relational Benefits of Constructive Conflict
Constructive Conflict Helps Us Understand the Issues
Constructive Conflict Helps in Identifying and Implementing Solutions
The Conflict Paradox
Diverse Sources of Conflict
Types and Levels of Conflict
Approaching Conflict
Ken Sande's Basic Conflict Styles
Hall's Styles of Conflict Management
Leas' Conflict Management Styles
Summarizing Conflict Styles
Introducing Resolution Strategies: Sande's Four Gs
Glorifying God and Getting the Log Out of Our Own Eyes
Restoring and Reconciling
Lewis' Principles for Resolving Conflict
Ury's Joint Problem-Solving Strategy
Ury's Potential Barriers to Resolution
Reaching the Summit of Reconciliation
Foundational Considerations for Organizational Conflict
Guidelines for Communication in Conflict
Leading from Ontological Security in Christ
A Summary of Organizational Conflict
Unit 6: Leading through Change
The Inevitability of Change
Intrapersonal Hindrances to Change
Interpersonal Hindrances to Change
Team and Organizational Hindrances to Change
Sociocultural and Environmental Hindrances to Change
Planned, Unplanned, and Emergent Change
Technical, Adaptive, and First- and Second-Order Change
How People Change
Anxiety Efficiency Curve
The Readiness for Change
The Timing of Change
The Organizational Life Curve and the Timing of Change
Unit 7: The Visionary CHANGE Process
The Priority of Vision in the Change Process
Introducing the Visionary CHANGE Process
Create Urgency
Harness a Guiding Coalition
Align the Majority
Navigate the Course of Vision
Galvanize the Change through Routine
Establish a Culture of Change
Foundational Considerations for Visionary CHANGE
Conclusion
Product Details
Title: LD202 Communication and Organizational Leadership
Instructor: Justin Irving
Publisher: Lexham Press
Publication Date: 2015
Product Type: Logos Mobile Education
Resource Type: Courseware, including transcripts, audio, and video resources
Courses: 1
Video Hours: 11
About Justin Irving
Dr. Justin Irving is the director of the doctor of ministry program and professor of ministry leadership at Bethel University in St. Paul, Minnesota. Dr. Irving has served as a worship leader and a pastor of leadership development and outreach in the local church. He has focused his writing and research on servant leadership, team leadership in the global context, self-sacrificial leadership, and the relationship between servant leadership and the effectiveness of teams in diverse ethno-linguistic communities.
Getting the most out of Mobile Ed
Logos Mobile Education is a highly effective cross-platform learning environment that integrates world class teaching with the powerful study tools and theological libraries available in Logos Bible Software. Every course provides links to additional resources and suggested readings that supplement the lecture material at the end of every transcript segment.
This course comes with an Activities resource that functions as a type of "workbook" for the course. This resource includes learning activities such as: places for you to respond to reflection questions, exercises that will challenge and show you how deepen your understanding of this course by using specific Logos tools and resources, tutorial videos on different features of Logos Bible Software, and links to relevant Logos guides and tools. A link to open the Activities resource is conveniently placed at the end of every segment.
More details about these resources