Mobile Ed: LD101 Introducing Ministry Leadership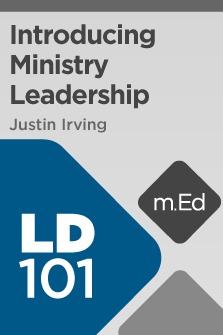 Mobile Ed: LD101 Introducing Ministry Leadership
•
Runs on Windows, Mac and mobile.
Overview
In LD101, Dr. Irving introduces the critical subject of ministry leadership. Effective leadership is an essential component of any healthy organization, but what makes ministry leadership unique? In addition to providing surveys of contemporary leadership theories and obstacles to effective leadership, Dr. Irving explains the uniquely Christian approach to leadership, offering biblical examples from both the Old Testament and the New Testament. This course also demonstrates how the radical nature of servant leadership can transform your ministry.
Course Outline
Unit 1: Approaching Leadership from a Christian Perspective
What Is a Christian Perspective on Leadership?
A New Testament Example from Philippians 2: Part 1
A New Testament Example from Philippians 2: Part 2
An Old Testament Example: Joshua
Joshua: Leadership in Early Life
Joshua: Leadership Tried and Tested—Succession and Success
Joshua: Leadership Calling and Courage
Joshua: Leadership Failure
Joshua: Leadership Legacy
Theoretically Informed: Leadership and Management
Theoretically Informed: Setting Direction and Vision: Part 1
Theoretically Informed: Setting Direction and Vision: Part 2
Practically and Contextually Situated: Part 1
Practically and Contextually Situated: Part 2
A Christian Approach to Leadership
Unit 2: Frameworks for Ministry Leadership
Purpose in Leadership: Part 1
Purpose in Leadership: Part 2
Path-Goal Leadership Theory and Behavior
Follow Focused
Servant Leadership: Mark 10:35–45
Servant Leadership: Contemporary Models 1
Servant Leadership: Contemporary Models 2
Servant Leadership: Beginning with Authentic Leaders
Servant Leadership: Understanding the Priority of People
Servant Leadership: Helping Followers Navigate toward Effectiveness
Servant Leadership: John 13
Motivating through Purpose
Unit 3: Self-Leadership
Introduction to Self-Leadership
Values and Virtues
The Dark Side of Leadership
Leadership Emergence Theory
Leadership Antecedents and Resilience
Life Goals and Motivation
Basic Conflict Styles
Emotional Intelligence: Part 1
Emotional Intelligence: Part 2
Personality Styles and Strengths in Leadership: Myers-Briggs
Personality Styles and Strengths in Leadership: StrengthsFinder
Unit 4: Leading Individuals
History of Leadership Theory
Situational Approaches to Leadership
Follower-Oriented Leadership Theories
Unit 5: Leading Teams and Groups
Introduction to Team Leadership
Teams versus Groups
What Makes for an Effective Team Member?
What Makes for Effective Team Relationships?
Standard Developmental Sequence of Teams and Groups
The Role of the Leader on Teams
Team Leadership Models
Dimensions of Team Leadership and Dysfunctions of a Team
Unit 6: Leading Churches and Organizations
Introducing Leadership at the Organizational Level
Attitudes toward People: Theories X and Y
Attitudes toward People: Theory Z
Systems Thinking
Organizational Roles
Communicating Effectively as a Leader
Level-Five Leadership
Can Level-Five Leadership Be Developed?
Myth of Excellence
Types of Change to Consider
Leadership in Emergent Self-Organization
Reimagining the Church
The Four-Frame Model
"The Advantage" and Teams
Product Details
Title: LD101 Introducing Ministry Leadership
Instructor: Justin Irving
Publisher: Lexham Press
Publication Date: 2015
Product Type: Logos Mobile Education
Resource Type: Courseware, including transcripts, audio, and video resources
Courses: 1
Video Hours: 9
About Justin Irving
Dr. Justin Irving is the director of the doctor of ministry program and professor of ministry leadership at Bethel University in St. Paul, Minnesota. Dr. Irving has served as a worship leader and a pastor of leadership development and outreach in the local church. He has focused his writing and research on servant leadership, team leadership in the global context, self-sacrificial leadership, and the relationship between servant leadership and the effectiveness of teams in diverse ethno-linguistic communities.
Getting the most out of Mobile Ed
Mobile Ed's integration with Logos Bible Software creates an unparalleled learning environment. Lectures are fully searchable and linked to the rest of your library. We transcribe every word so you can focus on adding your own reflections as you watch and read along. Suggested readings open with a click, and video tutorials show you how to use Logos to research your topic even further.
With any Logos base package, you will be able to view the lectures and interact with the transcripts. For the best learning experience, we recommend Logos Platinum.
Readings for the courses are often tailored to Platinum because the larger library provides access to a wide range of suggested resources and increases search results for further study.
The Platinum collection best matches the resources used in video tutorials. It includes a breadth of commentaries, original-language studies, and over 1,400 resources to deepen your study.
More details about these resources