Mobile Ed: NT365 Book Study: Letter of James (6 hour course)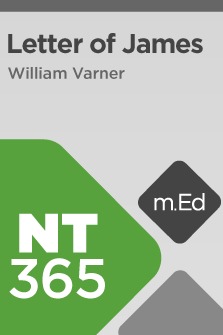 Mobile Ed: NT365 Book Study: Letter of James (6 hour course)
•
Runs on Windows, Mac and mobile.
Overview
In Book Study: Letter of James (NT365), Dr. William Varner presents the practical meaning and unifying thought of the Letter of James in a way that will help you effectively communicate them to others. This study presents a fresh perspective on James the man and also James the letter, showing how the emphasis on works complements rather than contradicts Paul's emphasis on faith. Walking you through each chapter of this letter verse by verse, Dr. Varner will illustrate how reading James as a Wisdom book reveals its practical meaning and relevance for today.
Learning Objectives
Upon successful completion you should be able to:
Describe the overarching unity of the Letter of James
Show how James and Paul complement one another on the topics of works and faith
Explain why James should be read in the wisdom tradition
Discuss the practical application of James
Give examples of places where James adapts the sayings of Jesus found in the Gospels
Course Outline
Introduction
Introducing the Course and the Speaker
Unit 1: Introduction to James
The Martins on James and Paul
Date of James
Order and Coherence
Identifying Key Terms in James with the Concordance Tool
The Fourteen Sections
Salutation: James the Author
Identifying James the Brother of Jesus Using the Factbook
Salutation: James the Brother
Salutation: James the Slave
Investigating the Meaning of Doulos
Unit 2: True Faith
Trials and Maturity (Jas 1:1–4)
Wisdom and Faith (Jas 1:5–8)
Poor Man, Rich Man (Jas 1:9–11)
Blessings (Jas 1:12–15), Part 1
Defining the Greek Term Makarios
Blessings (Jas 1:12–15), Part 2
The Problem of Deception (Jas 1:16–18)
A Godly Quick and Slow (Jas 1:19–21)
Finding Section Markers in James with a Morph Search
Deceived Hearers versus Blessed Doers (Jas 1:22–25)
Real Religion (Jas 1:26–27)
Partiality versus the Faith of Jesus Christ (Jas 2:1)
No Partiality (Jas 2:2–4): A Parable
Honoring the Poor (Jas 2:5–7)
The Royal Law (Jas 2:8–11)
Identifying Old Testament Allusions in James
Partiality and the Poor (Jas 2:12–13)
Studying James' Use of the Sermon on the Mount
Unit 3: Faith and Deeds
Faith with or without Deeds (Jas 2:18–19), Part 1
Faith with or without Deeds (Jas 2:18–19), Part 2
Patriarchal Proof of Faith by Works (Jas 2:20–24)
Matriarchal Proof of Faith by Works (Jas 2:25–26)
Unit 4: Speech Ethics
Taming the Tongue (Jas 3:1–2), Part 1
Taming the Tongue (Jas 3:3–5), Part 2
Taming the Tongue (Jas 3:6–8), Part 3
An Impossible Mixture (Jas 3:9–12)
Unit 5: The Wisdom of God
Wisdom from Above (Jas 3:13–18)
Our Selfish Natures (Jas 4:1–3)
Friends of the World or Friends of God (Jas 4:4–6)
The Hortatory Peak (Jas 4:7–10)
Unit 6: More Speech Ethics
On Slanderous Judgment (Jas 4:11–12)
Planning While Ignoring God's Will (Jas 4:13–17)
Unit 7: Final Exhortations
Woe for Hoarding Wealth (Jas 5:1–6)
Patience in Suffering (Jas 5:7–11)
Speech Ethics Revisited (Jas 5:12)
Prayer for the Sick (Jas 5:13–16a)
The Prayers of a Righteous Man (Jas 5:17–18)
Restoration for the Wanderer (Jas 5:19–20)
Conclusion
Product Details
Title: NT365 Book Study: Letter of James
Instructor: William Varner
Publisher: Lexham Press
Publication Date: 2016
Product Type: Logos Mobile Education
Resource Type: Courseware, including transcripts, audio, and video resources
Courses: 1
Video Hours: 6
About William Varner
Dr. William Varner is professor of Bible and Greek at The Master's College, where he also serves as the director of IBEX, the college's campus in Israel. He is the author of several books, including The Chariot of Israel: Exploits of the Prophet Elijah and multiple commentaries on James, and has also written more than a hundred articles that have appeared in academic journals and popular magazines. He has received numerous awards for his teaching. In addition to his scholarly work, Dr. Varner is pastor of the Sojourners fellowship at Grace Community Church, where he serves alongside John MacArthur.
Getting the most out of Mobile Ed
Logos Mobile Education is a highly effective cross-platform learning environment that integrates world class teaching with the powerful study tools and theological libraries available in Logos Bible Software. Every course provides links to additional resources and suggested readings that supplement the lecture material at the end of every transcript segment.
This course was produced with screencast videos. These videos provide tutorials showing you how to use Logos Bible Software in ways that are tied directly into the content of the course. We are now producing Activities resources as a replacement for screencast videos. We plan on updating this course to include this additional Activities resource in the future for no extra charge.
More details about these resources