Mobile Ed: MI201 Church Planting (6 hour course)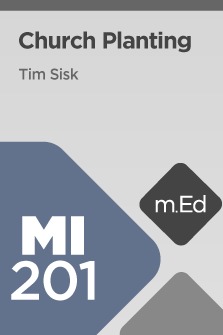 Mobile Ed: MI201 Church Planting (6 hour course)
•
Runs on Windows, Mac and mobile.
Overview
In this course, Dr. Tim Sisk asks students to consider church planting as participation in the mission of the church. He establishes the biblical foundation for church planting as a work of the Spirit to call and empower believers to participate in the Great Commission in this specific missional way. He looks at the methods and models used in biblical examples of church planting and examines church planting throughout history.
Learning Objectives
Upon successful completion you should be able to:
Support and defend the concept of church planting from biblical, theological, and practical viewpoints
Recognize church planting as an outgrowth of Jesus' proclamation that He will build His church
Relate to church planting as participation among "God's fellow workers" in the proclamation and demonstration of the kingdom of God
Summarize the skills and character attributes needed by successful church planters
Analyze the positives and negatives of church planting using a team approach
Develop an appropriate ecclesiology for the planned church plant
Define the characteristics of healthy churches
Explain the importance of vision to church planting and describe how core values and cultural style and expectations may dictate how the vision will be implemented
Discuss key issues that must be addressed in the church planting effort
Choose leadership styles and structures appropriate to a church planting effort within a particular culture and community
Course Outline
Introduction
Introducing the Speaker and the Course
Unit 1: Church Planting
Built on the Rock
We Are God's Fellow Workers
Church Planting: A Rationale
Three Pragmatic Reasons for Planting Churches (Reason 1)
Three Pragmatic Reasons for Planting Churches (Reasons 2 & 3)
Objections to Church Planting
Ethical Guidelines for Church Planting
A Brief History of Church Planting
Historical Development of Protestant Church Planting Philosophy
Gospel-Planting Movement
Development of Church Planting Movements
Unit 2: Biblical Foundations for Church Planting
Where Do People Get Their Ideas of Church?
Historical Definitions of "Church"
The DNA of the Church
Our Culture's Expectations for "Church"
Ekklēsia:The New Testament Word for Church
Sorting Different Uses ofEkklēsiawith Louw-Nida
Luke's Description of a Functioning Church
New Testament Images of the Church
Finding Metaphors for "Church" Using the Bible Sense Lexicon
Some Contemporary Definitions of the Church
Five Contemporary Images Describing the Church
Church Planting in the Book of Acts
The Ministry of Jesus and His Disciples
Researching the Date of Acts in Commentary Introductions
Paul, the Church Planter
Paul's Methods for Church Planting
Strategy, Spontaneity, and the Leading of the Spirit
Using the Bible Facts Tool with References to the "Holy Spirit" in Acts
The Pauline Cycle of Church Planting, Part 1
The Pauline Cycle of Church Planting, Part 2
Unit 3: The Church Planter in the 21st Century
Characteristics of 21st-Century Church Planters
Church Planter Assessment
Characteristics of a Successful Church Planter, Part 1
Characteristics of a Successful Church Planter, Part 2
Using the Prayer List Tool for Church Planting
Church Planting Teams
Some Potential Strengths of a Team Approach to Church Planting
Some Potential Weaknesses of a Team Approach to Church Planting
Structuring a Church Planting Team
Characteristics of Church Planting Teams
Searching on Biblical Conflict Resolution
Unit 4: Vision Leads the Way
The Importance of Vision
Vision Motivates
What is Vision?
The Power of Vision
Biblical Examples of Vision
Vision Comes from God
Unit 5: Values Shape Vision
Different Values Cause Different Expressions of a Vision
Values Shape Styles
Other Influences on Style
Why We Do What We Do
Identifying Our Core Values
A Biblical List of Church Core Values
Core Values of Contemporary Churches
Midcourse Review
Unit 6: Reaching the Community with Christ
How Did Jesus See People?
One-to-One Contexts Are Unique
Studying Acts 16 in the Faithlife Study Bible
Three People, Three Contexts, Three Approaches
The Context of Culture
Earning the Right to Speak
Research the Community Context
Describe Your Audience
Personal Examples of Describing the Audience
Engaging the Audience
Ministry and Style
Exegeting Your Church's Culture
Getting the Word Out, Part 1
Getting the Word Out, Part 2
Unit 7: Church Planting Models
A Changing Church for a Changing World
A Sampling of Church Planting Models
Church Planting Movements
Evaluating Church Planting Models, Part 1
Evaluating Church Planting Models, Part 2
Churches: Start Healthy, Stay Healthy
Another Look at Characteristics of Healthy Churches
Unit 8: Issues Church Planters Face
Four Key Issues in Church Planting
Evangelism and Discipleship
Historical Examples of Mass Evangelism
Contemporary Examples of Mass Evangelism
Evaluating Mass Evangelism
Attractional, Missional, and Incarnational Models of Church
Defining Authentic Discipleship
The Core Competencies of Christian Discipleship
Developing as a Leader
Appropriate Leadership Style
Sketches of Leaders in Scripture
Leading in Different Cultures or Communities
The "Perfect" Leader
How Did Jesus Develop Leaders?
The Emergence of Leaders
Transitioning to New Leaders
Accessing Constitutions and Bylaws
Structural Considerations
Financial Considerations
Bivocational Church Planters
Breaking Financial Dependency
Churches Indigenous to the Culture and Community
The Meeting Place
Conclusion
Some Things to Remember
Closing Thoughts
Product Details
Title: MI201 Church Planting
Instructor: Timothy Sisk
Publisher: Lexham Press
Publication Date: 2014
Product Type: Logos Mobile Education
Resource Type: Courseware, including transcripts, audio, and video resources
Courses: 1
Video Hours: 6
Timothy Sisk
Dr. Timothy Sisk, professor and chair of world missions and evangelism at Moody Bible Institute in Chicago, Illinois, has been in vocational ministry for nearly 30 years. He specializes in church planting, history of missions, and global theology.
Dr. Sisk and his wife, Donna, served as missionaries for 14 years in Japan and Bolivia. He also coauthored The Third Wave Movement and Missions Today and coedited Reflections on Urban Mission for the Twenty-First Century.
Getting the most out of Mobile Ed
Logos Mobile Education is a highly effective cross-platform learning environment that integrates world class teaching with the powerful study tools and theological libraries available in Logos Bible Software. Every course provides links to additional resources and suggested readings that supplement the lecture material at the end of every transcript segment.
This course was produced with screencast videos. These videos provide tutorials showing you how to use Logos Bible Software in ways that are tied directly into the content of the course. We are now producing Activities resources as a replacement for screencast videos. We plan on updating this course to include this additional Activities resource in the future for no extra charge.
More details about these resources