Mobile Ed: TH191 Missional Approach to World Religions (8 hour course)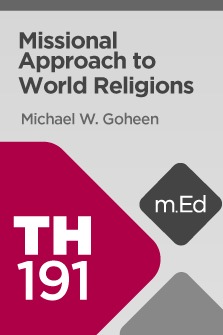 Mobile Ed: TH191 Missional Approach to World Religions (8 hour course)
•
Runs on Windows, Mac and mobile.
Overview
In this course, Dr. Michael Goheen provides a framework for understanding and analyzing world religions. He discusses the theology of religions and gives an overview of three major religions: Hinduism, Buddhism, and Islam. Goheen examines the heart or core behind the beliefs and practices of these religions and discusses how Christians might begin to dialogue with people of these faiths.
Learning Objectives
Upon successful completion you should be able to:
Describe the challenge religious plurality presents to the Church
Explain the terms "missionary encounter," "missionary approach," and "subversive fulfillment"
Communicate how the gospel permeates all aspects of life
Describe the importance of having a theology of religions
Discuss the beliefs and practices of Hinduism, Buddhism, and Islam
Identify the "orienting core" of these religions and describe how the gospel fulfills it
Articulate the mission of the Church and explain how Christians provide a witness by their lives and actions
Course Outline
Unit 1: Religious Plurality: An Urgent Issue
The Fact of Religious Plurality
Finding Charts That Represent World Religions
Religious Pluralism
Unit 1 Quiz
Unit 2: Proper Approach to Studying World Religions
Missionary Encounter
The Comprehensive Scope of the Gospel
Creating Notes from the Resource Christ and Creation
Religion as a Comprehensive Vision and Way of Life
Comprehensive Religion: Testimony from the Third World
Two Approaches that Undermine Missionary Encounter
Western Humanist Faith
Christian Pluralism
Critiques of Pluralism
The Need for a Theology of Religions
Creating a Collection of World Religions Resources
Unit 2 Quiz
Unit 3: The Truth of the Gospel
Public Truth and Comprehensive Scope
The Finality of Christ
Exclusivism and Inclusivism
Salvation of Those Who Have Never Heard
Strong and Weak Inclusivism
Questions about Inclusivism
Unit 3 Quiz
Unit 4: God's Revelation in Creation
Revelation beyond Scripture
Adding Resources on General Revelation to a Bibliography
The Locus Classicus: Romans 1:18–32
Performing an Exegetical Study of Romans 1:18–32
Beneficial Effect of God's Revelation in Creation
Unit 4 Quiz
Unit 5: Theology of Religions
Origin and Nature of Religion
Religious Consciousness and Empirical Religions
God's Revelation and Humanity's Sinful Response
Content of Religious Consciousness
The Rise of Empirical Religions
Orienting Core and Various Components of World Religions
The Orienting Core of Religions
Using The Apologetics Study Bible to Study World Religions
Unit 5 Quiz
Unit 6: A Missionary Approach
Introducing a Missionary Approach
Insider, Sympathetic Approach
Outsider, Critical Approach
Continuity and Discontinuity
Subversive Fulfillment
Subversive Fulfillment in the Bible
Unit 6 Quiz
Midterm Exam
Unit 7: Hinduism
Introduction to Hinduism
Using the Baker Encyclopedia of Christian Apologetics
Vedic Period: Vedas
Vedic Period: Upanishads
Period of Classical Hinduism
Hinduism through the Ages
Four Goals for Life
Atman, Brahman, and Moksha
What Does It Mean to Be Human?
What Kind of World Do We Live In?
Four Paths to Moksha
Supreme Being: Transpersonal or Personal?
Religious Pluralism
Christian Outsider Analysis of Hinduism
Unit 7 Quiz
Unit 8: Buddhism
Buddha's Quest
The Four Noble Truths
The Eightfold Path
Basic Beliefs
Three Rafts
Amida and Zen Buddhism
Vajrayana Buddhism
Christian Outsider Analysis of Buddhism
Unit 8 Quiz
Unit 9: Islam
Introduction to Islam
Saving Links to Websites in Logos
Muhammad: The Seal of the Prophets
Times of Muhammad
Muhammad: Preparation for Public Ministry
The Night of Power
Helpful Resources for Studying World Religions
Hijra and Political Power
Ummah and Its Mission
Unit 9a Quiz
Pillars of Belief
Pillars of Religious Duty
The Qur'an
Who Is Allah?
Historical Developments of Islam
Using Timelines to Establish Historical Context
Sunni, Shi'ite, and Sufi Sects
Islam in the 20th Century
Christian Outsider Analysis of Islam
Unit 9b Quiz
Unit 10: The Mission of the Church
Missional Dimension and Missional Intention
Review of Important Concepts
Christian Witness in Plural Society
Point of Contact: Attitude and Disposition
Point of Contact: Fulfilling Religious Longings
Point of Contact: Subversion
Point of Contact: Universal Human Issues
Fear of Dialogue
Dialogue Based on Confessional Commitment
The Importance of Dialogue
Words, Lives, and Deeds
Unit 10 Quiz
Final Exam
Product Details
Title: TH191 Missional Approach to World Religions
Instructor: Michael W. Goheen
Publisher: Lexham Press
Publication Date: 2014
Product Type: Logos Mobile Education
Resource Type: Courseware, including transcripts, audio, and video resources
Courses: 1
Video Hours: 8
About Michael W. Goheen
Dr. Michael W. Goheen, professor of missiology at Calvin Theological Seminary, served as the Geneva Chair of Worldview Studies at Trinity Western University in Langley, British Columbia, and teaching fellow in mission studies at Regent College in Vancouver, British Columbia.
He has taught worldview, biblical theology, mission, and world Christianity at Redeemer University College and Dordt College. He began his professional life as a church planter and pastor in the Toronto area. He is also recognized as a leading scholar on the thought of Lesslie Newbigin.
Dr. Goheen has authored several books, including A Light to the Nations: The Missional Church in the Biblical Story (Baker, 2010) and As the Father Has Sent Me, I am Sending You: J.E. Lesslie Newbigin's Missionary Ecclesiology (Zoetermeer, 2000). He also coauthored the best-selling The Drama of Scripture: Finding Our Place in the Biblical Story (Baker, 2004), Living at the Crossroads: An Introduction to Christian Worldview (Baker, 2008), and The True Story of the Whole World: Finding Your Place in the Biblical Drama (Faith Alive, 2009). He has also coedited two volumes on globalization and the gospel, and on the unity of the church.
Dr. Goheen lives in the Vancouver area where he is minister of preaching at New West Christian Reformed Church. He's been married to his wife, Marnie, for over 30 years and has four married children and four grandchildren.
Getting the most out of Mobile Ed
Logos Mobile Education is a highly effective cross-platform learning environment that integrates world class teaching with the powerful study tools and theological libraries available in Logos Bible Software. Every course provides links to additional resources and suggested readings that supplement the lecture material at the end of every transcript segment.
This course was produced with screencast videos. These videos provide tutorials showing you how to use Logos Bible Software in ways that are tied directly into the content of the course. We are now producing Activities resources as a replacement for screencast videos. We plan on updating this course to include this additional Activities resource in the future for no extra charge.
More details about these resources