G. K. Chesterton Collection (11 vols.)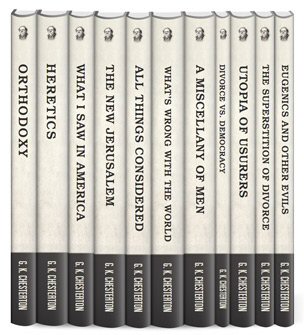 Overview
G. K. Chesterton was a well-known novelist, essayist, playwright, poet, and ardent apologist for the Christian faith. One of Britain's most famous and prolific twentieth century writers, his apologetic works—such as Orthodoxy—have influenced generations of Christian belief. His historical works have made important theologians accessible to modern Christians, and his essays and commentary were influential in the conversion of C.S. Lewis. As the author of more than 80 volumes, 200 short stories, and 4,000 essays, his works combine literary wit, theological acumen, and pointed cultural critique. Together, Chesterton's works are required reading for theologians, philosophers, and thinking Christians.
The 11-volume G. K. Chesterton Collection from Logos Bible Software assembles his most important theological and apologetic works, including Orthodoxy—Chesterton's most well-known work—Heretics, and much more. This collection also contains volumes of essays on social trends, as well as travel writing.
Key Features
Chesterton's Orthodoxy and Heretics—his most famous apologetic works
All Scripture references linked to the Bibles in your library
Ideal for pastors, students, and laity
Product Details
Title: G. K. Chesterton Collection (11 vols.)
Author: G. K. Chesterton
Volumes: 11
Pages: 2,733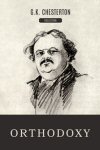 Orthodoxy
Author: G. K. Chesterton
Publisher: The Bodley Head
Publication Date: 1908
Pages: 278
Orthodoxy is Chesterton's most well-known work. First published 100 years ago and reprinted ever since, Orthodoxy is a classic work that is part memoir, part apologetic. It exhibits Chesterton at his finest—a combination of literary wit, theological acumen, and pointed cultural critic.
Orthodoxy has become a classic, taking its place on the shelves of thinking Christians beside Augustine's Confession and C.S. Lewis's Mere Christianity. His goals for Orthodoxy are simple: "I have attempted in a vague and personal way, in a set of mental pictures rather than in a series of deductions, to state the philosophy in which I have come to believe. I will not call it my philosophy; for I did not make it. God and humanity made it; and it made me." He sharply criticizes the prevailing secular understanding of truth while documenting the genesis of his own spiritual journey. Throughout, Chesterton comments on the intellectual giants of his day—H.G. Wells, Walt Whitman, Arthur Schopenhauer, and George Bernard Shaw.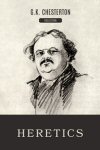 Heretics
Author: G. K. Chesterton
Publisher: The Bodley Head
Publication Date: 1905
Pages: 305
Heretics exposes the heresy of modern intellectual trends and discredits their proponents. Chesterton confronts relativism, individualism, neo-paganism, and the other ailments contributing to the decline of Western thought in the modern era. He pays special attention to artists and the literati, and writes in detail about current events which are shaped by the social consciousness of his time. Heretics begins and ends with chapters on orthodoxy, anticipating the themes Chesterton later develops on his famous volume by the same name.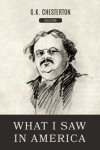 What I Saw in America
Author: G. K. Chesterton
Publisher: Hodder and Stoughton
Publication Date: 1922
Pages: 297
With the publication of What I Saw in America, Chesterton joins the ranks of Alexis de Tocqueville, Charles Dickens, and Abraham Kuyper and other prominent European literary and political figures to tour American and write about it. This volume contains dozens of reflections on American hospitality, business, politics; it concludes with three prescient essays on the spirit of America, the spirit of England, and the future of democracy.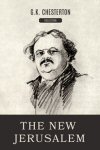 The New Jerusalem
Author: G. K. Chesterton
Publisher: George H. Doran Company
Publication Date: 1921
Pages: 307
Although Chesterton called this book "an uncomfortably large notebook," it exhibits travel writing at its finest. This volume documents Chesterton's travels in the Middle East. It contains vivid reflections on the history, religion, and geography of Palestine. He writes on cities, culture, and social concerns, and reflects on important social and historical topics, such as Zionism and the Crusades.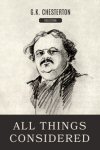 All Things Considered
Author: G. K. Chesterton
Publisher: Methuen & Co.
Publication Date: 1908
Pages: 296
Chesterton was an accomplished and noted essayist. All Things Considered is one of Chesterton's earliest collections of essays, and deals perhaps more than any other with religious and theological topics. This volume contains thirty-five essays on spiritualism, humanitarianism, science and religion, morality, and more.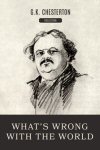 What's Wrong With the World
Author: G. K. Chesterton
Publisher: Dodd, Mead and Company
Publication Date: 1910
Pages: 367
Taken as a whole, What's Wrong with the World attempts to advance a conservative social view of twentieth century British affairs. Individually, these essays offer sage advice on political and cultural issues for today. This collection contains essays on feminism, education, imperialism, and more, and together amount to a pointed critique of the prevailing sociological method. The problems with the world run deep—in this volume, Chesterton assails hypocrisy and mediocrity characteristic of the modern era.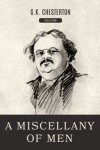 A Miscellany Of Men
Author: G. K. Chesterton
Publisher: Dodd, Mead and Company
Publication Date: 1912
Pages: 314
A Miscellany of Men contains essays on the most controversial topics of Chesterton's day. It was written, says Chesterton, at "a time in which the liberal tradition, as I hold it, was not only dying but committing suicide." His commentary is structured by analyzing the ranks and positions of individuals in the various strata of society. A Miscellany of Men also includes Chesterton's oft-cited preface on the nature of human equality.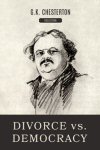 Divorce vs. Democracy
Author: G. K. Chesterton
Publisher: The Society of SS. Peter & Paul
Publication Date: 1916
Pages: 14
Chesterton's first essay against divorce first appeared in Nash's Magazine, and was reprinted as a stand-alone volume at the request of his readers. Divorce versus Democracy makes a case against divorce by appealing to both patriotism and to history. Chesterton argues for a Christian understanding marriage, and implores the church to stem the erosion of morality in modern Europe. This book also exhibits Chesterton's views on the relationship between the church and state relating to issues of marriage and family life.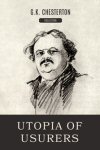 Utopia Of Usurers
Author: G. K. Chesterton
Publisher: Boni and Liveright
Publication Date: 1917
Pages: 217
Utopia of Usurers contains Chesterton's collected writings on modern culture. It includes essays on science, eugenics, Puritanism, socialism, and church and state relations. This provocative and penetrating commentary contains a sharp critique and sage advice on the social ills of Chesterton's time and ours.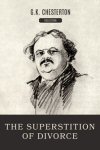 The Superstition of Divorce
Author: G. K. Chesterton
Publisher: John Lane Co.
Publication Date: 1920
Pages: 150
This compact volume provides a basic and readable introduction to the philosophy of marriage and the purpose of the family. In it, Chesterton expands and develops his arguments in Divorce versus Democracy, showing that divorce does not solve the problems of individuals; rather, it corrupts society as a whole.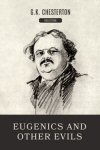 Eugenics and Other Evils
Author: G. K. Chesterton
Publisher: Cassel and Company
Publication Date: 1922
Pages: 188
Chesterton wrote during the height of the eugenics movements in the early twentieth century. This volume counters the intellectual nihilism of Nietzsche, while simultaneously rebuking Western notions of progress—biological or otherwise. Chesterton expands his criticism of eugenics into what he calls "a more general criticism of the modern craze for scientific officialism and strict social organization."
About G. K. Chesterton
G.K. Chesterton was born in London in 1874. He worked at the Redway and T. Fisher Unwin publishing house until 1902, when he began writing regularly—his weekly columns appeared for decades in the Daily News and The Illustrated London News. In all, he wrote more than 80 books, hundreds of poems, 200 short stories, 4,000 essays. Among his writings are his famous apologetic work Orthodoxy, a biography of St. Aquinas, his Father Brown detective stories, The Napoleon of Notting Hill, and The Man Who Was Thursday. He died on June 14, 1936 in Buckinghamshire.
More details about these resources
Show More