Mobile Ed: BI390 Biblical Sexual Ethics (6 hour course)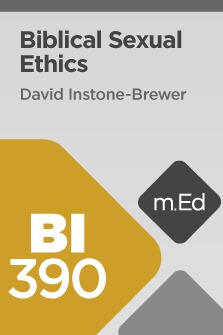 Mobile Ed: BI390 Biblical Sexual Ethics (6 hour course)
•
Runs on Windows, Mac and mobile.
Overview
Dr. David Instone-Brewer examines how marriage, divorce, polygamy, homosexuality and other topics are addressed in the Bible by looking at both the text of Scripture and the context in which Scripture was written. "Translating from Hebrew or the Greek into English is only half of the job of translation," he says. "You also have to translate the context that it came from."
From ancient Near Eastern marriage laws that were literally written in stone to the sexual practices that were accepted and not accepted in Rome, Dr. Instone-Brewer paints a picture of how Old and New Testament Jewish culture compared to other cultures of the time. He shows how understanding this context illuminates the truth of Scripture and helps us discern what ethics God had for His people in the past and what He has for us today.
Course Outline
Unit 1: Marriage
Introduction to Marriage
Marriage in the Bible
Marriage in Genesis
Marriage in the ANE
Marriage Covenants/Contracts
Marriage in the Law
Marriage Certificates
Marriage in the NT
Marriage Today
Addition of Obedience
Biblical Marriage Is Different
Unit 1 Quiz
Unit 2: Divorce in the Old Testament
Breaking a Contract
Grounds for Divorce
Divorcees in the OT
God's Divorce Certificate
Grounds for God's Divorce
God Forgives Adultery in Judah
Unit 2 Quiz
Unit 3: Divorce in Jesus' Teaching
Divorce Should Never Happen
Grounds for Divorce in the OT
Divorce for Infertility
Infertility in the NT
Divorce for Unfaithfulness
Jesus on Divorce for Adultery
Rabbinic Divorce for "Any Cause," Part 1
Rabbinic Divorce for "Any Cause," Part 2
Different Versions in Mark and Luke
Jesus' Silence on Divorce for Neglect
Other Interpretations of Jesus' Teaching
Unit 3 Quiz
Unit 4: Divorce in Paul's Teaching
Putting Jesus and Paul Together
Divorce for Material Neglect
Material Neglect in the NT
Divorce for Sexual Neglect
Sexual Neglect in the NT
How Men and Women Divorced for Neglect
Divorce for Neglect in the NT
Roman Divorce-by-Separation in Paul
Putting Paul and Jesus Together
Unit 4 Quiz
Unit 5: Remarriage
Remarriage in the ANE
Remarriage in the OT
Remarriage to Priests
The Divorce Certificate Allows Remarriage
Paul Quotes the Remarriage Formula
Paul Allows Divorcees to Remarry
Does Jesus Forbid Remarriage?
Does Paul Forbid Remarriage?
Married Till Death?
Remarriage in the NT World
Conclusions from Relative Silence
Unit 5 Quiz
Unit 6: Intermarriage
Marriages before Canaan
The Mixed Population of the Exodus
Moses' Wives
Continuing Foreign Marriages
The Seven Nations
After the Exile
Divorcing Foreign Wives
The Jewish and Roman World
Paul's Warnings
Intermarriage: How Does This Apply Today?
Unit 6 Quiz
Unit 7: Polygamy
Polygamy in the OT
Marrying Prostitutes
Samson: a Possible Example
Polygamy in NT Times
Monogamy in the OT according to Qumran Judaism
Monogamy in the OT according to Diaspora Judaism
Polygamy Criticized by Jesus
Problems with Widows in the NT
Polygamy: How Does This Apply Today?
Unit 7 Quiz
Unit 8: Abortion and Child Abuse
A Personal Note
Roman Child Abuse
The Warren Cup
Jesus on Child Abuse
The Crime of Skandalizō
Jewish Safeguards
Roman Abortion and Infanticide
Jews and Christians on infanticide
NT Summary of Ethics for Gentiles
Blood or Bloodshed?
The Meaning of Pniktos: Snuffing Out
A Note on Bible Translations
Applying Ancient Rules to Modern Life
Unit 8 Quiz
Unit 9: Homosexuality
Introduction to Homosexuality
The Creation Pattern
Sodom and Gibeah
ANE Background
Levitical Laws
Greek and Roman Background
Jewish Condemnation of Homosexuality
Paul on What Is Natural
Pauline Vice Lists
What is "Lying with a Male" (Arsenokoitēs)?
Unit 9 Quiz
Conclusion: The Importance of Application
About David Instone-Brewer
Dr. David Instone-Brewer graduated from South Wales Baptist College with the highest marks in that college's history, and later earned his PhD from Cambridge University, where he studied early rabbinic exegesis. Dr. Instone-Brewer ministered at the Llanishen Baptist Church in Cardiff for five years, and is now research fellow and technical officer for Tyndale House, which is, arguably, among the three best libraries in the world for biblical studies.
Specializing in rabbinic studies, Dr. Instone-Brewer has been a regular contributor to Christianity magazine, and has written several books, including Traditions of the Rabbis from the Era of the New Testament.
Getting the most out of Mobile Ed
Logos Mobile Education is a highly effective cross-platform learning environment that integrates world class teaching with the powerful study tools and theological libraries available in Logos Bible Software. Every course provides links to additional resources and suggested readings that supplement the lecture material at the end of every transcript segment.
This course was produced with screencast videos. These videos provide tutorials showing you how to use Logos Bible Software in ways that are tied directly into the content of the course. We are now producing Activities resources as a replacement for screencast videos. We plan on updating this course to include this additional Activities resource in the future for no extra charge.
More details about these resources