La Bible des Septante (3 tomes)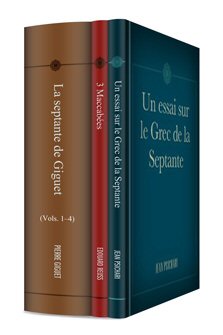 La Bible des Septante (3 tomes)
•
Runs on Windows, Mac and mobile.
$15.00
* Projected price. Future bids may change this price.
Place Your Bid!
Click on the highest price you'd pay. If the final price is lower, that's what you'll pay.
Survol
La Septante (LXX ou Septuaginta en latin) est la traduction de la Bible hébraïque (Torah) en langue grecque faite vers 270 av J. avant J.-C. à Alexandrie, selon la traduction juive par 72 (septante-deux) traducteurs. Également, La LXX est aussi considérée d'être la version grecque ancienne de la totalité des écritures (Pentateuque). Cette collection de Logos vous donne une traduction de la Septante en français avec des livres supplémentaires ajoutées après la publication originale. Aussi, il y a un essai sur le Grec de la Septante pour mieux comprendre comment la texte grec fut traduite.
Chez les éditons de Logos, ces ouvrages sont enrichis par l'addition de fonctions et de caractéristiques. Les références bibliques sont liées directement aux traductions de la Bible, les termes théologiques sont liés aux dictionnaires, aux encyclopédies, et à beaucoup d'autres livres de votre bibliothèque. Recherchez avec la puissance avec Logos Bible Software et un de nos Base Packages pour trouver les meilleurs informations selon un des meilleurs spécialistes du temps de la Réforme. Avec nos applications mobiles, vous pouvez consulter ces textes et tous les autres n'importe où pour avoir la meilleure expérience.
Principales caractéristiques
La Septante en traduction française, publiée originalement en 4 tomes
Un essai sur le Grec de la septante pour mieux comprendre les subtilités de la traduction vers le français de la grecque
Des traductions supplémentaires des livres apocryphes/deutérocanoniques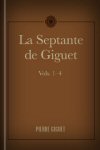 La septante de Giguet vols. 1–4 par P. Giguet c'est une traduction de la Septante en langue française. Publié originalement en 4 tomes, c'est 1 ressource avec l'édition Logos.
Vol. 1, 1865:

Genèse, Exode, Lévitique, Nombres, Deutéronome, Josué, Juges, et Ruth

Vol. 2, 1865:

I Règnes (= 1 Samuel), II Règnes (= 2 Samuel), III Règnes (= 1 Rois), IV Règnes (= 2 Rois), I Paralipomènes (1 Chroniques), II Paralipomènes (2 Chroniques), Esdras, Néhémie, Tobit, Judith, et Esther

Vol. 3, 1872:

Job, Psaumes, Proverbes, Ecclésiaste, Cantique des cantiques, Sagesse de Salomon, Sagesse de Sirach, Osée, Amos, Michée, Joël, Abdias, Jonas, Nahum, Habacuc, Sophonie, Aggée, Zacharie, et Malachie

Vol. 4, 1872:

Isaïe, Jérémie, Baruch, Lamentations de Jérémie, Lettre de Jérémie, Ezéchiel, Daniel, I Macchabées, et II Macchabées
Pierre Giguet (1794–1883) est un helléniste français et traducteur de plusieurs ouvrages surtout La sainte Bible, traduction de l'Ancien Testament d'après Les septante. Il a aussi quelques d'autres ouvrages sur la grammaire grecque et l'histoire française et l'Européenne.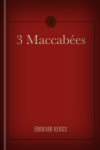 Ce volume vous donne une traduction du grec de 3 Maccabées par E. Reuss.
Édouard Guillaume Eugène Reuss (1804–1891) est professeur de théologie, études Bibliques et philosophie chrétienne à la Faculté protestante de Strasbourg. Il fut impliqué dans la traduction des œuvres de Jean Calvin. Il a publié Bibliotheca Novi Testamenti Graeci, Die Geschichte der Heiligen Schriften Alten Testaments, et La Bible : Traduction nouvelle avec Notes et Commentaires.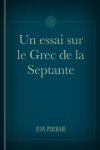 Ce volume vous donne une perspective très intéressante sur le grec de la Septante.
Jean Psichari (ou des fois écrit comme Ioánnis Psycháris), est un écrivan, spécialiste, et professeur franco-grec. Il est d'origine grec et il fut agrandi en Russie et Constantinople et a vécu son adolescence en France depuis quatorze ans. Il a défendu la notion de l'importance de la langue grec démotique sur l'influence du grec classique aux Universités françaises. Il a publié beaucoup de articles, mais il est connu pour son livre Mon voyage.