Mobile Ed: PD161 Understanding and Living with Sexual Integrity (4 hour course)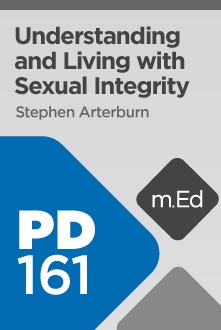 Mobile Ed: PD161 Understanding and Living with Sexual Integrity (4 hour course)
•
Runs on Windows, Mac and mobile.
Overview
Stephen Arterburn's Every Man's Battle and the Life Recovery Bible have helped countless people struggling with sexual integrity. In this course, he addresses not only basic issues of dealing with sexual temptation, but goes beyond to examine the challenging topic of sexual addiction and the problem of anger. You'll better understand both the roots of lust and how to battle against it.
Learning Objectives
Upon successful completion you should be able to:
Discuss the challenges of sexual integrity
Describe practices that help prevent sexual temptation
Identify the signs of sexual addiction
Describe the addiction cycle
Explain the relationship between anger and sexual addiction
Discuss myths that contribute to anger in men
Course Outline
Unit 1: The Challenge of Sexual Integrity
The Realities of Life
Handling Challenges and Difficulties
Destroying Intimacy
Spiritual Leadership
Finding Major Themes in a Passage Using the Information Panel
The Private Sex Life
Satan's Role in Sexual Temptation
The Realities of Sexual Integrity
Unit 1 Quiz
Unit 2: Defining Important Concepts
Integration
Bifurcation
Objectification
Sanctification
Congruency
Compulsive Masturbation
Connection
Unit 2 Quiz
Unit 3: Maintaining Sexual Integrity
Living according to God's Calling
Using the Proverbs Explorer to Find Practical Wisdom on Addiction
The Sexual Purity Battleground
Fighting the Battle for Sexual Purity
Desiring Sexual Purity
Bouncing Your Eyes
Using Speaker Data to Discover What Jesus Says about the Eye
Guarding Your Mind
Guarding Your Heart
Dealing with Failure
Unit 3 Quiz
Midterm Exam
Unit 4: Dealing with Sexual Addiction
The Prevalence of Sexual Addiction
Types of Sexual Addiction
Addiction or Sin?
Signs of Addiction
More Signs of Addiction
Testing for Addiction
First Half of the Addiction Cycle
Second Half of the Addiction Cycle
Our Sexually Saturated Society
Values of a Sexually Saturated Society
Healing and Hope
Thoughts on Recovery
Unit 4 Quiz
Unit 5: Anger and Sexual Addiction
Anger in Men
Using the Sermon Starter Guide to Create a Topical Study
Anger in Society
Roots of Anger
Introduction to Myths
Myths Men Believe
More Myths Men Believe
Building an Accountability Group Using Faithlife Groups
A Final Myth
Coping with Anger
Helping Angry Men
Searching for God
Unit 5 Quiz
Final Exam
Product Details
Title: PD161 Understanding and Living with Sexual Integrity
Instructor: Stephen Arterburn
Publisher: Lexham Press
Publication Date: 2014
Product Type: Logos Mobile Education
Resource Type: Courseware, including transcripts, audio, and video resources
Courses: 1
Video Hours: 4
About Stephen Arterburn
Stephen Arterburn is the founder and chairman of New Life Ministries, and host of the #1 nationally syndicated Christian counseling talk show New Life Live. He is also the founder of the Women of Faith conferences attended by over four million people, and he serves as a teaching pastor at Heartland Church in Indianapolis, Indiana.
Arterburn is the bestselling author of Every Man's Battle, Lose It for Life, Healing Is a Choice, Is This the One?, and Walking Into Walls. He has over seven million books in print and three Gold Medallions for writing excellence.
Getting the most out of Mobile Ed
Logos Mobile Education is a highly effective cross-platform learning environment that integrates world class teaching with the powerful study tools and theological libraries available in Logos Bible Software. Every course provides links to additional resources and suggested readings that supplement the lecture material at the end of every transcript segment.
This course comes with an Activities resource that functions as a type of "workbook" for the course. This resource includes learning activities such as: places for you to respond to reflection questions, exercises that will challenge and show you how deepen your understanding of this course by using specific Logos tools and resources, tutorial videos on different features of Logos Bible Software, and links to relevant Logos guides and tools. A link to open the Activities resource is conveniently placed at the end of every segment.
More details about these resources