Analytical Bible Expositor (27 vols.)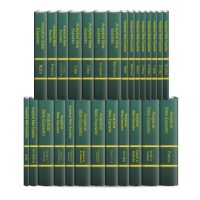 Overview
John G. Butler's Analytical Bible Expositor is a comprehensively organized, chapter-by-chapter and verse-by-verse commentary. This invaluable set is much more accessible than the typical commentary, because it is free from heavy intellectual arguments and the difficult-to-understand language which is characteristic of many commentaries. The author treats each chapter of the Bible as a unit. From this starting point, he outlines the chapter and analyzes each verse. Expository in style, this commentary presents both the meaning and the message of the Scripture. The annotations of the text combine explanation with real-world application. This helpful series will be a valuable aid for both the preacher and teacher, helping them to understand the Scripture and providing a wealth of useful sermon and lesson outlines.
With the Logos Bible Software, each volume in the Analytical Bible Expositor is very simple to navigate. The clear outlines in every chapter allow readers to easily jump from subject to subject using the contents bar. All scripture references are linked to the user's preferred Bible translation, making it effortless to compare translations of various authors. Efficient and easy-to-use search indexes help the individual look for parallel passages, subjects, and commentaries faster than using a print book.
Key Features
Provides verse-by-verse commentary
Includes introductions for each chapter outlining the main points
Includes quotation and study guides
Product Details
Individual Titles
About John G. Butler
John G. Butler, originally from Iowa, has been a Baptist minister for over 50 years and a pastor for over 35 years with pastorates in Clinton, Iowa; Williamsburg, Ohio; Detroit, Michigan; and Chicago, Illinois. Having attended Tennessee Temple University and graduated from Cedarville University, he also authored the 25-volume Bible Biography Series, a 10-volume Study of the Savior series about Jesus Christ, and the 4-volume Butler's Daily Bible Reading set, a unique daily devotional focusing on expository Bible study.
More details about these resources
Show More