Mobile Ed: Discipleship Training Bundle (3 courses)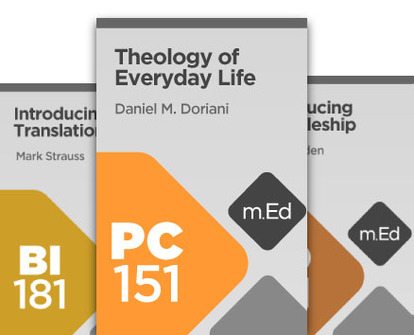 Mobile Ed: Discipleship Training Bundle (3 courses)
•
Runs on Windows, Mac and mobile.
Overview
Learn what the Bible teaches about making disciples, and how you can join the call. These courses will teach you both the biblical foundations of and practical methods for disciple making.
In Introducing Discipleship, Dr. Greg Ogden addresses the importance of discipleship and where the Church is lacking today. He looks at the ministries of Jesus and Paul, identifying what they did to be effective. Dr. Ogden then provides practical steps for how you can implement a disciple-making strategy in your church.
In Theology of Everyday Life, Dr. Dan Doriani guides you through Scripture, teaching you how to answer questions about the everyday aspects of life, such as work, friendship, and taking care of our bodies. With the accompanying video tutorials, you'll learn how to explore these topics even further using your Logos library.
Another question people may ask you is, "What translation should I use?" Dr. Mark Strauss provides an educated answer in his course, Introducing Bible Translations. You won't learn which translation is "best," but rather, how each brings out different aspects of the original language. You'll learn what makes a translation accurate and how to focus on the meaning of the text, rather than the form.
If you are passionate about training others to live a Christ-filled life—but you need more training—these courses are for you.
Individual Courses
Dr. Greg Ogden examines what it means to be a disciple and how disciple-making can occur in the church context. In three major sections, the course considers the church's missional mandate and core theological challenges to carrying it out, biblical models of disciple-making as seen in the ministries of Jesus and Paul, and the application of disciple-making models in the context of the local church.
As Dr. Ogden describes, "You will walk away from this course with a way to go about making [and] reproducing disciples in your church. That's the takeaway."
Contents:
Discipleship as an Emphasis in the Church
The Missional Mandate
The Biblical Model of Discipleship
The Tested Method
Criteria for a Good Curriculum
Practical Steps in Implementing a Discipleship Strategy
Supplementary Sessions
Dr. Greg Ogden (DMin, Fuller Theological Seminary) is a writer, speaker, and discipleship teacher. He served as the academic director of the doctor of ministry program and associate professor of lay equipping and discipleship at Fuller Theological Seminary in Pasadena, California. For 23 years, he served as a pastor with the Presbyterian Church (USA). During that time he developed a discipleship program used by over 15,000 people. He is the author of the popular Essentials Series, including Discipleship Essentials, Leadership Essentials (with Dan Meyer) and The Essential Commandment, as well as Unfinished Business, and Transforming Discipleship.
In Theology of Everyday Life, Dr. Daniel Doriani shows how theology can inform social and personal life. From eating and playing, to friendship and weddings, this course looks at the importance of developing a deeper sense of the relevance of Scripture and Christian ethics to physical and relational life. Reflecting deeply on what the Bible has to say about various everyday topics, Doriani gives rich ethical guidance and provides tools to help you find insight from Scripture.
Contents:
Social Dimensions of Everyday Life
Friendship
Play
Food
Calling
Sleep
Work
Weddings
The Body
Dr. Daniel M. Doriani (STM, PhD) is vice president of strategic academic projects and professor of theology at Covenant Seminary. He has also served in various pastoral roles and has been involved in planning and study committees at the presbytery level in both the Presbyterian Church in America (PCA) and the Evangelical Presbyterian Church (EPC). He is the author of several books, including Getting the Message: A Plan for Interpreting and Applying the Bible, Putting the Truth to Work: The Theory and Practice of Biblical Application, and commentaries on Matthew and 1 Peter in the Reformed Expository Commentary series.
Bible translation expert Dr. Mark Strauss introduces the philosophies of translation in order to equip students in their selection of a specific version (or versions) of the Bible. Dr. Strauss compares functional and formal equivalence and describes the strengths and weaknesses of each. He discusses elements of language such as gender terminology, idioms, and metaphors to reveal the importance of this often-overlooked but fundamental part of preaching, teaching, and personal Bible study.
Contents:
Introduction to Bible Translation
Translation Processes
Translation Philosophies
Getting the most out of Mobile Ed
Logos Mobile Education is a highly effective cross-platform learning environment that integrates world class teaching with the powerful study tools and theological libraries available in Logos Bible Software. Every course provides links to additional resources and suggested readings that supplement the lecture material at the end of every transcript segment.
More details about these resources
Show More