Crossway Elyse Fitzpatrick Collection (3 vols.)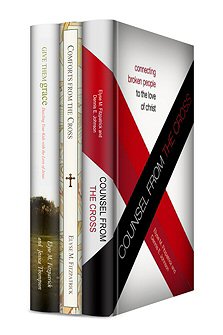 Crossway Elyse Fitzpatrick Collection (3 vols.)
•
Runs on Windows, Mac and mobile.
Overview
Delve into the power of the gospel with these resources from Elyse Fitzpatrick. A biblical counselor for more than 25 years, Fitzpatrick's ruminations on theological themes like adoption, justification, and idolatry are never disconnected from the complexities of everyday life. With penetrating insight, she links the gospel to the deepest human desires—and unleashes its power for personal transformation. Discover a gospel-centered approach to parenting. Relish daily reminders of God's love for his children. Explore a Scripture-based model for counseling. The Crossway Elyse Fitzpatrick Collection gives you access to Fitzpatrick's distinctive application of the gospel to life.
The Logos editions in this collection enhance your study with amazing functionality. Fully integrated into your digital library, the Timeline enables you to instantly contextualize the people, places, and ideas with thousands of other biblical and world events. Perform powerful searches to instantly gather relevant biblical texts and resources together. Free tablet and mobile apps let you take the discussion with you. With Logos Bible Software, the most efficient and comprehensive research tools are in one place, so you get the most out of your study.
Key Features
Connects theological themes such as justification, grace, idolatry, and adoption to everyday life
Focuses on personal transformation
Includes resources on parenting and biblical counseling
Provides gospel-centered, daily devotional material
Individual Titles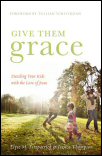 Discover a grace-filled, gospel-centered approach to parenting with this book by mother/daughter team Elyse Fitzpatrick and Jessica Thompson. In their desire to raise godly children, Christian parents can drift toward rule-centered discipline. There is, however, a far more effective method—a grace-motivated approach that begins with the glorious truth of God's love for sinners.
In Give Them Grace, parents will learn how to connect the benefits of the cross—especially regeneration, adoption, and justification—to their children's daily lives. Chapters address topics such as our inability to follow the law perfectly, God's forgiveness and love displayed at the cross, and what true heart obedience looks like. Fitzpatrick and Thompson also discuss discipline, dealing with popular culture, and evangelism as a way of life.
It is so encouraging to read a parenting book that points parents to the grace of the cross and shows them how to be instruments of that grace in the lives of their children.
—Paul David Tripp, president, Paul Tripp Ministries
Elyse Fitzpatrick and her daughter, Jessica, provide a great tool to guide parents down the road of gracious parenting. I commend it to you.
—James MacDonald, pastor, Harvest Bible Chapel, Rolling Meadows, IL
Grace for both parents and children flows through the pages of this book; I only wish I had read it at the beginning of my parenting instead of the end.
—Rose Marie Miller, author, From Fear to Freedom
A lot of books talk about gospel-centeredness in theory; this book shows you how to apply it to one of life's most important relationships.
—J.D. Greear, lead pastor, The Summit Church, Durham, NC
Jessica Thompson is the author of Exploring Grace Together: 40 Devotionals for the Family.
Comforts from the Cross provides women with bite-sized readings to remind them of their security in Christ and of his love and ministry in their busy lives. It dusts off the facts of the gospel to show how ancient truths such as justification, sanctification, and redemption can free and enliven their souls every day. Even more, these five-minute celebrations of the gospel relieve readers of legalistic condemnation and empower them for joyful obedience by engendering fresh love for the Savior. Fitzpatrick's book helps active women grasp the practicality of the gospel message and experience its deep comforts.
These 31 short readings will scoot you up to the banquet table of God's grace and glory and leave you feasting on your Savior and the cross.
—Brad Bigney, senior pastor, Grace Fellowship Church, Florence, KY
Comforts from the Cross presents an endearing view of Christ that will encourage Christians with a fresh hope in their Savior.
—Milton Vincent, author, A Gospel Primer for Christians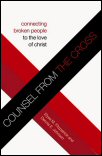 Many churches believe psychological and pharmacological strategies fail to address deep spiritual and mental health needs. These churches are reaffirming the sufficiency and power of the Scriptures to change lives. To aid churches in ministering to broken and hurting people, the authors of Counsel from the Cross present a counseling model based on Scripture and powered by the work of the wonderful counselor, Jesus Christ. Through careful exegesis and helpful case studies, they demonstrate how to provide consistently biblical, gospel-centered counseling and explain why it is important to do so. The authors' combined backgrounds—one, a woman trained in biblical counseling and the other, a male professor of practical theology—bring balance to this work, making it relevant for those who counsel as part of pastoral ministry and for all involved in mentoring or discipleship.
A triumph of a maturing biblical counseling movement.
—Tedd Tripp, pastor, author, international conference speaker
This book triggers worship and hope with exhilarating descriptions of the gospel of Christ and shows us how to live out the love and freedom of the gospel in the relationships and struggles of everyday life.
—Ken Sande, president, Peacemaker Ministries
All Christians, especially pastors, counselors, and church workers who yearn to see genuine healing and transformation in their families and churches, should practice the principles of this book personally and use it to help others.
—Joel R. Beeke, president, Puritan Reformed Theological Seminary
A treasure of gospel-proclaiming, biblical, and practical help for every person striving to grow in grace and help others to do the same.
—Tara Klena Barthel, author, Living the Gospel in Relationships
Elyse Fitzpatrick and Dennis Johnson present a compelling case for the very radical and eminently practical power of the gospel in helping counsel broken people.
—Alfred J. Poirier, author, The Peacemaking Pastor
I've learned more about biblical counseling from Elyse Fitzpatrick than from anyone else writing in the field today.
—Laura Hendrickson, psychiatrist and biblical counselor
Dennis E. Johnson is professor of practical theology at Westminster Seminary California and associate pastor of New Life Presbyterian Church. He earned a PhD from Fuller Theological Seminary.
About Elyse M. Fitzpatrick
Elyse M. Fitzpatrick (b. 1950) is a counselor, retreat and conference speaker, and the head of Counsel from the Cross Ministries. Fitzpatrick has authored over 21 books, including Because He Loves Me, Comforts from Romans, Found in Him, and Love to Eat, Hate to Eat.