John M. Frame Collection (3 vols.)
Overview
The John M. Frame Collection brings together three important works of one of the most influential Reformed theologians working today. Drawn from over 40 years of scholarly expertise, John Frame's Theology of Lordship series covers a broad range of theological and philosophical topics, written in his lucid and engaging style. With the John Frame Collection, you'll get the last two volumes of the series, plus Frame's much anticipated Systematic Theology. Representing the culmination of a lifetime of study, Systematic Theology is characterized by the same reasoned and plainspoken style that has made his work accessible to academics and lay people alike.
The Logos edition of the John Frame Collection enhances your study with amazing functionality. The Timeline enables you to instantly contextualize the people, places, and ideas discussed in Frame's work with thousands of other biblical and world events. Powerful searches allow you to instantly gather relevant biblical texts and resources together. Free tablet and mobile apps let you take the discussion with you. With Logos Bible Software, the most efficient and comprehensive research tools are in one place, so you get the most out of your study.
Key Features
Provides accesible theology from an acclaimed Reformed scholar
Includes the last two volumes of the Theology of Lordship series
Covers a broad range of theological topics
Product Details

Systematic Theology is the culmination and creative synthesis of John Frame's writing on, teaching about, and studying of the Word of God. This magisterial opus—at once biblical, clear, cogent, readable, accessible, and practical—summarizes the mature thought of one of the most important and original Reformed theologians of the last hundred years. It will enable you to see clearly how the Bible explains God's great, sweeping plan for mankind.
Few in our day champion a vision of God as massive, magnificent, and biblical as John Frame's. For decades, he has given himself to the church, to his students, and to meticulous thinking and the rigorous study of the Bible. He has winsomely, patiently, and persuasively contended for the gospel in the secular philosophical arena, as well as in the thick of the church worship wars and wrestlings with feminism and open theism. He brings together a rare blend of big-picture thinking, level-headed reflection, biblical fidelity, a love for the gospel and the church, and the ability to write with care and clarity.
—John Piper, founder, Desiring God Ministries
John M. Frame's Systematic Theology is a remarkable achievement. It is simultaneously scholarly yet accessible, sweeping in scope but penetrating in insight, steeped in historic orthodoxy yet fresh in reflection.
—Peter A. Lillback, president, Westminster Theological Seminary
Systematic Theology . . . is a worthy climax to the life's work of one who has only ever sought to be a faithful servant of Christ, teaching in his church. It is a privilege to celebrate its appearing and to commend it for serious study. I guarantee that the dividends of such study will be uniformly high. Thank you, John Frame, for this superb gift.
—J.I. Packer, Board of Governors' Professor of Theology, Regent College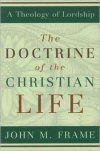 The third volume of Frame's Theology of Lordship series, this book focuses on biblical ethics, presenting a method for ethical decision-making, an analysis of biblical ethical teaching focusing on the Ten Commandments, and a discussion of the relation of Christ to human culture.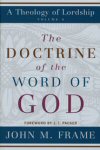 This fourth and final volume in the Theology of Lordship series discusses God's Word in modern theology and how God's Word comes to us as his controlling power, meaningful authority, and personal presence.
Dr. Frame says that God's speech to man is real—like one person speaking to another. "God speaks so that we can understand him and respond appropriately. Appropriate responses are of many kinds: belief, obedience, affection, repentance, laughter, pain, sadness, and so on. God's speech is often propositional: God's conveying information to us. But it is far more than that. It includes all the features, functions, beauty, and richness of language that we see in human communication, and more. So the concept I wish to defend is broader than the 'propositional revelation' that we argued so ardently forty years ago, though propositional revelation is part of it. My thesis is that God's Word, in all its qualities and aspects, is a personal communication from him to us."
About John M. Frame
John Frame is J.D. Trimble Professor of Systematic Theology and Philosophy at Reformed Theological Seminary, Orlando campus. He previously taught theology and apologetics at Westminster Theological Seminary (Philadelphia) and at Westminster Seminary California. Frame's other works include Apologetics to the Glory of God, No Other God: A Response to Open Theism, Cornelius Van Til: An Analysis of His Thought, and Salvation Belongs to the Lord.
More details about these resources