Homilías, audiencias y otros escritos del Papa Juan Pablo I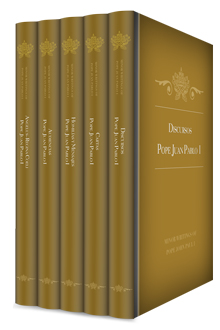 Homilías, audiencias y otros escritos del Papa Juan Pablo I
•
Runs on Windows, Mac and mobile.
Your Custom Discount
Reg. Price $22.95
Sale Price $17.95
Your Price $17.95
You Save $5.00 21%
Your Price
What's Pre-Pub?
$17.95
Reseña
Durante 33 días, el Papa Juan Pablo I (Albino Luciani) condujo a la Iglesia Católica en el espíritu del post—Vaticano II. Como obispo, Albino Luciani participó en todas las sesiones del Concilio Vaticano II. Fue conocido como un escritor experto por sus ilustrísimos escritos, tal como su libro de cartas a personajes históricos y ficticios. En su breve pontificado se ganó una muy buena reputación debido a su humildad y mansedumbre.
Esta colección contiene todos los escritos completos, discursos y mensajes producidos durante su papado. Estos incluyen los mensajes de radio, cartas apostólicas, homilías dominicales, discursos y audiencias. Muchos de estos escritos son también disponibles en latín, los cuales se han recopilado en un volumen aparte.
Ahora usted puede tener los escritos y discursos "del Papa sonriente" en la biblioteca de Logos. Las referencias cruzadas y de otras fuentes los llevarán a sus discursos sin perder la página en que estaban. Así también las citas de la Escritura de sus escritos aparecerán al instante con solo pasar el cursor sobre ellas y en su traducción preferida. Añadiendo sus discursos y escritos a la biblioteca para reunirlos con el resto de las obras de los papas harán que usted sea capaz de buscar instantáneamente cualquier cosa que el Vaticano ha enseñado, así como la "humildad ", "Romanos 8 ", etc…
Recurso católico: Con la ayuda de este recurso, podrás conocer mejor las creencias y enseñanzas de la Iglesia Católica, la religión más extendida entre los hispano-hablantes. Encuentra otros recursos católicos aquí.
Looking for these writings in English? Click here for the English edition.
Características principales
La traducción oficial al español de la Santa Sede
Homilías, audiencias y discursos del Papa Juan Pablo I
Su primer y único mensaje de radio dado "Urbi et Orbi"
Contenido
Angeli
Audiencias
Homilías y Mensajes
Cartas
Discursos
Alabanza en honor del Papa Juan Pablo I
¿Y qué diremos de Juan Pablo I? Apenas ayer salió de nuestras filas para vestir el no pequeño peso del manto papal; pero ¡qué llama de caridad, qué "oleada de amor" —como él deseó para el mundo en su última alocución dominical, antes del Ángelus— salieron de él en los pocos días de su ministerio! Lo confirman también sus sabias lecciones catequéticas, dirigidas a los fieles en las audiencias públicas, sobre la fe, la esperanza y la caridad.
—Papa Juan Pablo II
Detalles del Producto
Título: Homilías, audiencias y otros escritos del Papa Juan Pablo I
Autor: Papa Juan Pablo I
Editorial: Librería Editrice Vaticana
Volúmenes: 5
Sobre Juan Pablo I (About John Paul I)
Juan Pablo I (Albino Luciani) (1912-1978) ejerció el papado durante 33 días (desde el 26 de agosto de 1978 hasta el 28 de septiembre de 1978). En 1923 comenzó el seminario en Belluno, donde intentó unirse a los jesuitas, pero fue negado por el rector. Fue ordenado sacerdote en 1935 y dos años más tarde se convirtió en profesor y vice-rector de Belluno. Enseñó teología, derecho canónico y arte sacro.
En 1958 fue nombrado obispo de Vittorio Veneto por el Papa Juan XXIII. Como obispo participó en todas las sesiones del Concilio Vaticano II. En 1969 fue nombrado Patriarca de Venecia por el Papa Pablo VI. Luego en 1973 fue nombrado cardenal. En 1978 fue elegido Papa. Fue la primera elección de un papa con doble nombre en la historia. El nombre de Juan Pablo —como él mismo lo explicó en un Angelus, honraba a sus dos predecesores inmediatos, Juan XXIII y Pablo VI. Ellos fueron sus mentores y quienes lo nombraron obispo y cardenal respectivamente.
Su repentina e inesperada muerte, después de sólo 33 días en su papado, ha sido objeto de teorías de conspiración, películas y novelas. Se lo recuerda por su humildad y su amabilidad. Fue conocido en Italia como "el Papa de la sonrisa". En 2002 se abrió la causa para su beatificación.
Páginas de muestra