The Homilies, Audiences, and Other Writings of Pope John Paul I (6 vols.)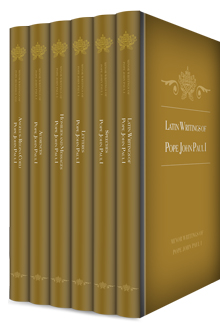 The Homilies, Audiences, and Other Writings of Pope John Paul I (6 vols.)
•
Runs on Windows, Mac and mobile.
Overview
For 33 short days, Pope John Paul I (Albino Luciani) led the Catholic Church in a post-Vatican II world. As bishop, Albino Luciani participated in all the sessions of the Second Vatican Council, and was known as a skilled writer, having written Illustrissimi, a book of letters to historical and fictional people. In his short papacy, he gained a reputation for humility and gentleness.
This collection contains all of the completed writings, speeches, and messages produced during his short papacy. These include his radio messages, apostolic letters, Sunday homilies, speeches, and audiences. Many of these are also available in Latin, and so have been compiled in a separate volume.
Now you can have "the smiling pope's" writings and speeches in your Logos library. Cross-references to and from other sources will bring you back to his speeches without losing the page you were on, and his citations of Scripture appear instantly on mouseover and in your favorite translation. Add his speeches and writings to your library to join the rest of the works of the popes and you'll be able to instantly search for anything the Vatican has taught on "humility" or "Romans 8."
Looking for these writings in Spanish? Click here for the Spanish edition.
Praise for Pope John Paul I
What can we say of John Paul I? It seems to us that only yesterday he emerged from this assembly of ours to put on the papal robes—not a light weight. But what warmth of charity, nay, what 'an abundant outpouring of love'—which came forth from him in the few days of his ministry and which in his last Sunday address before the Angelus he desired should come upon the world. This is also confirmed by his wise instructions to the faithful who were present at his public audiences on faith, hope, and love.
—Pope John Paul II
Key Features
Pope John Paul I's homilies, audiences, and speeches
His first and only radio message, given "Urbi et Orbi"
Contents
Angeli
Audiences
Homilies and Messages
Letters
Speeches
Latin Writings of Pope John Paul I
Product Details
Title: The Homilies, Audiences, and Other Writings of Pope John Paul I
Author: Pope John Paul I
Publisher: Libreria Editrice Vaticana
Volumes: 6
About John Paul I
John Paul I (Albino Luciani) (1912–1978) served as Pope for 33 days (26 August 1978–28 September 1978). In 1923, he began seminary at Belluno, where he attempted to join the Jesuits but was denied by the seminary's rector. He was ordained to the priesthood in 1935 and, two years later, became a professor and vice-rector at Belluno. He taught theology, canon law, and sacred art.
In 1958, he was appointed bishop of Vittorio Veneto by Pope John XXIII. As a bishop, he participated in all the sessions of the Second Vatican Council. In 1969, he was appointed Patriarch of Venice by Pope Paul VI and was named a cardinal in 1973. In 1978, he was elected pope, choosing the first double name in the history of the papacy—John Paul—explaining in his Angelus that he honored both his immediate predecessors, John XXIII and Paul VI, who each mentored him along and named him bishop and cardinal, respectively.
His sudden and unexpected death just 33 days into his papacy has been the subject of conspiracy theories, movies, and novels. He is remembered for his humility and his friendliness, known in Italy as "the smiling pope." In 2002, the cause for his canonization was opened.
Sample Pages
More details about these resources