Oxford Biblical Studies Collection (9 vols.)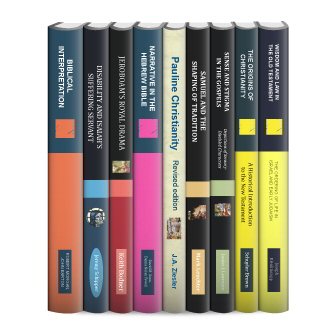 Overview
Bring world-class scholarship to your library of biblical studies with a mix of volumes from the Oxford Bible Series and the Biblical Refigurations Series.
The Oxford Bible Series offers commentaries that take a broad look at several biblical books at a time. Each volume features detailed discussions of Scripture passages demonstrating interpretations that enable deeper understanding of wider issues—both historical and theological—with which the Bible is concerned.
The Biblical Refigurations Series approaches Scripture with innovative new perspectives on the textual, cultural, and interpretative contexts of particular biblical characters, inviting readers to take a fresh look at the methodologies of biblical studies. Each volume employs different critical methods, including social-scientific criticism, critical theory, historical criticism, reception history, and disability studies, while subjects include both prominent and lesser known figures from the Old and New Testaments.
In the Logos edition, the Oxford Biblical Studies Collection is enhanced by amazing functionality. Scripture citations link directly to English translations, and important terms link to dictionaries, encyclopedias, and a wealth of other resources in your digital library. Perform powerful searches to find exactly what you're looking for. Take the discussion with you using tablet and mobile apps. With Logos Bible Software, the most efficient and comprehensive research tools are in one place, so you get the most out of your study.
Key Features
2,000 pages of world-class scholarship in biblical studies
Detailed discussions of Scripture passages
Innovative new perspectives on the contexts of particular biblical people
Product Details
Title: Oxford Biblical Studies Collection
Series: The Biblical Refigurations Series
Publisher: Oxford University Press
Volumes: 9
Pages: 1,920
Resource Type: Monographs
Topic: Biblical Studies
Individual Titles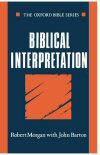 This book defines interpretation and examines the special issues that surround biblical interpretation. The authors analyze the development of traditional literary and historical criticism and more recent social, scientific, and literary approaches, focusing on the key figures from Reimarus to Gerd Theissen, and exposing the underlying theological issues. They reveal a pattern in the relationship between religious interests in the texts and the rational methods used to interpret them, providing guidance for a theologically sensitive use of the Bible today. The book includes an annotated index with detailed information on over 250 biblical scholars and other interpreters..
An exceptional book. It combines a critical history of modern Western biblical scholarship with a sensitive analysis of the issues facing contemporary biblical theologians. . . . There is no recent work in English that does either, or both, as well. . . . Should be read by all who have serious academic, professional, and/or personal interest in responsible contemporary appropriation of the biblical text.
—Choice
Combines engaging and illuminating historical discussion of the development of critical biblical studies . . . with a generally penetrating theoretical examination of the methods employed. . . . Morgan and Barton shed a much-need light on the interaction of general intellectual history and the particular disciplines of biblical studies and biblical theology.
—The Journal of Religion
The best and most current map of biblical study available today.
—America
A very wide-ranging book and virtually any reader will find something of interest in it.
—Critical Review
Robert Morgan is university lecturer in New Testament theology and a Fellow of Linacre College, Oxford University.
John Barton is the Oriel and Laing Professor of the Interpretation of Holy Scripture at Oriel College, Oxford University.

Jeremy Schipper writes this first volume in the Biblical Refigurations series, offering a fresh perspective on the textual, cultural, and interpretative contexts of the suffering servant in Isaiah. Schipper highlights the relevance of disability studies to the study of the biblical text. He engages research in disability studies form across the humanities to illuminate a very familiar passage in biblical studies. Shipper also reviews the history of scholarship on Isaiah 53 and presents a close reading that challenges frequent assumptions associated with the suffering servant. His work is clear and accessible, well suited to introducing and explaining cross disciplinary findings relevant to the study of the biblical text.
Jeremy Schipper is associate professor of Hebrew Bible at Temple University, Pennsylvania.

Keith Bodner uses narrative criticism to engage the biblical text. Bodner pays particular attention to the literary characterization of Jeroboam. He provides a close reading of the text of 1 Kings 11–14.
Jeroboam's Royal Drama is a slim volume, well written, and sustains a reader's interest . . . useful for general readers and students.
—Hebrew Studies
Keith Bodner is professor of religious studies at Crandall University in New Brunswick.

After almost two centuries of historical criticism, biblical scholarship has recently undergone major shifts, most notably toward the literary study of the Bible. Much germinal criticism has taken as its primary focus narrative texts of the Hebrew Bible (the Old Testament). This study provides a lucid guide to the interpretive possibilities of this movement.
Attempting to be both theoretical and practical, it combines discussion of methods and the business of reading in general with numerous illustrations through readings of particular texts. Gunn and Fewell discuss how literary criticism is related to other dominant ways of reading the text over the last 2,000 years. In addition, they address characters—including the narrator and God; plot—modifying recent theory to accommodate the peculiar complexity of biblical narratives; and the play of language through repetition, ambiguity, multivalence, metaphor, and intertextuality. Finally, the authors discuss readers and responsibility, exploring the ideological dimension of narrative interpretation. An extensive bibliography completes the book, arranged by subject and biblical text.
Gunn and Fewell write with clarity and grace. Their recounting of others' work, as well as their analyses, are concise, illuminating, and provocative. Their bibliographies are just what the reader needs to pursue the points further.
— K.C. Hanson, former assistant professor of biblical studies and religion, St. Olaf College
This text was well received by my students. . . . The discussions of biblical texts are especially strong, providing excellent bases for discussions. I will use this again.
—Donald K. Berry, associate vice-president for academic service, University of Mobile
In a compact space Gunn and Fewell have distilled a great deal of learning and sensitive reading to illustrate the richness of Hebrew narrative, and they have done it in such a way as to appeal to readers of varying religious persuasions and of none. The bibliographies are especially full and useful.
— Philip Pfatteicher, former professor of English, East Stroudsburg University
David M. Gunn is A.A. Bradford Professor of Religion at Texas Christian University.
Danna Nolan Fewell is professor of Hebrew Bible at Drew Theological School.

Closely examining Paul's view that Jesus Christ marked the end of an era and the beginning of a new world and a new humanity, the author considers the implications of this centrality of Christ in relation to the people of God, explores the new possibilities for human life, and the law, and follows the history of Pauline Christianity into the second century.
One of the finest of the brief books on Paul and his theology. It combines digesta of scholarly judgments in a manner that a serious entry level student can understand. I am glad to have it in this revised edition.
—Ronald Tyler, professor emeritus of religion, Pepperdine University
Superior. A must for introductory and higher level courses on Pauline literature.
—Mary M. McGlone, assistant professor of theology, Avila College
A clear concise presentation of the thought of Paul of Tarsus. It is accessible to students who are beginning New Testament studies. . . . All in all, scintillating and satisfying.
—Edgar Krentz, Christ Seminary-Seminex Professor Emeritus of New Testament, Lutheran School of Theology
J.A. Ziesler is tutor in New Testament at Trinity College, Auckland.

Mark Leuchter engages contemporary scholarship without relying on technical language. Leuchter proposes new models for the development of biblical historiography. He offers new insights into the ethnogenesis of ancient Israel. Specific passages are used to explore the importance of the "history of interpretation" both within and beyond the biblical text.
Mark Leuchter is associate professor of religion and director of Jewish studies at Temple University in Philadelphia

Louise J. Lawrence brings sensory anthropology and disability studies material into conversation with biblical material and its modern commentators. Each chapter takes a different sensory-disabled character from the Gospels as its focus. Lawrence challenges disciplinary norms regarding disability and "normative" methodologies in biblical studies
Louise J. Lawrence is senior lecturer in New Testament studies at the University of Exeter.

The life and death of Jesus of Nazareth and the beginnings of the movement which venerated him are of profound religious significance to Christian believers today. These events are also part of our common history and have had enormous influence on the development of Western civilization. This is a thorough historical introduction to the New Testament, considering many aspects of the formation of Christianity and how it has influenced subsequent secular and religious history. A revised edition of a classic text, The Origins of Christianity addresses the historical problems involved in the study of the New Testament, suggesting modern techniques for solving them. For the this revised edition, the author has not only corrected and updated the text, but also expanded and clarified some points with new material and further references.
Delightful and most informative.
—The Advocate
High-class and refreshing—makes me want to reread it again.
—David Jenkins, Church Times
Schuyler Brown was ordained to the priesthood through the Jesuit order. He was awarded a ThD from the University of Muenster. He is professor of New Testament and Eastern studies at St. Michael's College.

This is a completely revised and expanded edition of a classic text. Drawing on recent work on legal and didactic material and including more literary interpretation, Blenkinsopp traces the course of two related key traditions—law and wisdom—throughout the history of Israel in the biblical period. He demonstrates their essential lines of continuity with classical Jewish thought and early Christian theology..
An excellent little book. It combines serious scholarship with readability.
—Mary M. McGlone, assistant professor of theology, Avila College
An excellent treatment providing both overview and critical depth. . . . Represents the culmination in thinking of one of the finest Old Testament scholars alive today.
—Donald G. Schley, PhD in interdisciplinary studies, Emory University
What a pleasure to find a book that takes seriously the meaning and importance of 'law' in the Hebrew Bible. . . . This book is a helpful introduction to the current state of critical theology . . . both informative and stimulating.
—Universe
Joseph Blenkinsopp is John A. O'Brien Professor Emeritus of Biblical Studies.
More details about these resources