Intercessory Prayer: How God Can Use Your Prayers to Move Heaven and Earth (with audio)
Intercessory Prayer: How God Can Use Your Prayers to Move Heaven and Earth (with audio)
•
Runs on Windows, Mac and mobile.
Your Custom Discount
Reg. Price $23.95
Sale Price $17.95
Your Price $17.95
You Save $6.00 25%
Your Price
What's Pre-Pub?
$17.95
Overview
If God is all-powerful, why does he need us to pray? If we pray and nothing happens, does this mean that God isn't listening? If you've ever felt that your prayers don't count, Intercessory Prayer will show you just how vital your prayers are.
In this book, pastor and teacher Dutch Sheets explains the nuts and bolts of prayer with wisdom, gentleness, and humor. This book will inspire you, give you the courage to pray for the "impossible," and help you find the persistence to see your prayers to completion. This product includes the audio and Logos editions of Intercessory Prayer.
Audiobooks add new dimension to your digital library. Your audiobooks sync across devices—pause an audiobook anytime on your home computer, then pick up where you left off in your car or on your laptop. Listen on your lunch breaks, as a family, or as part of your personal devotional time. Tap into the power of Logos Bible Software in a whole new way.
Key Features
Discusses the importance of prayer
Explores how to pray more effectively
Encourages persistence and determination in prayer
Contents of Print Edition
The Question Is
The Necessity of Prayer
Re-Presenting Jesus
Meetings: The Good, the Bad, and the Ugly
Cheek to Cheek
No Trespassing
Butterflies, Mice, Elephants, and Bull's-Eyes
Supernatural Childbirth
Pro Wrestlers
Most High Man
The Lightning of God
The Substance of Prayer
Actions That Speak and Words That Perform
The Watchman Anointing
Resources Included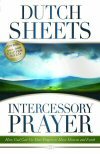 Few times in history does an author capture the heart of God and create a classic that will affect generation after generation. Dutch Sheets has accomplished that with Intercessory Prayer. After you read this book, you will understand how to stand, make decrees, and become the lightning of God in the earth.
—Chuck D. Pierce, president, Glory of Zion International Ministries
Intercessory Prayer has deservedly become a popular classic. This engaging and practical book has contributed enormously to the prayer movement of the last decade. Although thousands of books have been written about prayer, I recommend the book you are now holding in your hands. May it impact your life the way it has impacted mine.
—Pete Greig, cofounder, 24-7 Prayer community

Intercessory Prayer (audio)
Author: Dutch Sheets
Narrator: Robertson Dean
Edition: Unabridged
Publisher: Regal Baker Publishing Group / christianaudio
Runtime: 8.3 hours
Product Type: Audiobook
About Dutch Sheets
Dutch Sheets is an internationally-known conference speaker and author. He has written many bestselling books. For 18 years he pastored Freedom Congregation in Colorado Springs, Colorado. He travels extensively throughout the United States empowering believers for passionate prayer and world-changing revival.