The Knowledge of the Holy (audio)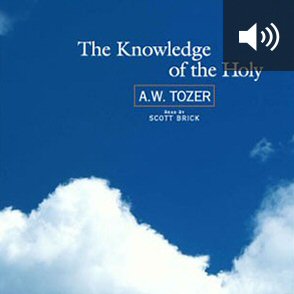 Overview
What is the nature of God? How can we recapture a real sense of God's majesty and truly live in the Spirit? This beloved book, a modern classic of Christian testimony and devotion, addresses these and other vital questions, showing us how we can rejuvenate our prayer life, meditate more reverently, understand God more deeply, and experience God's presence in our daily lives.
Audiobooks add new dimension to your digital library. When you listen in Logos, your audiobooks sync across devices—pause a book anytime on your home computer, then pick up where you left off in your car or on your laptop. Listen on your lunch breaks, as a family, or as part of your personal devotional time. Tap into the power of Logos Bible Software in a whole new way.
Key Features
Addresses vital questions of evangelical Christian theology
Discovers the nature of God and shapes our response towards him
Focuses on enriching spiritual life through deeper understanding
Contents of Print Edition
The Holy Trinity
The Self-Existence of God
The Self-Sufficiency of God
The Eternity of God
God's Infinitude
The Immutability of God
The Divine Omniscience
The Wisdom of God
The Omnipotence of God
The Divine Transcendence
God's Omnipresence
The Faithfulness of God
The Goodness of God
The Justice of God
The Mercy of God
The Grace of God
The Love of God
The Holiness of God
The Sovereignty of God
The Open Secret
Praise for the Audio Edition
This relatively short work by the late theologian is a good introduction to evangelical Christian theology. Tozer, who was able to see trends in the evangelical community that are apparent today, describes what the attributes of God are. This is theology in the literal sense. In this soberly written, though by no means dry or dense, work, Tozer advocates a return to a reverent view of God that would inform our lives and our actions. Scott Bricks narration is sober, measured, and deliberate, but never monotonous or devoid of feeling. His performance is an appropriate combination of sermon and lecture.
—Audiofile
About A.W. Tozer
A.W. Tozer (1897–1963) was born on a small farm in what is now Newburg, Pennsylvania. His family moved to Akron, Ohio, when he was just a young boy. At the age of 17, Tozer heard a street preacher, responded to the calling of Christ, and began his lifelong pursuit of God. After becoming an active witness of Jesus as a lay preacher, he joined The Christian and Missionary Alliance and was soon serving as the pastor of West Virginia's Alliance Church, in 1919. He transferred to the Southside Alliance Church in Chicago in 1928, and his ministry continued there for 31 years. During that time he preached on the Moody Bible Institute's radio station. In the 1940s Tozer was invited to speak at Wheaton College, and seldom a year passed after World War II that he didn't preach in the college's Pierce Chapel. In 1950 he became the editor of The Alliance Life magazine and served in that capacity until his death.
More details about this resource