Life Together: The Classic Exploration of Faith in Community (audio)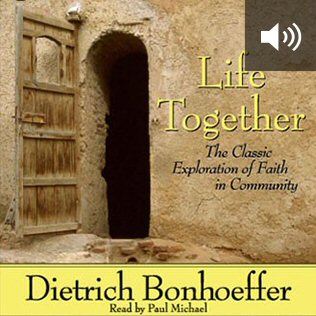 Life Together: The Classic Exploration of Faith in Community (audio)
•
Runs on Windows, Mac and mobile.
Overview
After his martyrdom at the hands of the Gestapo in 1945, Dietrich Bonhoeffer continued his witness in the hearts of Christians around the world. His Letters and Papers from Prison became a prized testimony to Christian faith and courage, read by thousands. Now in Life Together we have Pastor Bonhoeffer's experience of Christian community.
This story of a unique fellowship in an underground seminary during the Nazi years reads like one of Paul's letters. It gives practical advice on how life together in Christ can be sustained in families and groups. The role of personal prayer, worship in common, everyday work, and Christian service is treated in simple, almost biblical, words. Life Together is bread for all who are hungry for the real life of Christian fellowship.
Audiobooks add new dimension to your digital library. When you listen in Logos, your audiobooks sync across devices—pause a book anytime on your home computer, then pick up where you left off in your car or on your laptop. Listen on your lunch breaks, as a family, or as part of your personal devotional time. Tap into the power of Logos Bible Software in a whole new way.
Key Features
Gives practical advice on sustaining structures of Christian community
Explores the role of personal prayer and worship in everyday life
Uses clear language to deepen Christian fellowship
Contents of Print Edition
Community
The Day with Others
The Day Alone
Ministry
Confession and Communion
Product Details
Title: Life Together: The Classic Exploration of Faith in Community
Author: Dietrich Bonhoeffer
Narrator: Paul Michael
Edition: Unabridged
Publisher: christianaudio
Print Publisher: Augsburg Fortress
Runtime: 3.5 hours
Product Type: Audiobook
Christian Group: Lutheran
About Dietrich Bonhoeffer
Dietrich Bonhoeffer (1906–1945) a German theologian, pastor, and ecumenist, was a professor in Berlin, an uncompromising teacher in the Confessing Church, and a consistent opponent of National Socialism. Executed by Hitler at the end of World War II, his influence continues today as one of the most important theologians of the twentieth century.
More details about this resource