The Promise of Security (audio)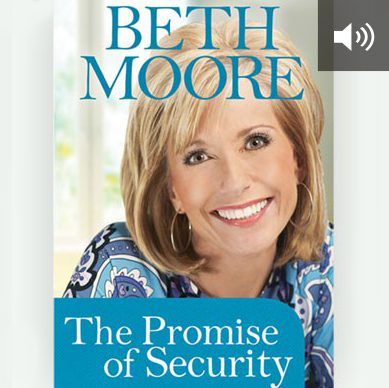 Overview
Based on her New York Times best-selling book, So Long, Insecurity, Beth Moore introduces The Promise of Security audiobook. This audiobook will prompt women to find their soul-deep security in God. Divided topically by common insecurities women face, The Promise of Security provides a boost of hope and confidence that will encourage women to continue on in their quest for soul-deep security.
Key Features
Encourages women to find security in God's Word
Describes common insecurities and how to overcome them
Draws from Moore's other books
Contents of Print Edition
When Life Seems Unpredictable and Uncertain
When You long to Be Healthy and Whole
When You Lack Confidence
When You Feel Alone
When You Are Looking for Love
When You Are Searching for Significance and Value
When You Need Strength and Dignity
When Your Relationships Need a Boost
When You Need to Set Boundaries
When You Are Searching for an Identity
When You Are Feeling Unlovable
When You Are Tired of Competition and Conflict
When You Need Christ's Saving Power
About Beth Moore
Beth Moore is an evangelist, teacher, and best-selling author. Moore has written several books including Get out of That Pit, So Long, Insecurity, A Woman and Her God, and several others, as well as Bible studies that are used by groups all over the world.
In 1994, Moore founded Living Proof Ministries, an organization dedicated to encouraging women to know Christ through His Word. Living Proof Ministries hosts a conference, Living Proof Live, where Moore teaches hundreds of thousands of women who attend the conferences all over the United States.
More details about this resource