From the Future: Getting to Grips with Pannenberg's Thought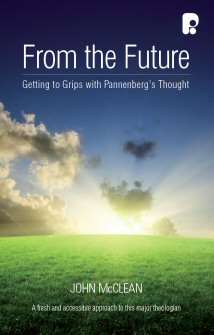 From the Future: Getting to Grips with Pannenberg's Thought
•
Runs on Windows, Mac and mobile.
Your Custom Discount
Reg. Price $13.95
Sale Price $9.95
Your Price $9.95
You Save $4.00 28%
Your Price
What's Pre-Pub?
$9.95
Reg.: $13.95
Print: $16.99
Overview
Open up significant avenues for critical discussion of Wolfhart Pannenberg's thought by analyzing its structure and content. Examine philosophical atheism's challenge to Pannenberg's thought and how his concept of "anticipation" overcomes this challenge. According to author John McClean, "anticipation" defines the core of Pannenberg's theological project, extending to his understanding of revelation, Christ, redemption, and God.
The Logos edition of From the Future: Getting to Grips with Pannenberg's Thought equips you for better study with cutting-edge functionality and features. Citations link directly to English translations and original-language texts, and important terms link to dictionaries, encyclopedias, and a wealth of other resources in your digital library. The Topic Guide lets you perform powerful searches to instantly gather relevant biblical texts and resources. Tablet and mobile apps let you take the discussion with you. With Logos Bible Software, the most efficient and comprehensive research tools are in one place, so you get the most out of your study.
Key Features
Analyzes the structure and content of Pannenberg's thought
Introduces Pannenberg's thought
Prepares readers to further engage with Pannenberg
Contents
God, History and Hope: Introducing Pannenberg
Thinking about Everything: Themes in Pannenberg's Thought
Thinking about God: Pannenberg and Systematic Theology
Jesus, History and God: Pannenberg and Revelation
How the Future Makes the Past: Pannenberg and Metaphysics
Jesus, God and History: Pannenberg and Christology
The Heartbeat of Divine Love: Pannenberg and Reconciliation
The One Who Is All in All: Pannenberg and God
Praise for the Print Edition
John McClean makes Pannenberg accessible without being simplistic, sympathetic without avoiding criticism. From the Future is more than a survey of Pannenberg and his reception. It places Pannenberg in context and leads us into the world of his thought with a fascinating narrative.
—Michael Horton, J. Gresham Machen Professor of Theology, Westminster Seminary
John McClean's lucid and thought-provoking account of Pannenberg's work provides a great service to evangelical teachers and students; for to come to grips with Pannenberg's thought (as readers of this book surely will) is to come to grips with the whole matter of proclaiming Christ in the contemporary world. This is an invaluable work.
—Michael Jensen, lecturer in doctrine and church history, Moore College, Sydney Australia
This new book on Pannenberg's theology is well named: it is the fruit of a long and intense engagement with the rich and complex thought of a seminal modern theologian. It offers a reliable and very readable survey of major aspects of Pannenberg's theology, coupled with a strong affirmation of Pannenberg's theological project as well as criticism of some particular points. There is much to be learnt from this intellectual journey with Pannenberg.
—Christiaan Mostert, professor emeritus, University of Divinity, Melbourne, Australia
Product Details
Title: From the Future: Getting to Grips with Pannenberg's Thought
Author: John McClean
Publisher: Paternoster
Publication Date: 2013
Pages: 232
Christian Group: Lutheran
Resource Type: Monograph
Topic: Lutheran Theology
About John McClean
John McClean is vice principal and professor of theology at Christ College, Sydney, Australia. McClean is the convenor of the Gospel, Society and Culture Committee of the Presbyterian Church of New South Wales, and writes a regular ethics column in Pulse, the Presbyterian Church of New South Wales magazine.
Sample Pages from the Print Edition