Systematic Theology (3 vols.)
Overview
Wolfhart Pannenberg is widely regarded as one of the foremost theologians in the world today. Respected by his peers and critics, Pannenberg's treatise on the dogmatics of Christianity is seen as one of greatest achievements in twentieth-century theology and a timeless work that will continue to challenge, teach, and ignite theological studies for decades to come.
Noted for his association with "high-church" intellectualism, the writings of Wolfhart Pannenberg offer a new perspective to your library of Christian theology and dogmatics. He is noted for his intellect and interdisciplinary approach in his studies and his expositions are cited amongst the most respected works in contemporary theology. Pannenberg's Systematic Theology will continue to benefit you and your studies for years to come as a part of your theology library. Specifically focused on the explanation of key Christian doctrines, this set is a very important addition to your Logos Bible Software library!
Praise for the Print Edition
Through careful argument and often profound and detail analyses, Pannenberg shows how the Christian doctrine of God illumines our understanding of the world and humanity. His treatment of creation anthropology, and Christology continues the brilliance and erudition of the first volume.
—Francis Schussler Fiorenza, Harvard Divinity School
. . .dense, demanding, often provocative, rarely comfortable, and built upon a non-evangelical doctrine of revelation.
—Foundations 47 (Autumn 2001)
This three-volume work is the most important systematic theology to come from the Continent since Barth. It places Pannenberg in the forefront of living theologians, and will no doubt be discussed, debated, and criticized by many.
—Catalyst
Individual Titles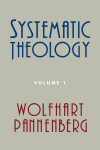 Marked by a creative blend of philosophical, historical, anthropological, and exegetical analysis, Volume 1 focuses on the Christian doctrine of God, offering original material on the concept of truth, the nature of revelation, language about God, the nature of the Trinity, and the public aspect of theology.
Ranking alongside of Karl Barth's Church Dogmatics and Paul Tillich's Systematic Theology, Pannenberg's Systematic Theology is unsurpassed in its combination of historical, ecumenical sensitivity, and systematic rigor. It displays its creativity in its respect and retrieval of the Christian tradition. A monumental work of such profundity marks a milestone in systematic theology. Its publication in English places every American theologian in debt to Eerdmans Publishing Company.
—Francis Schussler Fiorenza, Harvard Divinity School
Whoever said that the giants of theology are all gone is in for a surprise. Pannenberg's long-awaited magnum opus is a monumental achievement destined to provide a new touchstone of theological scholarship for decades to come. His Systematic Theology is meticulous in historical detail, rigorous in logical argumentation, and creative in relating the great tradition of Christian thought to modern experience without 'rash adjustment to the spirit of the age.' It is scientific theology at its best.
—Roger E. Olson, Bethel College, St. Paul, Minnesota
In a day in which theologians readily cater to current trends and whims, Wolfhart Pannenberg's attempt to advance the classical theological quest for the universal truth of God is refreshing. With his Systematic Theology he is at last moving beyond methodological questions to the development of his own theological system.… Volume One reveals Pannenberg at his best - conversant in exegetical studies, the history of doctrine, and modern thinking. It also raises to a new level the ongoing dialogue between Pannenberg and his critics. When completed, his Systematic Theology will no doubt prove to be a standard work in the task of reestablishing the voice of theology in the wider intellectual discussion.
—Stanley J. Grenz, Regent College
Pannenberg combines extraordinary erudition with fine analytical skills. In addition, he is an imaginative and original thinker of the first rank. A lifetime of creative work now comes to fruition in what is likely to prove the greatest systematic theology of his generation.
—John B. Cobb, Jr., School of Theology at Claremont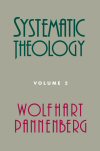 Volume 2 of Pannenberg's magnum opus moves beyond the highly touted discussion of systematic prolegomena and theology proper in Volume 1 to commanding, comprehensive statements concerning creation, the nature of man, Christology, and salvation. Throughout, Pannenberg brings to bear the vast command of historical and exegetical knowledge and philosophical argumentation for which he is well known.
Here is an opportunity to observe and interact with the greatest theological mind of our time at work doing genuine systematic theology. The many segments of Professor Pannenberg's thought that have been developed in separate treatises over the years are here brought together in a coherent whole. He does not hesitate to wrestle with the most difficult theological problems. The reader will not only learn theological methodology but also be exposed to the history of Christian thought on each of the major issues of theology. This is not easy reading, but clearly worth the effort expended.
—Millard Erickson, Southwestern Baptist Theological Seminary
Through careful argument and often profound and detailed analyses, Pannenberg shows how the Christian doctrine of God illumines our understanding of the world and humanity. His treatment of creation, anthropology, and Christology continues the brilliance and erudition of the first volume.
—Francis Schussler Fiorenza, Harvard Divinity School
Theo-logy is about God, and to speak seriously about God is to consider everything. Few thinkers in Christian history have had the courage, learning, and devotion to undertake a comprehensive account of God, the world, and humanity as illuminated by revelation. Wolfhart Pannenberg is one of them. The second volume of the systematics helps us understand why, if our Lord's return is delayed, thinkers a hundred and more years from now will be taking account of Pannenberg.
—Richard John Neuhaus, President, Religion and Public Life
The second installment of Pannenberg's monumental Systematic Theology measures up in every way to the lofty standard set forth in volume one. His treatment of the creation of the world, the human situation, and God's provision of reconciliation in Christ leads the reader along an engaging path of theological inquiry. As always, Pannenberg brings together the best of biblical scholarship, the wealth of the Christian theological tradition, and the concerns fo the modern sciences. Theologians of a variety of persuasions will find his magnum opus engaging and challenging reading.
—Stanley J. Grenz, Carey/Regent College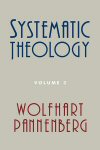 In Volume 3 Pannenberg completes his theological project with the exposition of the Christian doctrines of the Holy Spirit, salvation, the church, and the eschatological hope. At the heart of this volume lies the theme of the church; it not only comprises the largest chapter but is intimately related to each of the other doctrines—to the Spirit as an eschatological gift and to individual salvation as a sign of its future consummation. Throughout this work Pannenberg brings to bear the vast historical and exegetical knowledge and keen philosophical argumentation for which he is well known.
With the appearance of this long-anticipated volume, Wolfhart Pannenberg's complete systematic presentation of Christian theology is finally available to an English-speaking audience. The third installment of his magnum opus unfolds the pneumatology pervading his entire theology, reveals his deeply felt concern for the ecumenical church, and sets forth his innovative and thought-provoking eschatology. The work of this premier theologian of the late twentieth century will be discussed for years to come.
—Stanley J. Grenz, Carey/Regent College
A masterpiece of theological scholarship and Christian reflection. Pannenberg concludes his Systematic Theology with an exposition of salvation, the church, sacraments, ministry, election, and eschatology. He brings originality and creativity to the arrangement and exposition of the topics while at the same time retrieving the meaning and significance of traditional Christian beliefs and practices. In addition to his immense historical knowledge coupled with systematic rigor, Pannenberg brings a sensitivity to controversial ecumenical issues that makes this volume indispensable for Catholic as well as Protestant theologians. This three-volume Systematic Theology will become a theological classic for the twenty-first century.
—Francis Schussler Fiorenza, Harvard Divinity School
This volume, dealing predominantly with the church and the sacraments, brilliantly rounds out Pannenberg's systematics. Particularly rewarding are his discussions of Lutheran-Catholic controversies of the sixteenth century and of the rapprochement resulting from the ecumenical dialogues of the twentieth century. This learned and lucid treatise will probably win a place alongside the classic dogmatic syntheses of Barth, Tillich, and several other writers of genius.
—Avery Dulles, S.J., Fordham University
This third volume of Pannenberg's Systematic Theology consummates the teaching career of the greatest living theologian in the world today .… With this work—encyclopedic in scope and profoundly grounded in Scripture and classical Christianity—Pannenberg has constructed a vision of the church capable of meeting the challenges of the next millennium.
—Carl E. Braaten, Center for Catholic and Evangelical Theology
Product Details
Title: Systematic Theology (3 vols.)
Author: Wolfhart Pannenberg
Publisher: Eerdmans
Volumes: 3
About Wolfhart Pannenberg
Wolfhart Pannenberg is professor of systematic theology on the Protestant Theological Faculty at the University of Munich and director of the Institute for Fundamental Theology and Ecumenics. His numerous books include Jesus - God and Man, Basic Questions in Theology (2 vols.), Theology and the Philosophy of Science, Anthropology in Theological Perspective, Metaphysics and the Idea of God, and Introduction to Systematic Theology.
More details about this resource