Auswahl klassischer Bibeln (3 Bde.)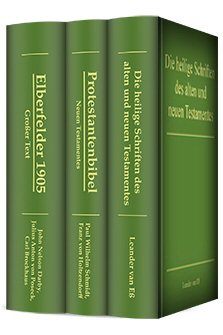 Overview
Get three classic German Bibles reflecting diverse translation methods and perspectives. With Catholic, conservative Lutheran, and liberal Protestant, translations, this collection displays Germany's rich heritage of biblical scholarship. Each translation captures everyday German vernacular and helps readers understand the Bible's message in their own language.
The Logos Auswahl klassischer Bibeln Collection equips you for better study with cutting-edge functionality and features. Citations link directly to English translations and original-language texts, and important terms link to dictionaries, encyclopedias, and a wealth of other resources in your digital library. The Topic Guide lets you perform powerful searches to instantly gather relevant biblical texts and resources. Tablet and mobile apps let you take the discussion with you. With Logos Bible Software, the most efficient and comprehensive research tools are in one place, so you get the most out of your study.
Übersicht
Erwerben Sie drei klassische deutsche Bibeln, welche mit verschiedenen Übersetzungsmethoden und aus unterschiedlichen theologischen Perspektiven erstellt worden sind, darunter katholische, konservativ lutherische und protestantisch liberale Übersetzungen. Diese Sammlung zeigt den Facettenreichtum deutscher Bibelforschung auf. Die Übersetzungen nutzen dabei landessprachliche Formulierungen, welche es dem Leser erleichtern, die Kundschaft der Bibel in ihrer eigenen Sprache zu verstehen.
Key Features
Includes translations from both Protestants and Catholics
Displays the rich heritage of German biblical scholarship
Presents the Bible in German vernacular
Hauptmerkmale
Beinhaltet sowohl protestantische als auch katholische Übersetzungen
Zeigt den Facettenreichtum deutscher Bibelforschung auf
Präsentiert die Bibel in leicht zugänglicher Sprache
Product Details / Produktdetails
Individual Titles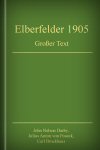 Experience the Elberfelder Bibel–one of the most renowned German Bible translations. It was first published in 1855, and was enormously popular with Protestants. It is especially appreciated for its closeness to the original languages, and it is continuously updated and revised by the "Elberfelder Bibelkommission". This edition is based on the Elberfelder published in 1905.
John Nelson Darby (1800–1882), an evangelist, was known as the father of dispensationalism. He attended Westminster School and Trinity College. Darby became a lawyer, but practiced law for only one year, believing his faith was incompatible with legal practice. He was ordained as a deacon in the Church of England in 1825 and became a priest in 1826. He wrote Synopsis of the Books of the Bible and edited the Darby Bible.
Julius Anton von Poseck (1816–1896) was a minister, Bible translator, hymn writer, and founder of the Brethren Movement.
Carl Brockhaus (1822–1899) was a school teacher and leader of the German Brethren movement. As a young teacher, he had a dramatic conversion experience and founded the SCM R. Brockhaus publishing house.
Deutsch
Die Elberfelder Bibel ist eine der bedeutendsten deutschen Bibelübersetzungen und wurde erstmals 1855 veröffentlicht. Im protestantischen Raum steht die Elberfelder Bibel im Bekanntheitsgrad nur der Lutherbibel hinten nach, sie bietet jedoch mit ihrer Texttreue eine gern gesehene Alternative. Die Elberfelder Bibel wird kontinuierlich von der Elberfelder Bibelkommission verbessert und redigiert. Diese Version basiert auf der Ausgabe von 1905.
John Nelson Darby (1800-1882), Evangelist, ist auch als Vater des Dispensationalismus bekannt. Nach einem Studium an der Westminster School und am Trinity College war Darby für ein Jahr als Jurist aktiv, bevor er zu dem Schluss kam, dass sein Glaube nicht mit seinem Beruf vereinbar war. Im Jahr 1825 wurde er von der Kirche von England zum Diakon ernannt, bevor er 1826 in das Priesteramt erhoben wurde. Er verfasste Synopsis of the Books of the Bible und redigierte die Darby Bible.
Julius Anton von Poseck (1816-1896) war Pastor, Bibelübersetzer, Kirchenlieddichter und Gründer der Brüderbewegung.
Carl Brockhaus (1822-1899) war Lehrer und Führungsperson der Brüderbewegung. Als junger Lehrer unterging er einem dramatischen Bekehrungserlebnis und gründete das Verlagshaus SCM R. Brockhaus.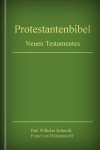 Rediscover the New Testament through the lens of nineteenth-century German Protestant liberalism with this critical translation of the New Testament.
Paul Wilhelm Schmidt (1845–1917) was professor of New Testament at Basel, and was a highly regarded representative of Swiss liberal Protestantism.
Franz von Holtzendorff (1829–1889) was a German New Testament scholar and lawyer.
Deutsch
Erforschen sie das Neue Testament durch die Augen des deutschen, protestantischen Liberalismus mit dieser kritischen Übersetzung des Neuen Testaments.
Paul Wilhelm Schmidt (1845-1917) war Professor für Neutestamentliche Studien an der Universität Basel und gilt bis heute als einer der wichtigsten Vertreter des Schweizer Liberalprotestantismus.
Franz von Holtzendorff (1829-1889) war ein Deutscher Jurist und neutestamentlicher Gelehrter.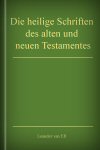 Translated into German for common readers, Leander van Eß's Bible was an impetus for the nineteenth century's German Catholic Bible movement. It is based on the Latin Vulgate text, but Eß notes variances with Greek text throughout. Initially controversial, and requiring nearly 25 years to complete, this Bible is now a classic work of German scholarship.
Leander van Eß (1772–1847) was a Catholic theologian and professor at Marburg. He is best known for his translation of the Bible into German for Catholic believers.
Deutsch
Ins Deutsche übersetzt für den gemeinen deutschen Leser, stellte Leander van Eßs Bibel einen Impuls für die deutsche katholische Bibelübersetzungsbewegung im 19. Jahrhundert dar. Basierend auf dem lateinischen Vulgate Text zeigt Eß immer wieder Varianzen zum griechischen Originaltext auf. Obwohl anfänglich kontrovers, und mit einer Fertigstellungsdauer von fast 25 Jahren, stellt diese Bibel heute ein klassisches Werk deutscher Bibelwissenschaft dar.
Leander van Eß (1772-1847) war ein katholischer Theologe und Professor an der Universität Marburg. Sein Ruhm basiert auf seiner Bibelübersetzung für Laien.
More details about these resources