The Numerical Bible (7 vols.)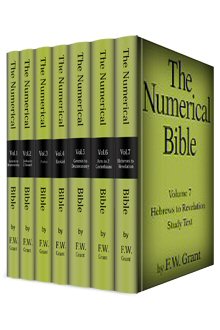 Overview
Many prominent numbers from the Bible—such as 666, 7, 12, 40—have entered the broader cultural consciousness. But what do they mean? And what does the Bible really say about them? In the 7-volume Numerical Bible, Frederick W. Grant surveys the structure and symbolism of Scripture, showing that the Bible is not comprised of piecemeal literary fragments and forgeries, but that its structure and symbolism reflects the careful intentions of divine inspiration.
In The Numerical Bible, Grant shows that the Bible is organized in much the same way as nature. The precision of numbers and the laws of mathematics, which undergirds the order of the universe, also undergirds the order of Scripture. Like the rest of the nature, Scripture exhibits traits of order, structure, and symbol. In fact, the numbers and the very structure of the Bible contain elements of divine revelation.
How do we discern the voice of God in the patterns, structures, and numerical symbols found throughout Scripture? In his attempt to answer this question, Grant's exploration of numbers in The Numerical Bible launched the modern fascination with biblical symbolism and profoundly influenced the development of dispensational thought. Grant also provides his own translation of the Bible—noteworthy in its own right—along with notes and critical commentary. Notable authors such as Tim LaHaye and Hal Lindsey and famous preachers such as Harry A. Ironside are indebted to Grant's interpretation of Scripture and his careful analysis of biblical structure and symbolism.
With Logos Bible Software, you'll encounter Frederick W. Grant like never before! His translation, commentary, and critical notes can be linked to your other Bible translations, commentaries, and encyclopedias and dictionaries. What's more, the text of The Numerical Bible is fully searchable and easily accessible—perfect for comprehensive study and accurate research. That makes the Logos edition of The Numerical Bible an indispensible tool for studying Grant's contribution to dispensationalist thought and for understanding the Bible itself.
Key Features
Outlines of the structure of each book
Complete overview of significant biblical numbers
Chapter-by-chapter commentary and critical notes
Product Details
Title: The Numerical Bible
Author: Frederick W. Grant
Publisher: Loizeaux Brothers, Inc.
Volumes: 7
Pages: 3,801
About Frederick W. Grant
Born in London in 1834, Frederick W. Grant converted to Christianity while reading the Bible. He attended King's College before traveling to Toronto. At the time, the Church of England was expanding in Canada, and Grant became ordained. He later moved to the United States, and lived in Brooklyn, New York before moving to Plainfield, New Jersey. Grant was also deeply influenced by the teachings of the Plymouth Brethren. Grant died in 1902.