The Oxford Library of Practical Theology (22 vols.)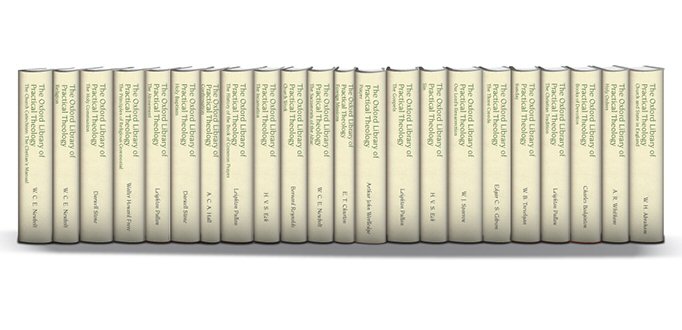 Overview
At the beginning of the twentieth century, W. C. E. Newbolt and Darwell Stone saw a surplus of complex academic theology coming out of universities and cathedrals, but a lack of channels that could get this learning into the hands of the devout laypeople who could put it into practice. They organized the Oxford Library of Practical Theology with the goal of bringing "carefully considered teaching . . . to . . . devout laymen, who desire instruction but are not attracted by the learned treatises which appeal to the theologian."
In Newbolt and Stone's series, experienced parish priests take scholarly theology and translate it into easily digestible volumes on single subjects ranging from baptism and communion to foreign missions and the church and state. The Contributors, "steering a course between what is called plain teaching on the one hand and erudition on the other," strive to synthesize the body of work on their subjects while preserving all their substance and nuance in order to form a full and helpful theology that can be lived out every day.
Logos enhances these volumes with amazing digital functionality, eliminating your research's legwork. Fully indexed texts enable near-instant search results. Scripture citations appear on mouseover in your preferred English translation. Automatically integrated with the rest of your library, each volume will resonate with an extensive library of Anglican texts from the period—including work from John Henry Newman, E. B. Pusey, and William Goode—and connect with a wealth of modern reference works. With Logos, the smartest tools and best library are in one place, so you get the most out of your study.
Key Features
Converts complex early-twentieth-century academic theology into digestible volumes on single subjects
Provides a summary of practical Anglican theology at the turn of the century
Draws on the brightest minds of the early twentieth-century Anglican church
Product Details
Title: The Oxford Library of Practical Theology
Editors: W. C. E. Newbolt and Darwell Stone
Series: Oxford Library of Practical Theology
Publisher: Longmans, Gree, and Co.
Volumes: 22
About the Editors
W. C. E. Newbolt (1844–1930) was an Anglican priest and theologian. Born in Somerton, Newbolt attended Uppingham School in Rutland and went on to Pembroke College, Oxford. He was ordained priest in 1869. While at Oxford he joined the High Church tractarians' Oxford Movement. He served as curate at Wantage, Berkshire; vicar of Dymock, Gloucestershire; and vicar of Malvern Link, Worcestershire, before becoming principal of Ely Theological College in 1887. In 1890 he became a canon of St. Paul's Cathedral, where he remained until his death in 1930. He was also a member of the Council of Keble College from 1901 until his death.
Darwell Stone (1859–1941) was an Anglican priest and theologian. He was an influential principal of Pusey House, Oxford, where he served from 1909 to 1934. He is best known for his History of the Doctrine of the Holy Eucharist.
More details about these resources
Show More