A History of the Doctrine of the Holy Eucharist I & II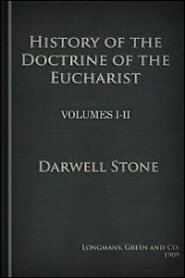 A History of the Doctrine of the Holy Eucharist I & II
•
Runs on Windows, Mac and mobile.
Overview
This large two-volume set is one of the most complete works on the Eucharist, and is still recognized today as one of the most valuable. The first volume begins with an analysis of the relevant portions of the New Testament. Stone then systematically analyzes each time period in the history of the Church to the Reformation in the sixteenth century. In each period it provides quotes and analysis of the significant references to the Eucharist, both in the Eastern and Western Church.
The second volume begins with the Reformation and continues through the nineteenth century. The primary focus of this volume is the Church of England. However, it deals with other views of the Eucharist as they intersect the Church of England.
The Eucharist is one of the most important elements of the Christian religion and one of the most controversial. This two set volume gives a detail analysis of this important issue, covering two thousand years of church history in the process.
Product Details
Title: A History of the Doctrine of the Holy Eucharist I & II
Author: Darwell Stone
Publisher: Longmans, Green and Co.
Publication Date: 1909
Pages: 1,074
About Darwell Stone
Stone, Darwell (1859-1941) was a man of exceptional learning, spiritual insight and political shrewdness. An Anglo-Catholic theologian, he was arguably the greatest Principal of the Pusey House, having served there from 1909 to 1934. His best-known work is A History of the Doctrine of the Holy Eucharist, though he published many influential works of theology.
Sample Pages from the Print Edition
More details about these resources