International Critical Commentary Series (59 vols.)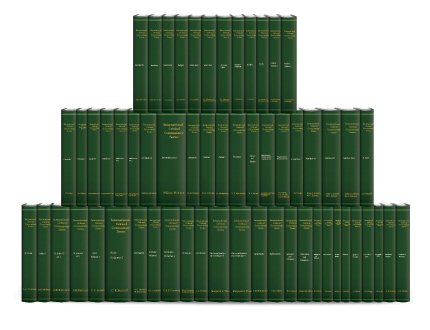 International Critical Commentary Series (59 vols.)
•
Overview
The International Critical Commentary, published by T&T Clark International, has long held a special place among works on the Bible. It brings together all the relevant aids to exegesis: linguistic and textual, archaeological, historical, literary, and theological, with a comprehensiveness and quality of scholarship unmatched by any other series.
The ICC series has also been rather difficult to purchase in its entirety, due in part to the cost of the print volumes, numerous revisions of various volumes, and the fact that most retailers do not offer the entire set as one purchase. The Logos edition contains the most recent edition of each title and provides an easy way to own every volume of this often-cited commentary set. If you were to purchase all 59 volumes in print at suggested retail price, the cost would be over $2,800.00. The Logos edition provides a substantial discount and presents the content in a more flexible medium than print! This series is under the editorship of Professor J. A. Emerton of Cambridge, Professor C. E. B. Cranfield of Durham and Professor G. N. Stanton of Cambridge.
With Logos Bible Software, you can reap the maximum benefit from the 59-volume ICC by getting easier access to the contents of this series—helping you to use these volumes more efficiently for research and sermon preparation. Every word from every book has been indexed and catalogued to help you search the entire series for a particular verse or topic, giving you instant access to cross-references. Along with this, your titles will automatically integrate into custom search reports, passage guides, exegetical guides, and the other advanced features of Logos Bible Software.
What's more, with Logos, every word is essentially a link. Scripture references are linked directly to Greek and Hebrew texts, along with the English Bible translations of your choice. That gives you access to technical linguistic data, along with the tools for accurate exegesis and interpretation.
Note: Many of the titles in this series have gone through a number of revisions. See the bibliography for a list of editions included in the Logos ICC product.
Product Details
Title: International Critical Commentary
Publisher: T&T Clark
Volumes: 59
Pages: 43,441
T. K. Abbott devoted his life to the study of biblical Greek and Hebrew, and this background prepared him for the task of writing the International Critical Commentary on Ephesians and Colossians—a trove of theological wisdom.
The exegesis based so solidly on the rock foundation of philology is argumentatively and convincingly strong. A spiritual and evangelical tenor pervades the interpretation from first to last. . . . These elements, together with the author's full-orbed vision of the truth, with his discriminative judgment and his felicity of expression, make this the peer of any commentary on these important letters.
—The Standard
An exceedingly careful and painstaking piece of work. The introductory discussions of questions bearing on the authenticity and integrity (of the epistles) are clear and candid, and the exposition of the text displays a fine scholarship and insight.
—Northwestern Christian Advocate
Thomas Kingsmill Abbott (1929–1913) was a graduate of Trinity College, Dublin, where he would later teach for 30 years. There, he was both senior fellow and professor of biblical Greek and Hebrew. Abbott wrote many books on religious and scientific matters.
This volume takes its place as a worthy replacement in the venerable International Critical Commentary series. Here is critical but reverent scholarship at its best, distilling many years of research and reflection. In a day when the length of critical commentaries is expanding exponentially, Wilson serves up a concise, erudite treatment, a model of lucid scholarship. For pastors who can work with their Greek New Testament and for teachers in colleges, universities and seminaries, this commentary will prove to be a goldmine of information. The proofreading for this highly technical volume is first rate.
—Journal of the Evangelical Theological Society
A technical but readable analysis of Colossians and Philemon with due attention given to the text, background, and arguments of these letters. The author gives good overviews of scholarship and excavates the text with learned precision. Wilson is well-qualified to write a commentary on Colossians given his 40 years of expertise . . . in sum a technical but eminently readable commentary.
—Michael F. Bird, lecturer in theology, Ridley College, Melbourne, Australia
To his great credit, Wilson keeps this aim in sight throughout his careful and detailed study. As a result, the commentary proves a valuable source-book of data on a variety of topics: lexical, conceptual, social, theological, and occasionally pastoral . . . It is rich in word studies based on the text and other New Testament sources . . . In all, this is a valuable contribution to the library of scholarly works on the two letters. Building on the work of Lightfoot, Lohse, and Dunn, it takes its place as a welcome addition to the ICC revision.
—Ralph P. Martin, emeritus distinguished scholar in residence, Fuller Theological Seminary
Breaks fresh ground . . . Wilson has written a commentary that provides a sober analysis of the text and the critical issues that surround it.
—Expository Times
Robert McL. Wilson was emeritus professor of biblical studies at the University of St. Andrews, United Kingdom.
Although two of the New Testament's shortest books, Philippians and Philemon are packed full of theologically important information. This powerful commentary by Marvin R. Vincent contains critical exegesis and fresh insight that is essential for today's biblical scholar.
Of the merits of the work it is enough to say that it is worthy of its place in the noble undertaking to which it belongs. It is full of just such information as the Bible student, lay or clerical, needs; and while giving an abundance of the truths of erudition to aid the critical student of the text, it abounds also in that more popular information which enables the attentive reader almost to put himself in St. Paul's place, to see with the eyes and feel with the heart of the apostle to the gentiles.
—Boston Advertiser
Throughout the work scholarly research is evident. It commends itself by its clear elucidation, its keen exegesis which marks the word study on every page, its compactness of statement and its simplicity of arrangement.
—Lutheran World
Marvin R. Vincent was Baldwin Professor of Sacred Literature at Union Theological Seminary in New York. One of his most notable works is his Word Studies in the New Testament, which has been treasured by generations of pastors and laypeople.
Looking at the epistle to the Thessalonians under a microscopic lens, James E. Frame offers an interesting and provocative compendium.
James E. Frame was professor of biblical theology at Union Theological Seminary in New York.
This volume on the Pastoral Epistles demonstrates superb scholasticism and provides spirited commentary from biblical scholar Walter Lock.
Walter Lock was Lady Margaret Professor of Divinity in the University of Oxford and Canon of Christ Church.
I have tried to present the message of the letters as they are ostensibly meant to be understood, as letters from Paul to Timothy and Titus, but I am well aware that right from the beginning of their 'canonical' history the letters were intended to be read for their relevance to the church and its leaders, and it is therefore also on that level that they are interpreted. I am conscious that only to a very limited extent has the commentary attempted to ask questions about the history of exposition or about the significance of the letters for the modern reader, but I hope that the exegesis has been done in such a way that expositors will find it a helpful basis for application. A recent commentator on another epistle has stated that 'commentaries should be a resource for worship rather than a self-indulgent exploration of the biblical text.' Like him I write from a self-consciously Christian set of presuppositions, and it is my hope that this commentary will help readers to appropriate the message of this particular part of Holy Scripture.
—From the Preface
I. Howard Marshall is professor emeritus of New Testament exegesis and honorary research professor at the University of Aberdeen in Scotland. Formerly, he was chair of the Tyndale Fellowship for Biblical and Theological Research, president of the British New Testament Society, and chair of the Fellowship of European Evangelical Theologians. He holds a DD, from Asbury, a MA, BD, and PhD, from the University of Aberdeen, and a BA from Cambridge.
Hebrews
Author: J. J. Moffat
Publisher: T&T Clark
Publication Date: 1924
Pages: 264
In this volume, professor James J. Moffatt delivers striking and provocative commentary on the New Testament book of Hebrews—a book that has at times been an enigma to the Church. Moffatt's elucidation of this biblical text is an important addition to the International Critical Commentary series.
James J. Moffatt (1870–1944), was a graduate of Glasgow University. He first ministered before becoming professor of Greek and New Testament exegesis at Mansfield College, Oxford in 1911. He returned to Glasgow in 1915 as professor of church history at the United Free Church College. From 1927–1939 he was Washburn Professor of Church History at Union Theological Seminary in New York.
The book of James confronts many hard truths about living a godly life. In Epistle of St. James, J. H. Ropes tackles these topics in a cogent and engaging style as he works his way verse-by-verse through the letter.
James H. Ropes was Hollis Professor of Divinity in Harvard University.
Full of historical integrity and original language studies, this volume by C. C. Bigg is essential to the study of 1 & 2 Peter and Jude.
His commentary is very satisfactory indeed. His notes are particularly valuable. We know of no work on these epistles which is so full and satisfactory
—The Living Church
Canon Bigg's work is preeminently characterized by judicial open-mindedness and sympathetic insight into historical conditions. His realistic interpretation of the relations of the apostles and the circumstances of the early church renders the volume invaluable to students of these themes. The exegetical work in the volume rests on the broad basis of careful linguistic study, acquaintance with apocalyptic literature and the writings of the Fathers, a sane judgment, and good sense.
—American Journal of Theology
Charles C. Bigg (1840–1908) was a schoolmaster and ecclesiastical historian.
The Johannine Epistles is a concentrated study of these New Testament books. A highly significant resource, A. E. Brooke's interpretation of these biblical texts is a staple for the library of any biblical scholar.
A. E. Brooke was former fellow, dean, and divinity lecturer, at King's College.
Revelation: Volume 1
Author: R. H. Charles
Publisher: T&T Clark
Publication Date: 1920
Pages: 373
Irish theologian R. H. Charles thoroughly dissects the eschatological nature of the book of Revelation in this two-volume commentary.
R. H. Charles was born in county Tyrone, Northern Ireland. He was educated at Queen's University, Belfast, and Trinity College, Dublin. In 1889 he devoted himself to biblical research and became the greatest authority of his time in matters of Jewish eschatology and apocrypha. He became canon at Westminster Abbey in 1913 and archdeacon there in 1919.
Irish theologian R. H. Charles thoroughly dissects the eschatological nature of the book of Revelation in this two-volume commentary.
R. H. Charles was born in county Tyrone, Northern Ireland. He was educated at Queen's University, Belfast, and Trinity College, Dublin. In 1889 he devoted himself to biblical research and became the greatest authority of his time in matters of Jewish eschatology and apocrypha. He became canon at Westminster Abbey in 1913 and archdeacon there in 1919.