Classic Commentaries and Studies on Acts Upgrade (36 vols.)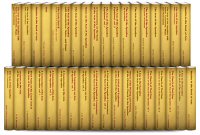 Classic Commentaries and Studies on Acts Upgrade (36 vols.)
•
Runs on Windows, Mac and mobile.
$30.00
Reg.: $274.95
Print: $820.72
* Projected price. Future bids may change this price.
Place Your Bid!
Click on the highest price you'd pay. If the final price is lower, that's what you'll pay.
Overview
The Classic Commentaries and Studies on Acts Upgrade (36 vols.) contains some of the most significant classic studies on the book of Acts from the nineteenth and early-twentieth centuries. With authors such as William Arnot, Joseph Parker, and David Thomas, this collection offers more than 11,000 pages of exegetical analysis, rhetorical context, contextual comparison, and interpretation. This collection provide a range of resources that will satisfy the interests of ministers, academics, and laymen. These 36 volumes have had an enduring impact on New Testament exegesis, and this exceptional collection provides easy accessibility to this wealth of significant scholarship.
The Classic Commentaries and Studies on Acts Upgrade (36 vols.) is invaluable for students, scholars, pastors, historians, teachers of the Bible, and anyone studying Acts. With Logos Bible Software, these time-tested volumes are enhanced by cutting-edge research tools. Scripture citations link directly to English translations, and important terms link to dictionaries, encyclopedias, and a wealth of other resources in your digital library. With Logos' advanced search features, you can perform powerful searches by topic or Scripture reference. Logos' tablet and mobile apps let you take your study wherever you go.
Key Features
Over 11,000 pages of scholarship on Acts
Noted authors from a wide variety of backgrounds
Blend of devotional and academic commentary
Individual Titles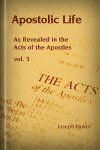 This third volume of Joseph Parker's Apostolic Life as Revealed in the Acts of the Apostles examines the first-century church as it is presented in the book of Acts. Volume three covers Acts 20 to 28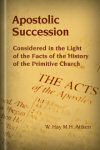 W. Hay M. H. Aitken's Apostolic Succession examines the subject through the lens of first-century church history as it is presented in Acts.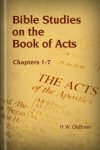 This volume contains a series of devotional commentaries on the first seven chapters of Acts. Designed with college study groups in mind, H. W. Oldham divides the text into daily reading portions accompanied by Oldham's concise notes to stimulate thought and discussion.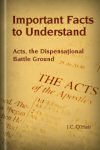 In this volume, J. C. O'Hair lays out key facts to elucidate a study of Acts. O'Hair focuses on the eschatological implications of Acts.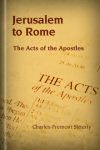 Charles Fremont Sitterly's commentary on Acts presents Sitterly's own English vernacular translation of Acts on the right page and his commentary on the left page. Sitterly includes miscellaneous information and cross references after his introduction to Acts, lending his commentary a clean and straightforward feel, always directly pertaining to the text on the opposite page. Famous for being the friendly professor, Sitterly comments with clear and engaging prose.
Charles Fremont Sitterly (1861–1943) was a Methodist preacher, pastor and professor. He earned his PhD from Syracuse and his BD from Drew Theological Seminary. He was professor of biblical literature and exegesis for 40 years at Drew Theological Seminary in New Jersey.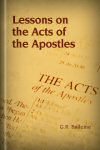 G. R. Balleine's Lessons on the Acts of the Apostles contains 53 children's Sunday school lessons designed to fill a year with the study of Acts. The volume includes teaching tips that provide a main lesson goal, three or four headings, and extensive explanatory and illustrative notes.
G. R. Balleine (1873–1966) was an Anglican priest, historian, and writer. He attended Queen's College, Oxford and was ordained a priest in 1897. Though he was raised an evangelical, his theology took a liberal turn in his adult life. He wrote extensively throughout his life on a range of subjects, including history and theology.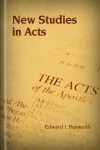 Edward I. Bosworth's New Studies in Acts provides 19 devotional studies covering the entirety of Acts. They were designed for use by early twentieth-century YMCA/YWCA study groups. Each study is divided into seven daily devotional pieces, providing 19 weeks of material.
Edward I. Bosworth (1861–1927) was a Congregationalist pastor and academic. In 40 years at Oberlin Theological Seminary, he was professor of Bible, dean of the Graduate School of Theology, and acting president. Many of his works were used for YMCA/YWCA classes, including his Studies in the Teaching of Jesus and His Apostles, Studies in the Acts and Epistles, Studies in the Life of Jesus Christ, and Christ in Everyday Life.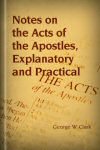 This volume contains George W. Clark's commentary on Acts. Clark approaches the text as the divinely inspired word of God and offers extensive explanatory and practical commentary.
George W. Clark was the author of The Harp of Freedom, A New Harmony of the Four Gospels, The Mighty Worker: Lessons in Mark and other titles.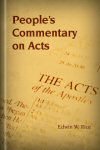 Edwin W. Rice's People's Commentary on Acts provides extensive critical, exegetical, and applicative notes. He also includes contextualizing information on ancient Near Eastern culture and history.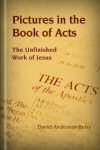 In this volume, David Anderson-Berry provides 10 "pictures" of narratives and characters of the book of Acts. Originally published serially in The Witness, Anderson-Berry's volume colorfully fills in the different people, places, and happenings of acts with the context that surrounded them. Ultimately rooted in the biblical text, these sketches are a helpful tool for bringing the facts of Acts to life.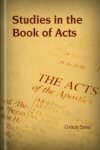 Grace Saxe's Studies in the Book of Acts provides a study for each of Acts' 28 chapters designed for neighborhood Bible classes.
Grace Saxe published studies designed for small group use for several books of the Bible in the early twentieth century.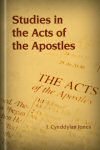 J. Cynddylan Jones' Studies in the Acts of the Apostles includes 15 of his sermons on key passages from Acts, written with young preachers in mind.
J. Cynddylan Jones (1840–1930) was a Welsh Congregational minister and theologian. He published several well-received commentaries on New Testament texts in both English and Welsh.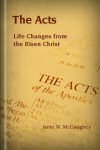 Janie W. McGaughey's The Acts: Life Changes from the Risen Christ arranges 12 studies based around the "pivotal events" in the establishment of the church, designed for a year-long small group study.
Product Details
Title: Classic Commentaries and Studies on Acts Upgrade
Volumes: 36
Pages: 11,704