Lifeworks of Jon Paulien (3 vols.)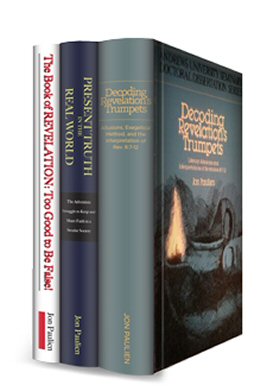 Overview
This collection presents three volumes from noted Seventh-day Adventist professor and theologian Jon Paulien, including his doctoral dissertation. From both an exegetical and a pastoral perspective, Paulien explores the book of Revelation and its apocalyptic warnings and counsels, and the difficulties of spreading the Christian message. He presents an inspiring message of hope to counter the disillusionment of today's secular world.
With Logos Bible Software, these valuable volumes are enhanced by cutting-edge research tools. Scripture citations appear on mouseover in your preferred English translation. Important terms link to dictionaries, encyclopedias, and a wealth of other resources in your digital library. Powerful topical searches help you find precisely what you're looking for. Tablet and mobile apps let you take the discussion with you. With Logos Bible Software, the most efficient and comprehensive research tools are in one place, so you get the most out of your study.
Key Features
Examines Revelation from both an exegetical and a pastoral perspective
Provides practical insight and strategies for reaching non-Christians
Includes the published version of Jon Paulien's doctoral dissertation
Individual Titles

For many, the word "apocalypse" conjures up images of gloom and destruction, and scores of books paint a frightening picture of Earth's final events. By contrast, Jon Paulien unravels the puzzling symbols of apocalyptic prophecy to reveal the gospel of Jesus and a future full of joy and free of fear.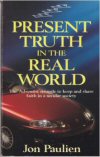 Who is winning the struggle between Christianity and secularism? Is the world becoming like the church, or is it the other way around? How can Adventism—a church founded in the 1860s—meet the needs of today's secular person? In this book, Jon Paulien challenges fellow Adventists to reach out to secular people with the everlasting gospel. Learn strategies for identifying people you can reach and meeting their needs while retaining your own faith.
Inspired by Hans K. LaRondelle's systematic approach to studying Bible prophecy, Jon Paulien explores the seven trumpets of Revelation. This volume is the published version of Paulien's doctoral dissertation.
Product Details
Title: Lifeworks of Jon Paulien
Author: Jon Paulien
Volumes: 3
Pages: 784
About Jon Paulien
Jon Paulien is a Seventh-day Adventist theologian, author, and dean of the faculty of religion at Loma Linda University in California. Previously, he was professor of New Testament interpretation at the Seventh-day Adventist Theological Seminary, where he earned both his MDiv and PhD. Among his many books are Everlasting Gospel, The Bible Jesus Interpreted: Seeing Jesus in the Old Testament (coauthored with Hans K. LaRondelle), and John: The Beloved Gospel.