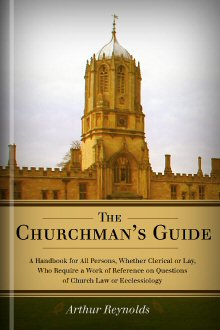 Runs on Windows, Mac and mobile.
$7.00
Reg.: $19.95
Print: $28.94
* Projected price. Future bids may change this price.
Place Your Bid!
Click on the highest price you'd pay. If the final price is lower, that's what you'll pay.
Overview
The Churchman's Guide is specifically designed to help Anglican laity and church leaders easily access information about both commonly used and obscure ecclesiastical terms, formulas, dates, people, offices, and ceremonies. As a small reference guide, this book aims to clarify terms that have become ambiguous through overuse or neglect. Succinct definitions and articles explain theological terms, feast days, ceremonies, and many other aspects of church life. The Churchman's Guide allows readers to understand the church's life, and enables all church attendees to knowledgeably participate in services. Though written more than one hundred years ago, these definitions still provide lucid and accessible treatments of the key aspects in Anglican ecclesiology, concepts, and institutions.
With the Logos editions, these valuable volumes are enhanced by amazing functionality and features. Scripture and ancient-text citations link directly to English translations and original-language texts, and important terms link to dictionaries, encyclopedias, and a wealth of other resources in your digital library. Perform powerful searches with the Topic Guide to instantly gather relevant biblical texts and resources. Tablet and mobile apps let you take the discussion with you. With Logos Bible Software, the most efficient and comprehensive research tools are in one place so you get the most out of your study.
Key Features
Provides accurate, succinct explanations of important terms and concepts in the Anglican Church
Makes ecclesiastical laws, ceremonies, and definitions clear and accessible to laity and leadership
Defines and explains more than 800 terms
Contributors
A. M. Y. Baylay
C. E. A. Bedwell
Allan T. Cameron
E. Hermitage Day
H. Wesley Dennis
Denis D. A. Lawrence
Douglas MacLeane
H. Anderson Meaden
H. W. Reynolds
Athelstan Riley
J. A. Slater
George Worley
Product Details
Title: The Churchman's Guide
Editor: Arthur Reynolds
Edition: 2nd
Publisher: Longmans, Green, and Co.
Publication Date: 1912
Pages: 351
About Arthur Reynolds
Arthur Reynolds was a leading figure in nineteenth- and early-twentieth-century Anglicanism.
Sample Pages from the Print Edition