Works of William Ralph Inge (20 vols.)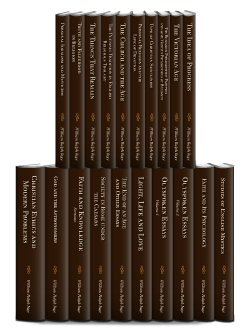 Works of William Ralph Inge (20 vols.)
•
Runs on Windows, Mac and mobile.
$40.00
Reg.: $244.95
Print: $410.23
* Projected price. Future bids may change this price.
Place Your Bid!
Click on the highest price you'd pay. If the final price is lower, that's what you'll pay.
Overview
William Ralph Inge, whose philosophical pessimism earned him the epithet "the gloomy dean," published over 35 books on everything from mysticism to Platonism to ethics. He was dean of St. Paul's Cathedral for 24 years and a regular columnist for the Evening Standard for 25 years—his career as cleric and columnist spread over both world wars. His biting commentary in the Standard earned him a reputation as something of a public gadfly and contrarian, but his cynicism is betrayed by the sincerity evident in his other published works.
This collection of The Works of William Ralph Inge assembles 20 volumes from Dean Inge. The Religious Philosophy of Plotinus and some Modern Philosophies of Religion, The Platonic Tradition in English Religious Thought, and other works showcase his keen insights into Platonism and mysticism—the fields where he made his greatest theological contribution. His two-volume Outspoken Essays and The Idea of Progress highlight some of his most controversial opinions. Throughout all 20 volumes, Inge's theologically liberal work challenges convention and stirs up thought.
Logos enhances these volumes with amazing digital functionality, eliminating your research's legwork. Fully indexed texts enable near-instant search results. Scripture citations appear on mouseover in your preferred English translation. Automatically integrated with the rest of your library, Inge's texts will resonate with an extensive library of Anglican texts from the period—including works by William Temple, Frederick Temple, and Cosmo Lang—and connect with a wealth of modern reference works. With Logos, the smartest tools and best library are in one place, so you get the most out of your study.
Key Features
20 volumes of theology, history, and criticism from "the gloomy dean" William Ralph Inge
Liberal theological writing on Plotinus and neo-Platonism
Explorations of Christian mysticism and personal spirituality
Product Details
Title: Works of William Ralph Inge
Author: William Ralph Inge
Volumes: 20
Pages: 4,311
About William Ralph Inge
William Ralph Inge (1860–1954) was an English author, Anglican priest, and professor. Born in Yorkshire, Inge was educated at Eton College and King's College, Cambridge. He was ordained a deacon in the Church of England in 1888 and tutored at Hertford College, Oxford. He was Vicar of All Saints, Knightsbridge, London, from 1905 to 1907, but left parish ministry to become Lady Margaret's Professor of Divinity at Cambridge. In 1911 he was appointed dean of St. Paul's Cathedral, a post he retained until his retirement in 1934. He was a columnist for the Evening Standard from 1921 until 1946, where his pessimistic writing earned him the nickname "the gloomy dean." He wrote over 35 books in his lifetime, and is best known for his work on Plotinus, neo-Platonism, and Christian mysticism. He died in 1954, in Brightwell, South Oxfordshire, at age 93.