Sermons of Frederick Temple (3 vols.)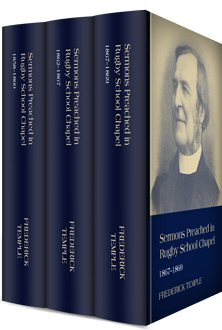 Sermons of Frederick Temple (3 vols.)
•
Runs on Windows, Mac and mobile.
$24.00
Reg.: $64.95
Print: $101.19
* Projected price. Future bids may change this price.
Place Your Bid!
Click on the highest price you'd pay. If the final price is lower, that's what you'll pay.
Overview
Though he would eventually become the head of the Church of England, when Frederick Temple was born, his father envisioned his son as a farmer. While this early training may have contributed to his famous work ethic and rough manner, Frederick Temple had other plans. He did well in school and attended Oxford on a scholarship, near the beginning of the Oxford Movement, graduating in 1842. In a time of great conflict in the Anglican Church, Temple was a moderate, who emphasized unity. He was also zealous for the cause of foreign missions, seeing the British Empire as uniquely positioned to bring the Gospel to all nations. In 1858 he took his inexhaustible energies to the young minds at Rugby School. There, at the core of the British educational system, he preached the 113 included in this collection.
The motto at Rugby being Orando Laborando (By praying, by working), Temple's 15 hour work days and indomitable spirit were a perfect match for the school. Though initially not well liked, he soon became popular with the students and staff. His sermons made deep impressions on the boys, teaching loyalty, faith, and duty. Temple believed deeply in the importance of science, and he strengthened Rugby's academic reputation—instituting scholarships for the natural sciences and building laboratories for scientific study. Reflected in these sermons are Temple's love of knowledge, hard work, cooperation, and the Gospel. From the man who led the Church through the close of the nineteenth century, they are a valuable measure of the religious pulse of history's largest empire.
In the Logos editions, these sermons are enhanced by amazing functionality. Scripture citations link directly to English translations, and important terms link to dictionaries, encyclopedias, and a wealth of other resources in your digital library. Perform powerful searches to find exactly what you're looking for. Take the discussion with you using tablet and mobile apps. With Logos Bible Software, the most efficient and comprehensive research tools are in one place, so you get the most out of your study.
Key Features
113 sermons from the man who led the Church into the twentieth century
Moderate nineteenth-century perspective
Individual Titles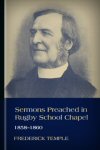 Contents:
Good Friday (Hosea 11:4)
Easter Day (Romans 8:38–39)
First Love (Revelation 2:4)
Love and Duty (Matthew 5:19)
Coming to Christ (Matthew 11:28)
The Gift of the Spirit (1 Thessalonians 5:19)
Great Men (Hebrews 12:1)
Faith (Hebrews 11:1)
Doubts (John 20:29)
Scruples (Romans 14:5)
Character of God's Law (Romans 7:12)
Original Sin (Romans 7:20)
Sins of Surprise (Luke 22:62)
Little Things (Matthew 5:19)
Friendship (Proverbs 17:17)
Tempting Others (Matthew 18:7)
Helping Others (Galatians 6:2)
Confessing Faults (James 5:16)
God's Presence (Psalm 139:1–3)
Resignation (Matthew 6:10)
Preparation for Learning (Luke 8:15)
The Discipline of Temptation (James 1:12)
All Lights Good (John 13:17)
The Growth of the Conscience (Hebrews 5:14)
The Secrets of the Soul (Romans 2:16)
Pressing Forwards (Philippians 3:13–14)
Fixedness of Purpose (2 Corinthians 1:20)
Strength a Duty (Philippians 4:13)
Seasons of Penitence (Psalm 42:1–3)
God's Inexhaustible Love (Romans 5:8)
Secret Sins (John 3:20–21)
Worldliness (Romans 12:2)
Temper (Ephesians 4:31)
The Three Crosses (Luke 23:33)
The Burial of the Past (Romans 6:2)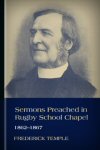 Sermons: Preached in Rugby School Chapel (1862–1867)
Author: Frederick Temple
Series: Sermons Preached in Rugby School Chapel
Publisher: MacMillan and Co.
Publication Date: 1871
Pages: 442
Contents
Disobedience (Hebrews 13:17)
Almsgiving (2 Corinthians 9:7)
The Unknown Guidance of God (Isaiah 42:16)
Permanent Need of Earnestness (Hebrews 12:1–2)
Divine Power of the Bible (Matthew 7:29)
The Severity of God's Love (Psalm 94:12)
Perfect Love Casteth Out Fear (John 4:18)
Apathy One of Our Trials (Galatians 6:9)
The Glory of the Law and of the Gospel (2 Corinthians 3:9)
God's Love as Various as Man's Need (John 3:1)
High Aims in Leaders (1 Kings 12:28)
Doing Our Best (2 Corinthians 7:12)
The Sinfulness of Sin (Romans 8:23)
Central Truths Our Support in Grief (Romans 13:12)
The Use of Knowledge (James 4:17)
The Bathed Must Yet Be Cleansed (John 13:10)
Falling and Rising (Genesis 3:22)
Use of Observances (Matthew 9:15)
The Grain of Mustard Seed (Matthew 13:31–32)
Abiding in Christ (John 15:4)
Martha and Mary (Luke 10:41–42)
Mysteries (John 16:7)
Rejoicing in Distress (2 Corinthians 12:10)
The Great Supper (Luke 14:24)
The Spirits of Prophets Subject to the Prophets (1 Corinthians 14:32)
John the Baptist (John 3:26–30)
Severity before Mercy (Amos 2:1)
The Ladder of Perfection (Matthew 5:4–6)
Even Mistakes Punished (Luke 12:47–48)
Temptations from Within (James 1:13–14)
Morality and Religion (Matthew 3:1–2)
Works of Darkness (John 3:20)
All Light Fades but the Highest (2 Corinthians 3:12–13)
Children (Mark 10:13–14)
The Discouragement of Failure (Psalm 37:1)
Action the Test of Spiritual Life (Romans 6:19)
Honor and Duty (Matthew 14:9–10)
Liberty of Obedience (Philippians 4:13)
Self-Respect (1 Corinthians 6:20)
Too Late! (2 Kings 23:25–26)
Unforsaken Evil (Luke 17:32)
The Tercentenary (1 Corinthians 12:26)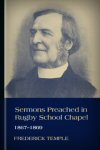 Sermons: Preached in Rugby School Chapel (1867–1869)
Author: Frederick Temple
Series: Sermons Preached in Rugby School Chapel
Publisher: MacMillan and Co.
Publication Date: 1872
Pages: 401
Contents:
The Inward Life (Matthew 15:11)
God the Source of All Things (James 1:17)
Revelation of Babes (Luke 10:21)
Sin and Pain (Galatians 5:24)
Real Grasp of Great Truths (Matthew 16:26)
Unpunished Sin (Luke 13:1–3)
Self-Judgment (John 3:7)
The Love of God (John 4:19)
Amendment the Test of Repentance (Jeremiah 34:10–1)
The Burning Lamp (Matthew 25:8)
God's Grief at Sin (Matthew 11:27)
The Greatness and Littleness of Man (Psalm 8:3–4)
The Sense of Sin (Psalm 51:17)
Love the Evidence of Faith (John 16:26–32)
Weakness (Matthew 12:20)
God Greater than Our Hearts (1 John 3:20–21)
The Drudgery of Life (Isaiah 28:9–10)
The Aims of Life (2 Timothy 4:7)
Light (John 8:32)
Ready Service (Psalm 119:60)
The Forgiveness of the Law and of the Gospel (Hebrews 9:13–14)
God's Mercy and Justice (Exodus 34:6–7)
The New Creature (Galatians 6:15)
Bodily Abstinence (Galatians 5:17)
Antinomianism and Kindred Delusions (Romans 6:15)
The Redemption of the Body (Romans 8:23)
Perfect Love Casteth Out Fear (1 John 4:18)
Stumbling-Blocks in Each Other'd Way (Matthew 18:7)
Trustworthiness (Matthew 24:44)
The Reward of Goodness (1 Corinthians 2:9)
Union with God (John 14:4)
Doing Evil that Good May Come (Romans 3:7–8)
Religious Life Very Often Unattractive (2 Corinthians 12:10)
Advent Sunday (John 5:28–29)
The Light that Is in Us the Light of the Law of Duty (Matthew 6:23)
Good-Bye (Galatians 6:2)
Product Details
Title: Sermons of Frederick Temple
Author: Frederick Temple
Series: Sermons Preached in Rugby School Chapel
Publisher: MacMillan and Co.
Volumes: 3
Pages: 1,188
About Frederick Temple
Frederick Temple (1821–1902) was an English academic, teacher, and clergyman. He graduated from Oxford in 1842, earning first class honors in both Mathematics and Logic. He was headmaster of Rugby School from 1858 to 1869, bishop of Exeter from 1869 to 1885, Bishop of London from 1885 to 1896, and Archbishop of Canterbury from 1896 until his death. He was known his whole life for his tremendous work ethic, which saw him working 15 hour days and contributed to his blindness later in life. He supported solidarity in the face of disputes within the Church. His son William was also Archbishop of Canterbury.