Eerdmans Old Testament Studies Collection (16 vols.)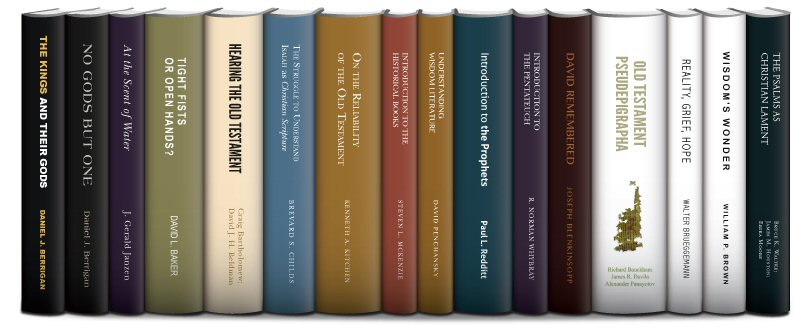 Eerdmans Old Testament Studies Collection (16 vols.)
•
Runs on Windows, Mac and mobile.
Overview
Full of ritualistic sacrifices, pantheistic religions, and nomadic oral narratives, the Old Testament is a theologically challenging and culturally distant text to interpret. In the Eerdmans Old Testament Studies Collection, scholars like Bruce K. Waltke, Walter Brueggemann, Craig G. Bartholomew, and Daniel J. Berrigan light the way to solid hermeneutics and fruitful study of the Old Testament. Analyzing Israelite national identity, the Hebrew text, canonicity, prophecy, and law, this collection clears away misunderstandings, processes cultural and linguistic difficulties, and provides recent scholarship on the Old Testament Scriptures.
In the Logos editions, these scholarly volumes are enhanced by cutting-edge research tools. Scripture citations link directly to English translations, and important terms link to dictionaries, encyclopedias, and a wealth of other resources in your digital library. Powerful searches help you find exactly what you're looking for. Tablet and mobile apps let you take the discussion with you. With Logos Bible Software, the most efficient and comprehensive research tools are in one place, so you get the most out of your study.
Key Features
Introduces the major divisions of the Old Testament
Examines kingship and pantheism of the ancient world
Studies canonicity and the Christian messages of the Old Testament
Product Details
Title: Eerdmans Old Testament Studies Collection
Publisher: Eerdmans
Volumes: 16
Pages: 5,214
The scenario that confronts us in the biblical text of 1 and 2 Kings is a turbulent one. Daniel Berrigan minces no words in his assessment of that biblical era. Prophets, kings, and the gods they worship—all are found wanting.
Berrigan examines the complex terrain of these two biblical books, opening our eyes to the deep flaws of their oft-praised characters. He shows that this dark time in biblical history is in many ways repeating itself today. The wars of these kings, Berrigan says, are our wars now, and we are fashioning our own gods to approve our misdeeds. These two books of Scripture come to vivid—and sometimes terrifying—life when we recognize these undeniable similarities.
The Kings and Their Gods reveals Berrigan in stunning form. Here this modern-day prophet distills the wisdom gained from his long learning and his remarkable life experiences. The book is both a masterful biblical commentary and a clarion call to action. It balances polemics and poetry, despair and joy. It's truly a midrash for our troubled times—both an indictment of the horror that is and an invitation to the great goodness that may be.
Part biblical commentary, part poetry, and part prophecy—this is Berrigan at his best.
—Jim Wallis, editor, Sojourners
In this powerful and disturbing meditation on the books of Kings, Father Daniel Berrigan, with all his usual prophetic fervor and scalding wit, compares Israel in the time between David and Isaiah with the United States today. The implications may keep you awake at night.
—Andrew Greeley, priest, popular author, social critic
Daniel Berrigan's Kings and Their Gods is not one book but three. The first book in question is Scripture's two books of Kings, which most people ignore. The second book is Berrigan's own poetic, piercing interpretation of the books of Kings. The third book is about us—our country, our times, ourselves. In each case, the language is elegant and the narrative is dramatic and chilling. Most of all, Berrigan's interpretation is disturbingly real, frighteningly true. My advice is to read this book with the scripture in one hand and the newspaper in the other. But whatever you do, read it. Once you do, you'll never think of the books of Kings as useless history again. On the contrary, you may think of them all the time.
—Joan Chittister, executive director, Benetvision
I can think of few men I admire so much, yet am so grateful not to be, as Daniel Berrigan. This man's life has been given to dark witness. Working with his back to the sun, delving in the shadows of earthly power, he has self-abnegatingly pinned tails on the donkeys and elephants of American Empire for half a century. Some find truth via fear of God, some via love for God. Grateful as I am to count myself among the latter, I thank this poet-hero of the former. Father Berrigan's life has been a tireless song of protest against all that love cannot bear.
—David James Duncan, novelist, and essayist
Stunning. Irreverent. Incisive. This bold Berrigan midrash on the books of Kings brings the American way into prophetic biblical focus. Won't we ever learn? But with Dan Berrigan among us, we are not without a witness.
—Eugene H. Peterson, emeritus professor of spiritual theology, Regent College
Daniel Berrigan is a Jesuit priest, poet, and peacemaker, whose words and actions over the past 50 years have offered a powerful witness to the God of Life. Fr. Berrigan, along with his brother Philip, was one of the Catonsville 9, arrested and imprisoned in 1968 for destroying draft files in a protest against the Vietnam War. Among his publications are The Bride: Images of the Church and Uncommon Prayer: A Book of Psalms.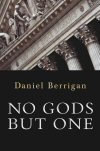 On the face of it, the biblical book of Deuteronomy seems to be filled with triumph. In No Gods but One however, Daniel Berrigan turns a searching eye toward this ancient text and finds its darker side. With grace and incisive candor, Berrigan draws clear parallels between Deuteronomy's time of mingled triumph and broken law and our own moment in history, uncovering the stories within the story of this complex biblical book.
Daniel Berrigan's very productive life must be seen as totally dedicated to the God of peace and justice. As both a Christian poet and writer, he has captured the imagination of a whole generation of seekers from all denominations throughout the world. His vital presence in our midst has been a great grace for us all.
—Patrick Hart, OCSO, Abbey of Gethsemani
Without fail Berrigan makes daring and compelling connections between text and life. He has long pondered the idolatries of our society and knows, from the book of Deuteronomy, that a more excellent way is possible. No Gods but One is a welcome summons at just the right time.
—Walter Brueggemann, professor emeritus of Old Testament, Columbia Theological Seminary
Daniel Berrigan is one of the church's great modern-day prophets. In this book he artfully shows how the story of Deuteronomy—which may seem far, far away from our contemporary concerns—is, in fact, packed with meaning for our times. Like all prophets, Father Berrigan speaks in a voice that is by turns poetic, disturbing, radical, encouraging, inspiring, and urgent. Above all, it is a faith-filled voice to which all men and women of goodwill should listen.
—James Martin, editor, America
Legendary peace activist Berrigan examines the Old Testament book of Deuteronomy through the lens of his personal abhorrence of war in this biblical commentary. Although Deuteronomy is largely the code of laws given to the Jewish people, Berrigan, a Catholic priest, finds something more—a prophetic justification for excoriating those who choose the 'other god' of warface. Employing poetry and free-flowing streams of prose, he weighs the choice Christians face between Deuteronomy's story and the New Testament gospel. 'An interminable debate ensues,' he writes. 'Which deity to serve?' Too often, he concludes, the choice becomes the 'god' of war, whether by secular leaders claiming to be Christian and blinded by the &rlquo;idols' of defense, prosperity or national interests or by bishops who endorse the military actions initiated by political leaders. Berrigan observes that a 'close connection between crime and consequence' runs through Deuteronomy, and he strongly suggests that by going along with the 'culture of death' in the matter of war, Christians may see their religion rotting before their eyes. Thought-provoking reading will be of special interest to those sympathetic to Berrigan's uncompromising political views.
—Publishers Weekly
Daniel Berrigan is a Jesuit priest, poet, and peacemaker, whose words and actions over the past 50 years have offered a powerful witness to the God of Life. Berrigan, along with his brother Philip, was one of the Catonsville 9, arrested and imprisoned in 1968 for destroying draft files in a protest against the Vietnam War. Among his publications are The Bride: Images of the Church and Uncommon Prayer: A Book of Psalms.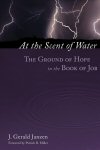 The book of Job is often discussed as a theodicy—an attempt to "justify the ways of God to man." In this remarkable rereading of Job, J. Gerald Janzen brings new light to this familiar account, showing instead that God invites Job to give up the traditional Deuteronomic logic of reward-punishment for a life affirming strategy of risk-reward. From this perspective, affirmation of life in the face of all its vulnerabilities is the path to true participation in the mystery of existence.
On the basis of a study of "east wind" in the Bible—"whirlwind" in Job—Janzen proposes that the prominence God gives to rain in Job 38, with its renewal of the parched earth and the ensuing vigor of all forms of life, signals God's response to Job's thirst, heals Job's bitterness, and restores him to a life at the end of which he dies contented. Janzen demonstrates how life-crippling bitterness is transcended and hope in life's worthwhileness is restored in the face of grievous evil. The resolution of the Joban question lies not in a vindication of divine justice but, rather, in God's renewal of Job's appetite for life.
Janzen underscores this interpretation with a candid epilogue on his own struggle with aggressive prostate cancer, which enabled him to connect personally with Job's story and to find a fresh and illuminating grace. At the Scent of Water will resonate with students, pastors, and any readers who have experienced grief or suffering.
Ideally, to write on Job, you need to be an accomplished Hebraist, an Old Testament theologian, an amateur philosopher, a person who appreciates poetry, and one who has lived with some of the issues the book wrestles with. In this book Gerald Janzen shows himself to be such a person.
—John Goldingay, David Allan Hubbard Professor of Old Testament, Fuller Theological Seminary
J. Gerald Janzen is professor of Old Testament at Christian Theological Seminary in Indianapolis, Indiana. A priest of the Anglican Church of Canada, he has also written the Interpretation commentary on Job and Studies in the Text of Jeremiah.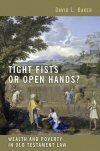 Any Christian response to today's ever-growing problem of poverty around the globe must be firmly rooted in biblical teaching. While books on various aspects of wealth and poverty in the Old and New Testaments have been published, so far there has been no thorough study of Old Testament law on the topic. David Baker argues here that an understanding of that law is not only fundamental for interpreting the entire Old Testament, but it is also assumed by the writers of the New Testament. Tight Fists or Open Hands? fills this gap in Old Testament scholarship and lays a foundation for considering the relevance of these laws to everyday life in the twenty-first century.
The heart of this book is a study of all the biblical laws concerned with wealth and poverty. Baker groups these laws together by topic, considering the similarities and differences between the Decalogue, Book of the Covenant, Holiness Code, and Deuteronomic laws. He then places these in the context of ancient Near Eastern law in order to make clear which attitudes are distinctly biblical and which are held in common with other civilized peoples.
Each section of Tight Fists or Open Hands? includes an extended conclusion that summarizes the main ideas, considers relationships with other biblical texts, and points to the significance of the laws for today's world. Such thorough exegesis and modern application make this book relevant to pastors, scholars, and students in a variety of courses.
David L. Baker is senior lecturer in Old Testament at Trinity Theological College in Perth, Western Australia. He is the author of Two Testaments, One Bible and several works in Indonesian.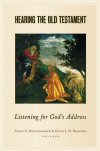 In Hearing the Old Testament world-class scholars discuss how contemporary Christians can better hear and appropriate God's address in the Old Testament. This volume is part of a growing interest in theological interpretation of the Old Testament.
Editors Craig G. Bartholomew and David J. H. Beldman offer a coherent and carefully planned volume, a truly dialogical collaboration full of up-to-date research and innovative ideas. While sharing a desire to integrate their Old Testament scholarship with their love for God—and, thus, a commitment to listening for God's voice within the text—the contributors display a variety of methods and interpretations as they apply a Trinitarian hermeneutic to the text. The breadth, expertise, and care evidenced here make this book an ideal choice for upper-level undergraduate and seminary courses.
Contributors
David J. H. Beldman
Stephen G. Dempster
Aubrey Spears
Heath Thomas
Al Wolters
This welcome volume addresses the famine in the land (Amos 8:11–12), specifically, the famine of hearing the lifegiving Word of God to the contemporary church through the Old Testament. With a fine mixture of contributions from both internationally renowned and younger Old Testament scholars, this collection of essays guides readers through vital aspects of biblical interpretation, helping us hear afresh the voice of God in the texts of Scripture. . . . An invaluable resource for all who long to hear for themselves God's address in the Old Testament.
—Daniel I. Block, professor of Old Testament, Wheaton College
How can we hear God speak to us in the text of Scripture to equip us for our missional vocation? This should be the fundamental question for critical biblical scholarship. Yet an enlightenment agenda has too often separated God's address from the tools of biblical scholarship, leaving the church bereft of a word from God. This book is an urgent plea by an eminent cast of scholars for biblical scholarship to serve the church so that we can hear God speak through the text of Scripture. The pressing importance of this issue makes this volume priority reading!
—Michael W. Goheen, professor of worldview and religious studies, Trinity Western University
Craig Bartholomew is H. Evan Runner Professor of Philosophy and professor of religion and theology at Redeemer University College in Ancaster, Ontario, and principal of the Paideia Centre for Public Theology. His other books include Old Testament Wisdom Literature: A Theological Introduction and Where Mortals Dwell: A Christian View of Place for Today.
David J. H. Beldman is an instructor at Redeemer University College and is currently completing his doctoral degree in Old Testament at the University of Bristol.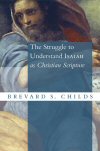 A key emphasis of Brevard Childs' distinguished career has been to show not only that the canon of Scripture comprises both Old and New Testaments but also that the concept of "canon" includes the way the Christian church continues to wrestle in every age with the meaning of its sacred texts. In this new volume Childs uses the book of Isaiah as a case study of the church' s endeavor throughout history to understand its Scriptures.
In each chapter Childs focuses on a different Christian age, using the work of key figures to illustrate the church's changing views of Isaiah. After looking at the Septuagint translation, Childs examines commentaries and tractates from the patristic, Reformation, and modern periods. His review shows that despite an enormous diversity in time, culture, nationality, and audience, these works nevertheless display a "family resemblance" in their theological understandings of this central Old Testament text. Childs also reveals how the church struggled to adapt to changing social and historical conditions, often by correcting or refining traditional methodologies, while at the same time maintaining a theological stance measured by faithfulness to Jesus Christ. In an important final chapter Childs draws out some implications of his work for modern debates over the role of Scripture in the life of the church.
Of great value to scholars, ministers, and students, this book will also draw general readers into the exciting theological debate currently raging in the Christian church about the faithful interpretation of Scripture.
Childs has presented a work of great erudition, careful analysis, and remarkable clarity of expression. We owe him a debt of sincere gratitude.
—Catholic Biblical Quarterly
Probably no one but Brevard Childs could have written this lucid, fascinating, and vastly learned account of Christian hermeneutics and exegesis of Isaiah—an account best understood as a nonreductionistic 'family history.' Without glossing over tensions and failures, Childs shows how complex is the process of reading the Bible in faith from generation to generation in the church
—Ellen F. Davis, professor of Bible and practical theology, Duke Divinty School
This is a magisterial volume—learned, exhaustive, accessible. Brevard Childs gets to the hermeneutical problem that is ours, in our 'postmodern' instincts, yet whose resolution will come only from attending carefully to the history of interpretation. It risks understatement to say that this book is a towering, timely, unparalleled contribution from a man who has single-handedly held the lantern showing us the way ahead in our difficult days, now by turning his attention to the crucial history of reception of the book of Isaiah. Brilliant and full of insight.
—Christopher Seitz, professor, Toronto School of Theology
Once again Brevard Childs has put us in his debt with a splendid and thought-provoking book that is much more than just a history of interpretation. Childs' analytical description of how Isaiah has been handled over two millennia is both a major contribution to our understanding of the many faces of Christian hermeneutics and a timely reminder that all those who use scripture should be keenly aware of their own methods and presuppositions.
—George J. Brooke, professor of biblical studies, University of Manchester
This is one more work by Brevard Childs that reflects a grasp not equaled in the guild. Its goal is to demonstrate a 'family resemblance' in the church's exegesis of the Old Testament through its interpretation of Isaiah. In examining the treatment of Isaiah in the Septuagint and New Testament, by the church fathers, the Reformers, enlightenment scholars, Heilsgeschichtlers, and members of the history of religions school, Childs uncovers a commonality of approach despite enormous diversity. What yields this commonality, or 'family resemblance,' is the hermeneutical understanding of Scripture as the Word of God further to be proclaimed and received in the obedience of faith. This understanding in turn has led to recognition of the Bible's literal and spiritual dimensions. . . . Displaying a broader scope than reflected in Childs' previous work, this book is a vigorous challenge to exegetical approaches that display a distaste for history and for language as referential, that advance cultural factors as essential to the church's reflection, and that, in an attempt to atone for the Holocaust, cut the Old Testament adrift from the New.
—Roy A. Harrisville, professor emeritus of New Testament, Luther Theological Seminary
Brevard S. Childs (1923–2007) was Sterling Professor Emeritus of Divinity at Yale Divinity School. Among his many books are Biblical Theology in Crisis, Introduction to the Old Testament as Scripture, The New Testament as Canon, Old Testament Theology in a Canonical Context, and Biblical Theology of the Old and New Testament.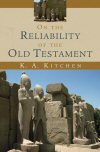 For more than two hundred years controversy has raged over the reliability of the Old Testament. Questions about the factuality of its colorful stories of heroes, villains, and kings, for example, have led many critics to see the entire Hebrew Bible as little more than pious fiction. In this fascinating book, noted ancient historian K. A. Kitchen takes strong issue with today's "revisionist" critics and offers a firm foundation for the historicity of the biblical texts.
In a detailed, comprehensive, and entertaining manner, Kitchen draws on an unprecedented range of historical data from the ancient Near East—the Bible's own world—and uses it to soundly reassess both the biblical record and the critics who condemn it. Working back from the latest periods (for which hard evidence is readily available) to the remotest times, Kitchen systematically shows up the many failures of favored arguments against the Bible and marshals pertinent permanent evidence from antiquity's inscriptions and artifacts to demonstrate the basic honesty of the Old Testament writers.
Enhanced with numerous tables, figures, and maps, On the Reliability of the Old Testament is a must-read for anyone interested in the question of biblical truth.
The scope of this book is nothing less than the entire sweep of Old Testament history, and Kitchen introduces an impressive amount of evidence for the historical reliability of most Old Testament narrative. . . . This is a hugely impressive book, packed with detail and energetic argument.
—Biblical Studies Bulletin
Eminent Egyptologist and ancient Near Eastern scholar Kenneth Kitchen has produced here a tour de force that questions many of the simplistically assumed hypotheses of Old Testament scholarship while at the same time contributing to a more comprehensive understanding of the environment in which the Hebrew Bible was composed. Kitchen's lifetime of study of the ancient context of the Old Testament makes this volume a must-read.
—K. Lawson Younger Jr., professor of Old Testament, Semitic languages, and ancient Near Eastern history, Trinity Evangelical Divinity School
Why should I be concerned about the historical reliability of the Old Testament? The overriding concern of most Bible readers is. Are this book's claims about God, Jesus, and the afterlife reliable enough that I should carefully heed and believe what it says? 'This is the absolute truth' that Kenneth Kitchen in his preface states is beyond the purview of this book. Kitchen's approach is not. How much historical reliability do I need for my faith? How much faith do the facts of archaeology (including ancient texts) tell me that I actually have? In the course of his tour through three pre-Christian millennia, Kitchen approaches his subject with the skill and experience of a bona fide expert and the frankness, honesty, and wit of a Scotsman. His book takes into account the very latest discoveries. There could be no better author for a book like this, an author who for over forty years has read, published, and taught most of the ancient texts he cites. Professor I. Howard Marshall should be congratulated for prompting Kitchen so many years ago to write such a book!
—Harry A. Hoffner Jr., professor of Hittitology, University of Chicago
K. A. Kitchen is Personal and Brunner Professor Emeritus of Egyptology and honorary research fellow at the School of Archaeology, Classics, and Oriental Studies, University of Liverpool, England. He is the author of many books on Egyptology, the ancient Near East, and biblical history, including Pharaoh Triumphant: The Life and Times of Ramesses II, Ancient Orient and Old Testament, and The Bible in Its World: The Bible and Archaeology Today.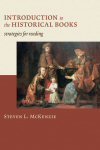 This book presents a fresh introduction to the "historical books" of the Hebrew Bible or Old Testament. Beginning with a breakdown of the literary genre these writings represent and their relationship to history, Steven McKenzie discusses the larger units of the Bible that they constitute—the "Deuteronomistic History" and the "Chronicler's History"—and then surveys the critical methods that scholars use to study them.
These introductory matters are followed by a chapter on each of the Historical Books—Joshua, Judges, Samuel, Kings, Chronicles, and Ezra-Nehemiah. Each of these chapters contains a detailed outline of the book's contents and a thorough discussion of the issues peculiar to that book— its text, composition, relationship to history, special literary features, and theology.
Although his book is not principally a primer in the use of different methods, McKenzie does introduce readers to a range of critical approaches—textual, literary or source, tradition, canonical, intertextuality, and others— and demonstrates that the ultimate goal of these approaches is to determine how the biblical materials reflect or convey actual history as understood today. His explanation of the purpose of ancient history writing helps readers come to terms with apparent tensions between the Bible's account and modern historical analyses.
Interspersed with various reading strategies and tips for reading and interpretation, McKenzie's up-to-date, scholarly (yet not overly technical) guide to these rich documents at the intersection of history, literature, and religion will be ideal for undergraduates, seminary students, and Bible study groups alike.
Steven McKenzie is an internationally respected authority on the historical books of the Old Testament. His book is written for the novice, and with great pedagogical skill it explains and illustrates the various scholarly methods used to interpret these biblical books. At the same time he clearly articulates the major themes and ideologies of the ancient biblical historians. Highly recommended as a textbook and study guide for this part of the Bible.
—John Van Seters, professor emeritus, University of North Carolina at Chapel Hill
In this accessible volume Steven McKenzie brings fresh questions, insights, and scholarship to what have traditionally been understood as the historical books of the Bible, providing an effective introduction to complicated issues. He engages traditional scholarship with more recent advancements in textual analysis, material culture, literary analysis, historiography, and cultural studies. . . . Should be read by anyone who wants a sound initiation into study of the Bible.
—Alice W. Hunt, professor of Hebrew Bible, Chicago Theological Seminary
In full view of worldwide issues, McKenzie's guide to the historical books of the Bible furnishes a sound introduction. He lays out fairly the boundaries of current popular discussion and allows readers the freedom of decision. This primer for undergraduate audiences will be a surprise for those to whom the discussion is new. It is lucid, appropriately brief, and challenging.
—Baruch Halpern, professor of ancient history, classic and ancient Mediterranean studies, Pennsylvania State University
More than simply an introduction to the historical books, this compact and very readable volume also opens a window into biblical scholarship as currently practiced in leading seminaries and universities—methodologies used, issues debated, and recent trends. An extremely good work!
—J. Maxwell Miller, professor of emeritus, Emory University
Steven L. Mckenzie is professor of Hebrew Bible/Old Testament at Rhodes College in Memphis, Tennessee.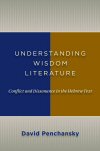 Israelite wisdom literature, David Penchansky argues, records the disputes of ancient sages over basic human questions: What is the purpose of life? Is God just? Why do we suffer? Does God even exist? Penchansky sees conflicting answers to these questions in Proverbs, Job, Ecclesiastes, Ben Sira, and the Wisdom of Solomon—and does not try to harmonize them. Instead, he finds meaning in the very dissonance and contradiction within these texts.
Employing the latest scholarship yet remaining accessible to nonspecialists and students, Penchansky strikingly focuses on the "big picture" behind wisdom literature—making it easy for readers to follow and appreciate these challenging texts—without undermining each book's distinctive features. In the process, Penchansky opens up this rich and fertile vein of Israelite thought and demonstrates the renewed relevance of ancient Hebrew wisdom for today.
David Penchansky is professor of theology at the University of St. Thomas in Saint Paul, Minnesota. His other books include Twilight of the Gods: Polytheism in the Hebrew Bible and What Rough Beast? Images of God in the Hebrew Bible.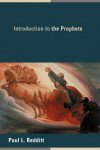 Writing in a conversational rather than a scholarly tone, Paul Redditt assumes little or no prior knowledge of the Old Testament as he presents and introduces the Major and Minor Prophets in the canonical order of the English Bible.
The chapters of Redditt's Introduction to the Prophets discuss the place of each book in the canon; the literary setting of each book; their structure, integrity, and authorship; the main genre(s) in each; special features of each book; basic emphases of each book; and problems—theological, literary, or historical—raised by a study of the book. Among other things, Redditt demonstrates that the prophets were both "foretellers" and "forthtellers," and he argues that the Old Testament prophets developed the concept of monotheism. Each chapter ends with questions for further reflection. Concluding the volume are a helpful glossary and several indexes.
The study of prophetic literature has moved at a rapid pace during the last quarter century, and Paul Redditt has been in the middle of those conversations. In this volume he offers a truly conversational introduction to the current state of prophetic literature studies. Redditt discusses and illustrates critical methods and the content of the prophetic writings as though speaking directly to students, demonstrating the sensitivity of a seasoned pedagogue. He uses straightforward language, defines unfamiliar terms, and chooses clear illustrations. He avoids the trap of providing simplistic solutions to difficult issues yet confronts those issues head-on. Redditt does not lose sight of the final form of the text, but he also highlights historical issues, especially as they shed light on social locations of various prophetic groups and their audiences.
—James D. Nogalski, professor of graduate studies in religion, Baylor University
Paul L. Redditt is professor emeritus of Old Testament at Georgetown College in Kentucky. Among his other books are commentaries on Daniel, Haggai, Zechariah, and Malachi.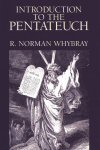 Whybray provides a straightforward introduction to the contents and themes of the first five books of the Bible. Designed as an entry-level textbook for colleges and seminaries, this volume makes sense of the current muddle in Pentateuchal studies and introduces students to the contributions of earlier scholars in the field. Whybray stresses the meaning of the Pentateuch in its canonical form while remaining sensitive to its literary merit, theological import, and compelling power.
Whybray is to be commended for producing a readable introduction that will give students a solid overview of the chaotic field of Pentateuchal studies. He touches on most of the major issues, usually striking a good balance between summaries of various scholarly positions and the details of their arguments. . . . A very useful resource for the classroom and for non-specialists who want an overview of the field.
—Biblical Interpretation
A very attractive textbook for a range of interests, combining attention to the text's religious values with up-to-date critical reflection.
—Journal for the Study of the Old Testament
An invaluable introduction to the background, content and themes of the first five books of the Bible. . . . A readable, clear and focused survey not only of recent research but also of the major contributions of earlier scholars. . . . Whybray has succeeded in presenting an intelligible and concise exposition of the religious message of the Pentateuch and he has given a clear outline of some of its main theological themes. Moreover, he has brought clarity to the great confusion of opinions presently in vogue concerning several issues in Pentateuchal studies. . . . The volume may be commended not only as a valuable review of recent trends in Pentateuchal criticism, but as an important contribution in its own right to an ongoing debate.
—Journal of Semitic Studies
A readable, relatively non-technical overview of the current state of higher critical scholarship on the Pentateuch.
—Restoration Quarterly
Whybray's introduction provides a judicious snapshot of the current state of the Pentateuchal studies in a manageable, creative, and articulate format.
—Review & Expositor
R. Norman Whybray (1923–1998) is former professor emeritus of Hebrew and Old Testament studies at the University of Hull in England.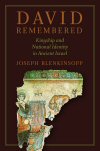 In this follow-up study to Judaism, the First Phase, Joseph Blenkinsopp traces the development of traditions about David in the collective memory of the people of Israel and the first Christians, from the extinction of the Davidic dynasty in the sixth century BCE to the early common era.
David Remembered is neither a biography of David nor an exegetical study of the biblical narrative about David. Rather, it focuses on the memory of David as a powerful factor in the formation of social identity, in political activity (especially in reaction to imperial rule), and in projections of the future viewed as the restoration of a never-forgotten past.
A wide-ranging exploration of the afterlife of David and the Davidic dynasty in both history and Scripture. Blenkinsopp's work is, as usual, careful and yet bubbling with new ideas and proposals. An intriguing investigation.
—James L. Kugel, professor of Bible, Bar-Ilan University
In lucid and accessible language but with his characteristic deep learning and eminently good judgment, Joseph Blenkinsopp traces the development of Jewish thinking about God's promise to David in periods that are crucial for Judaism and Christianity alike and yet underappreciated outside the academy. Both those familiar with the texts he discusses and those unfamiliar with them will find this book illuminating and rewarding—and a pleasure to read. Highly recommended.
—Jon D. Levenson, professor of Jewish studies, Harvard University
Joseph Blenkinsopp's treatment of the king of Israel who became the prototype for the Messiah is characteristically lucid and informed with intense historical and theological learning. . . . An enthralling read.
—John Barton, professor of Holy Scripture, University of Oxford
Much has been written on the historical David in recent years, but there has been a gap in studies of how the David story was later interpreted in the Second Temple period. Blenkinsopp fills that gap with this masterful yet readable account, tracing how the David tradition was remembered and applied from the last days of the kingdom of Judah, through Zerubbabel and Nehemiah, the prophetic expectation of a future king like David, to the concept of a protective Davidic messiah in the Roman period and, finally, Jesus as a Davidic descendant.
—Lester L. Grabbe, professor of Hebrew Bible and early Judaism, University of Hull
Blenkinsopp's command of the breadth and depth of evidence from primary and secondary sources, from the Babylonian to the Roman periods, is most impressive. . . . David Remembered is eminently accessible to all readers but packed with detailed information in dialogue with the latest scholarship.
—Steven L. McKenzie, professor of Hebrew Bible/Old Testament, Rhodes College
Joseph Blenkinsopp is John A. O'Brien Professor Emeritus of Biblical Studies at the University of Notre Dame. His other works include Opening the Sealed Book: Interpretations of the Book of Isaiah in Late Antiquity and Judaism, the First Phase: The Place of Ezra and Nehemiah in the Origins of Judaism.

This work stands among the most important publications in biblical studies over the past 25 years. Richard Bauckham, James Davila, and Alexander Panayotov's new two-volume collection of Old Testament pseudepigrapha contains many previously unpublished and newly translated texts, complementing James Charlesworth's Old Testament Pseudepigrapha and other earlier collections.
Including virtually all known surviving pseudepigrapha written before the rise of Islam, this volume, among other things, presents the sacred legends and spiritual reflections of numerous long-dead authors whose works were lost, neglected, or suppressed for many centuries. Excellent English translations along with authoritative yet accessible introductions bring those ancient documents to life for readers today.
In our study of early Judaism and early Christianity we have been spoiled by large corpora of texts, but we seldom consider that these preserve only a portion of what was actually written (or orally composed). Here brought together in one place for the first time, and translated and discussed with the best scholarship, is a collection of texts and text fragments that provide a peek into that broader, unknown world.
—George W. E. Nickelsburg, professor of religion, University of Iowa
A monumental work, vital to the study of early Judaism and Christianity in general, and to the history of ancient biblical interpretation in particular. Anyone who owns one of the earlier compilations of Old Testament pseudepigrapha will have to supplement it with this volume, which fills in much of what's missing in the others. This is a scholarly achievement for the generations.
—James Kugel, professor of Bible, Bar-Ilan University
This new collection of pseudepigrapha is a great accomplishment. Editors Bauckham, Davila, and Panayotov have assembled an impressive team of leading scholars in the field. The list of pseudepigrapha in this volume is astounding, including many little-known treasures. Each text is introduced by an expert, the English translations are elegant and accessible, and the notes are most helpful. . . . An indispensable supplement to the two volumes edited by James Charlesworth of Old Testament pseudepigrapha.
—Matthias Henze, professor of biblical studies, Rice University
This timely and highly significant work makes available a range of works from as early as the late ninth century BCE to the Byzantine period. The book complements admirably the various collections of 'apocrypha and pseudepigrapha' that have been published from the beginning of the twentieth century on. . . . The texts in this volume are translated from Hebrew, Aramaic, Greek, Latin, Syriac, Armenian, and other languages, and this book makes most of them available in English for the first time. This work is essential for students of the Jewish and Christian traditions, Eastern and Western.
—Michael Stone, professor emeritus, Hebrew University of Jerusalem
With the proliferation of newly discovered 'pseudepigrapha' in the last 50 years, it was necessary to bring them together in an accessible way. The editors of this volume are to be congratulated for doing so magnificently. The fine text editions and analyses here are very well written and encourage further study. Highly recommended for both the nonspecialist and the connoisseur!
—Emanuel Tov, professor of Bible, Hebrew University of Jerusalem
Richard Bauckham is professor emeritus of New Testament studies at the University of St. Andrews in Scotland and senior scholar at Ridley Hall, Cambridge. A fellow of both the British Academy and the Royal Society of Edinburgh, he has also written Bible and Mission: Christian Witness in a Postmodern World.
James R. Davila is professor of early Jewish studies at the University of St. Andrews.
Alexander Panayotov is research associate in the Divinity Faculty at the University of Cambridge.

Reality, Grief, Hope: Three Urgent Prophetic Tasks
Author: Walter Brueggemann
Publisher: Eerdmans
Publication Date: 2014
Walter Brueggemann is one of the most highly regarded Old Testament scholars of our time; talk-show host Krista Tippett has even called him "a kind of theological rock star." In this new book Brueggemann probes the tasks performed by the ancient prophets of Israel and points out striking correlations between the destruction of Jerusalem in 587 BCE and the catastrophic crisis of 9/11 in AD 2001.
Brueggemann identifies a characteristic ideology of "exceptionalism"—chosenness, entitlement, privilege—which must be countered by prophetic realism and truth-telling. Denial must give way to honest grief. And, finally, widespread despair must be overcome by a buoyant hope. This sequence of ideology-realism, denial-grief, and despair-hope corresponds to Brueggemann's unpacking of the books of Jeremiah, Lamentations, and Isaiah.
Walter Brueggemann through his teaching, lecturing, and writing, has effectively demonstrated the significance of the Old Testament for our fractured world today. Recognized as the preeminent interpreter of the ancient texts in relation to questions posed by a variety of academic disciplines, he has shown the way toward a compelling understanding of the major components of the faith and life of ancient Israel, especially in the Psalms, the prophets, and narrative texts of the Hebrew Bible. His award-winning Theology of the Old Testament quickly became a foundational work in the field.
Professor Brueggemann holds a ThD from Union Theological Seminary in New York and a PhD from St. Louis University. Now professor emeritus of Old Testament at Columbia Theological Seminary, he was formerly the William Marcellus McPheeters Professor of Old Testament at Columbia Theological Seminary in Decatur, Georgia. Before that, he was professor of Old Testament at Eden Theological Seminary in St. Louis. His many books, including The Threat of Life: Sermons on Pain, Power, and Weakness, exhibit a fruitful combination of imaginative power, sound scholarship, and a passion of justice and redemption.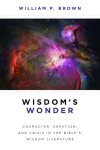 Wisdom's Wonder: Character, Creation, and Crisis in the Bible's Wisdom Literature
Author: William P. Brown
Publisher: Eerdmans
Publication Date: 2014
Wisdom's Wonder offers a fresh reading of the Hebrew Bible's wisdom literature with a unique emphasis on "wonder" as the framework for understanding biblical wisdom. William Brown argues that wonder effectively integrates biblical wisdom's emphasis on character formation and its outlook on creation, effectively breaking an impasse that has plagued recent wisdom studies.
Drawing from various disciplines—from philosophy to neuroscience—Brown discovers new distinctions and connections among Proverbs, Job, and Ecclesiastes. Central to each book, he claims, are certain "texts of tremendum," which evoke the wide range of wonder's nuance, from "fear seeking understanding" to confounding perplexity to unbridled joy.
An extensive revision and expansion of Brown's Character in Crisis, this book demonstrates that the wisdom books are much more than simply advice literature—with wonder as the foundation for understanding, Brown maintains that wisdom is a process with transformation of the self as the goal.
William P. Brown is professor of Old Testament at Columbia Theological Seminary, Decatur in Georgia.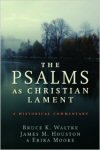 The Psalms as Christian Lament: A Historical Commentary
Authors: Bruce K. Waltke, James M. Houston, and Erika Moore
Publisher: Eerdmans
Publication Date: 2014
While much modern scholarship has tended to "despiritualize" the Psalms, this collaboration by three evangelical scholars carefully attends to the two voices of the Holy Spirit—heard infallibly in Scripture and edifyingly in the church's response.
The Psalms as Christian Lament, a sequel to The Psalms as Christian Worship, uniquely blends verse-by-verse commentary with a history of Psalms interpretation in the church to examine 10 lament psalms, including the seven traditional penitential psalms. Though C. S. Lewis called the "imprecatory" psalms "contemptible," Waltke, Houston, and Moore show that they too are profitable for sound doctrine and so for spiritual health.
Bruce K. Waltke is distinguished professor of Old Testament at Knox Theological Seminary in Fort Lauderdale, Florida and professor emeritus of biblical studies at Regent College in Vancouver, BC. He is the author of numerous books and Old Testament commentaries, including works on Genesis, Proverbs, and Micah.
James M. Houston is founding principal and former chancellor of Regent College and was the college's first professor of spiritual theology. His books include Joyful Exiles: Life in Christ on the Dangerous Edge of Things and Letters of Faith through the Seasons: A Treasury of Great Christians' Correspondence.