Abraham Kuyper Studies Collection (6 vols.)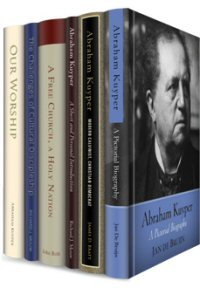 Overview
Abraham Kuyper was one of the most significant theologians, churchmen, and institution builders to contribute to Christian thought and practices concerning the intersection of Christianity and culture. His work continues to impact the discussion and direction of faithful living in the world today. This collection features key texts for discovering and understanding his thought and personal life. It includes an orienting introduction to Kuyper that synthesizes his multifaceted writing, definitive and pictorial biographies providing vivid portrayals of his life, a new English translation of his Onze Eredienst on worship, and several monographs and essays analyzing his thought and contributions, offering applications for today's church.
The Logos editions enhance the depth and efficiency of your study. Scripture citations link directly to English translations and original-language texts. Citations to other works in your library link to the exact page for quick reference. Powerful searches allow you to find exactly what you're looking for. Study on the go using tablet and mobile apps. With Logos Bible Software, the most efficient and comprehensive tools are in one place, so you get the most out of your study.
Key Features
Provides an orienting introduction to Kuyper's work and thought
Presents definitive and pictorial biographies of Kuyper's life
Offers the latest English translation of his Onze Eredienst on worship
Individual Titles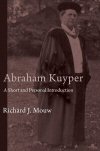 Richard Mouw was first drawn to Abraham Kuyper's writings about public life in the turbulent 1960s. As he struggled to find the right Christian stance toward big social issues such as the civil rights movement and the Vietnam War, Mouw discovered Kuyper's Lectures on Calvinism—and, with it, a robust vision of active Christian involvement in public life that has guided him ever since.
In this "short and personal introduction" Mouw sets forth Kuyper's main ideas on Christian cultural discipleship, including his views on sphere sovereignty, the antithesis, common grace, and more. Mouw looks at ways to update—and, in some places, even correct—Kuyper's thought as he applies it to such twenty-first-century issues as religious and cultural pluralism, technology, and the challenge of Islam.
This marvelous little book pulls off an astounding feat: though it is both compact and accessible, it also gives us the whole Kuyper. Too often we get Kuyper in slices: folks gravitate to a 'side' of Kuyper, adopting his theology of culture but neglecting his emphasis on the church, or picking up common grace but neglecting antithesis. But Mouw, with typical wit and warmth, introduces us to Kuyper in all his multifaceted richness. A gift for the next generation.
—James K. A. Smith, Gary and Henrietta Byker Chair in Applied Reformed Theology and Worldview, Calvin College
Part introduction to the principal loci of Kuyper's theology of culture, part personal reflection on the legacy of neo-Calvinism, part Kuyperian aggiornamento for the twenty-first century, Rich Mouw's book is a gem. Its engagement with Kuyper's work is thoughtful and sympathetic, but also questioning and critical, a combination that makes this book a perfect entryway into Kuyper's social thought.
—John Bowlin, Rimmer and Ruth de Vries Associate Professor of Reformed Theology and Public Life, Princeton Theological Seminary
Richard Mouw's book does just what it is supposed to do: stimulate our thinking on subjects of consequence, quicken our interest in a mind many of us ought to know better, and improve already great concepts into ideas even better suited to our circumstances. That's a lot to accomplish in a small book—of which genre Mouw must now be acknowledged a master.
—John Stackhouse, Sangwoo Youtong Chee Professor, Theology & Culture, Regent College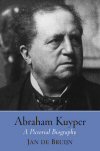 Abraham Kuyper: A Pictorial Biography
Author: Jan De Bruijn
Publisher: Eerdmans
Publication Date: 2014
Pages: 400
Among historians there is little disagreement about the significance of Abraham Kuyper, but discussions about Kuyper have mostly centered on his worldview, with little said about his context and personal life. This beautiful pictorial biography offers a complete portrait of the life and work of this remarkable man.
Nearly 400 full-color illustrations with extended explanatory captions make up the book. Readers will see political cartoons, family photos, posters, pictures of important places in Kuyper's life, and more—even Kuyper enthusiasts are sure to find something new! Never before has there been a book available in English that illustrates Kuyper's life to this extent.
Jan de Bruijn is professor of political history at the Free University of Amsterdam. He has also written several other works on Abraham Kuyper and Dutch Protestantism.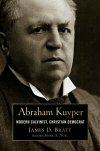 This is the first full-scale English-language biography of the highly influential and astonishingly multifaceted Abraham Kuyper (1837–1920)—theologian, minister, politician, newspaper editor, educational innovator, Calvinist reformer, and prime minister of the Netherlands from 1901 to 1905.
James Bratt is the ideal scholar to tell the story of Kuyper's remarkable life and work. He expertly traces the origin and development of Kuyper's signature concepts—common grace, Christian worldview, sphere sovereignty, Christian engagement with contemporary culture—in the dynamic context of his life's story.
Based on voluminous primary and secondary Dutch sources, Bratt's Abraham Kuyper: Modern Calvinist, Christian Democrat will prove to be the go-to biography of this major figure whose ideas and influence extend far beyond his own time and place.
At last! This is what many of us have been waiting for—a careful, detailed, and highly readable(!) biography of Kuyper in all of his human complexity. Jim Bratt has given us the comprehensive study of 'Father Abraham' that will serve English speakers for years to come.
—Richard J. Mouw, president, Fuller Theological Seminary
Abraham Kuyper was such a titanic figure in the Netherlands during the late nineteenth and early twentieth century, such a volcano of prodigious energy and imagination in so many areas of life, that I have long assumed that his genius would elude capture by any biographer. James Bratt's biography, Abraham Kuyper: Modern Calvinist, Christian Democrat, proves that I was mistaken. This is Kuyper—not always likable, but always astounding. And it's a page-turner besides.
—Nicholas Wolterstorff, Noah Porter Professor Emeritus Philosophical Theology Divinity School and Religious Studies, Yale University
James Bratt has written what can only be called the definitive biography of Abraham Kuyper. With engrossing scholarship and style, Bratt provides indispensable reading for anyone interested in postindustrial Christian social thought. . . . Will undoubtedly become a classic.
—Anthony B. Bradley, associate professor of theology, The King's College
Bratt has done a marvelous job of setting Kuyper's multifaceted interests, activities, and ideas in their historical contexts. With wit and insight Bratt depicts Kuyper not only as a great man but also as a real person of his times, complete with faults and blind spots that Calvinists recognize as inevitable even among their saints.
—George Marsden, emeritus professor of history, University of Notre Dame
James D. Bratt is professor of history at Calvin College in Grand Rapids, Michigan.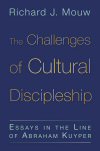 Richard J. Mouw is well known for his incisive views on the intersection of culture and Christianity and for his efforts to make the thought of major Dutch theologian Abraham Kuyper accessible to average Christians. In this volume Mouw provides the scholarly "backstory" to his popular books as he interprets, applies, expands on—and at times even corrects—Kuyper's remarkable vision for faith and public life.
In 13 essays Mouw explores and develops the Kuyperian perspective on key topics in Christian cultural discipleship, including public theology, sphere sovereignty, education, creation, and more. He deftly articulates an ecumenically enriched neo-Calvinist—or "neo-Kuyperian"—perspective that appropriates and contextualizes the ideas and insights of this important theologian and statesman for new challenges in Christian thought and service.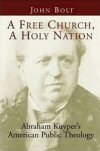 This volume uses the thought of Abraham Kuyper as a model for American evangelicals engaged in today's cultural debate. Offering a new interpretation of Kuyper's public theology that emphasizes its rhetorical and poetic aspects, John Bolt builds a credible public theology that directly applies to Christian political activism.
In considering such key issues as poverty, wealth and power, theocracy and pluralism, civil religion, the culture wars, and political cooperation between Evangelicals and Roman Catholics, Bolt also compares Kuyper's views with the thought of Alexis de Tocqueville, Lord Acton, Pope Leo XII, Walter Rauschenbusch, and Jonathan Edwards. Bolt shows that focusing on Kuyper's rhetorical and mythopoetic perspective, rather than on his theological and philosophical ideas, provides contemporary evangelicals with a more meaningful and effective theology for the public square.
John Bolt is professor of systematic theology at Calvin Theological Seminary in Grand Rapids, Michigan.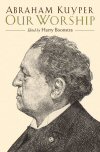 Few modern figures in the Reformed tradition are as widely influential as Abraham Kuyper, whose views on theology, politics, and Christian culture are renowned. His writings on worship, however, are not as well known. This new English translation of Onze Eredienst fills that gap, offering Kuyper's clearest thinking on worship and liturgy. Though written nearly a hundred years ago, his perspectives on worship are amazingly relevant to our time.
In a substantive introduction Harry Boonstra outlines Kuyper's life and the historical context in which he wrote. Adding even more luster to the volume are concluding essays by John Bolt, Bryan Spinks, Geoffrey Wainwright, and Nicholas Wolterstorff.
Abraham Kuyper was a deep thinker and savvy organizer in the domains of church, state, and the academy. Here he turns his attention to the theory and practice of worship, with remarkable results. He recovers tradition while freshly engaging contemporary life. He criticizes the excesses of formalism and pietism while harvesting the virtues hidden by their distortions. His articulate and consistent point of view still sets a useful standard for measuring our own liturgical practices a hundred years later.
—James Bratt, professor of history, Calvin College
Many of Abraham Kuyper's specific comments about public Christian worship are dated. But because his observations are rooted in sound theology and deep scriptural learning, his treatment of the subject is filled with compelling wisdom. The contemporary commentators enlisted to interact with Kuyper add even more depth and breadth to this important volume.
—Mark A. Noll, Francis A. McAnaney Professor of History, University of Notre Dame
Kuyper never ceases to amaze! Here he addresses the church's worshiping life with insight and candor—and in a manner that regularly comes across as surprisingly contemporary. All of the obvious topics are here: liturgy, hymnody, sacraments, preaching. But he also takes on subjects that don't often get attention in books on worship: what it's like to listen to a sermon, the best seating arrangements in a sanctuary, the 'tone' and length of a prayer. Here too, 'Father Abraham' takes up the cause of 'the little people'—in this case, those who sit in the pews!
—Richard J. Mouw, president, Fuller Theological Seminary
Abraham Kuyper was a Reformed pastor and theologian who dominated the religious and political life of the Netherlands for nearly half a century and whose ideas continue to inspire an international school of thought. He founded the Vrije Universiteit Amsterdam, organized the first major Christian political party in Europe, and served as prime minister of the Netherlands. Kuyper lectured and wrote many books on Reformed theology and generally sought to show the public relevance of Christian faith to modern life.
Product Details
Title: Abraham Kuyper Studies Collection
Publisher: Eerdmans
Volumes: 6
Pages: 2,231
More details about these resources