The Church at Worship Series (3 vols.)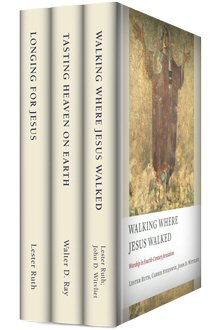 Overview
The Church at Worship series presents case studies of worshiping communities around the world and throughout Christian history, designed to inform and enrich worship practices today. Rather than survey historical developments of worship, this series closely examines worship practices of particular times and places. Each volume includes a map, a timeline, a summary of noteworthy aspects of worship in the relevant time period and region, an anthology of primary sources, and questions for congregational and student study groups.
Explore the worship of the most significant African-American congregation in the South at the turn of the twentieth century with Lester Ruth's, Longing for Jesus. Learn from the Early Medieval church's liturgy with Walter Ray's vibrant snapshot of sixth-century Byzantine Christianity, Tasting Heaven on Earth. Discover the worship of the ancient church with Ruth, Steenwyk, and Witvliet's rich and readable presentation of fourth-century Christianity in Jerusalem, Walking Where Jesus Walked.
In the Logos editions, these valuable volumes are enhanced by amazing functionality. Scripture and ancient text citations link directly to English translations, and important terms link to dictionaries, encyclopedias, and a wealth of other resources in your digital library. Dates link to the Logos Timeline, revealing other significant events at that time bearing on Christian worship. Powerful searches allow you to find exactly what you're looking for. Take the discussion with you using tablet and mobile apps. With Logos Bible Software, the most efficient and comprehensive tools are in one place, so you get the most out of your study.
Key Features
Examines Christian worship around the world and throughout Christian history
Presents a closer look at worship practices of particular times and places
Informs and enriches worship practices today
Includes maps, timelines, summaries, anthologies of primary sources, and questions for congregational and student study groups
Individual Titles

This inaugural volume uses vivid descriptions of Jerusalem, its history, its people, and its worship practices to set the stage for a rich selection of primary church documents, presenting readers with a vibrant snapshot of the church at Jerusalem in the fourth century.
Some of the primary materials included are:
Select art, artifacts, and architectural drawings
Egeria's Diary: A Pilgrim's Observations of Jerusalem at Worship
The lectionary and communion prayer likely used in Jerusalem
The Liturgy of St. James, historically associated with Jerusalem
Excerpts from the sermons of Cyril, bishop of Jerusalem
Ancient liturgy comes to life in this truly reader-friendly yet scholarly book—a valuable addition to the growing number of resources that should greatly enrich Christian worship in years to come. With this as a first sample, I eagerly await the rest of the series.
—Justo L. González, emeritus professor of history, Columbia Theological Seminary
Readers will see, hear, and feel the enthusiasm and faith of worshipers sixteen hundred years ago. . . . A wonderfully rich, fascinating, and inspiring book!
—Martha Ann Kirk, professor of religious studies, University of the Incarnate Word
A marvelous window for helping students understand through the eyes of a pilgrim what the contours of the faith looked like as Christianity moved from persecuted sect to imperial religion. With its panoply of resources, this book will be eminently useful.
—Brian T. Hartley, professor of religion, Greenville College
An impressive collection of materials providing readers with a multidimensional view of fourth-century worship in Jerusalem. . . . I can't wait to use Walking Where Jesus Walked in the classroom and in the church.
—Constance M. Cherry, professor of worship and pastoral ministry, Indiana Wesleyan University
The catechetical lectures of Cyril and the journal of Egeria allow a rare textual window into worship in Jerusalem at the end of the fourth century. Lester Ruth breathes a creative spirit into these texts and makes them come alive. This will be an important textbook for divinity students and an excellent example to liturgy scholars of how to present the past in a vital manner.
—Bryan D. Spinks, Bishop F. Percy Goddard Professor of Liturgical Studies and Pastoral Theology, Yale Divinity School
Lester Ruth is research professor of Christian worship at Duke Divinity School.
Carrie Steenwyk is a publications manager at the Calvin Institute of Christian Worship.
John D. Witvliet is director of the Calvin Institute of Christian Worship and teaches theology, worship, music, congregational, and ministry studies at Calvin College and Calvin Theological Seminary.

In this second volume, Tasting Heaven on Earth, Walter Ray provides vivid descriptions of Constantinople, its history, its people, and its worship practices, setting the stage for a rich selection of primary documents that present readers with a vibrant snapshot of Byzantine Christianity in the sixth century. This illustrated, reader-friendly volume also features discussion questions for each chapter and suggestions for devotional use.
Primary materials collected in this book include:
Photos of mosaics, liturgical vessels, icons, and manuscripts
Drawings, diagrams, descriptions, and photographs of Hagia Sophia
Firsthand accounts of worship by Maximus the Confessor, Eutychius, and Procopius
Liturgical prayers and a reconstruction of the Divine Liturgy of St. Basil
Sung and spoken sermons attributed to Romanus and Leontius
Imperial decrees on worship practices
I cannot imagine a more vivid way to introduce this great Christian worship tradition, ancient yet ever new. This is a wonderful book in an astonishingly fresh and exciting new series; I am flattered to find my fingerprints all over it. Bravo, Walter Ray!
—Robert F. Taft, emeritus professor, Pontifical Oriental Institute
A splendid introduction to Eastern Orthodox worship. Amply illustrated and documented, Tasting Heaven on Earth makes the ancient and mysterious Byzantine liturgy come alive for modern Western readers.
—Paul Meyendorff, Alexander Schmemann Professor of Liturgical Theology, St. Vladimir's Orthodox Theological Seminary
The more we know about how previous generations of Christians responded to the Holy Spirit in the context of their own cultures, the better equipped we will be for discerning the diverse work of the Holy Spirit in our time. Walter Ray's book makes an important contribution.
—Ralph Martin, director, Graduate Theology Programs in the New Evangelization, Sacred Heart Major Seminary
We have histories of Byzantium and Byzantine worship, but nothing quite like this beautiful volume that invites the reader to explore the world of Byzantium through its worship. This is a rich and luxuriously illustrated anthology, a kind of museum in print that makes tangible to readers the lived faith of this ancient Christian culture through its music, poetry, hymnody, iconography, and architecture.
—Vigen Guroian, professor of religious studies in Orthodox Christianity, University of Virginia
Walter Ray's fine volume shows us in some detail, via text and image, what Orthodox worship was like at an important time and place in its history. The book not only contains much that teaches us about Orthodox worship; it also does much to encourage us to learn from it.
—Calvin Stapert, professor emeritus of music, Calvin College
Walter D. Ray is assistant professor at Southern Illinois University, Carbondale, an Eastern Orthodox layman, and the author of several articles on early Christian liturgy.

In this third volume, Longing for Jesus, Lester Ruth vividly portrays a prominent African-American holiness church in Jackson, Mississippi, in the early twentieth century. Ruth's rich selection of primary documents presents readers with a vibrant snapshot of this dynamic church and its pastor, Charles Price Jones, caught between factors that threatened the existence of the congregation itself: Jim Crow racism, conflicting visions for the church, appropriate Christian piety, and social aspirations. In the midst of conflicts inside and outside, the church fought to create a space where it could worship Jesus as it saw fit.
Masterfully knitting new strands of research into a rich tapestry of religious history, Lester Ruth brings to life the long-hidden story of the nation's first African-American Holiness church. . . . By turns narrative history, exegesis, and study of Christian practice, Ruth's book brims with insight and wisdom about how a small church in the deep South sparked a movement that would sweep the country and start a revolution in worship and preaching.
—John Giggie, associate professor, University of Alabama
Lester Ruth's Longing for Jesus takes the reader inside Christ Temple of Jackson, Mississippi, and the ministry of Charles Price Jones, a central figure in the Black Holiness movement. . . . We can experience the richness of worship in that place and imagine enriched worship practices for ourselves. This accessible and innovative introduction to a critical but underappreciated figure in the history of American Protestant worship is a great gift indeed.
—W. Scott Haldeman, associate professor of worship, Chicago Theological Seminary
This richly rewarding book takes the reader into Christ Temple under the leadership of Charles Price Jones a century ago in order to discover a host of fresh insights into hymnody, preaching, and the encounter with God that takes place in worship. I strongly recommend this book to anyone interested in the study and practice of worship.
—Dale T. Irvin, professor of world Christianity, New York Theological Seminary
Lester Ruth has unburied the rich treasures and legacy of the Church of Christ (Holiness) USA and its founder, Charles Price Jones. . . . Ruth's meticulous attention to the documents, music, and worship practices successfully connects us to the songs, prayers, and sermons of these 'saints on higher ground!'
—James Abbington, associate professor of church music and worship, Candler School of Theology
Longing for Jesus invites us into a significant form of African-American communal worship at a significant time in American history. This Holiness congregation at worship is no doubt reflective of other nascent African-American churches struggling to find meaning and freedom in a confused religious environment. . . . I highly commend this scholarly research series to all who take worship seriously!
—Melva Costen, visiting professor of liturgical studies, Yale Institute of Sacred Music
Lester Ruth is research professor of Christian worship at Duke Divinity School.
Product Details
Title: The Church at Worship Series
Publisher: Eerdmans
Volumes: 3
Pages: 533
More details about these resources