Skip Heitzig Sermon Archive (900+ Sermons)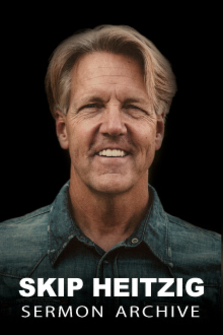 Skip Heitzig Sermon Archive (900+ Sermons)
•
Runs on Windows, Mac and mobile.
Your Custom Discount
Reg. Price $199.95
Sale Price $129.95
Your Price $129.95
You Save $70.00 35%
Your Price
What's Pre-Pub?
$129.95
Overview
Logos Bible Software is excited to bring you nearly 1,000 sermons from renowned pastor Skip Heitzig! Skip planted Calvary Albuquerque in 1982, which has since grown to reach over 14,000 people across multiple campuses and online. His multimedia ministry helps equip thousands to live according to God's purpose—and now, for the first time, can equip you through Logos Bible Software. Follow along with his teachings through Genesis, Leviticus, Matthew, and John, and learn what it means to follow after Jesus.
Discover what Skip says about marriage anytime you run the Topic Guide, or find his teachings on specific Bible verses as you use Logos to write your own sermon. Read along with his sermons on your daily commute on your mobile device—Logos Bible Software makes it easy to follow along with your favorite pastors and theologians anywhere you go.
Key Features
Search every sermon for any topic in just seconds
View each sermon side-by-side with the text of the Bible
Expound the Bible text alongside Skip's trusted teaching
Sermon Series Included:
Genesis (September 2009–November 2010)
Leviticus (October 2012–March 2013)
Matthew (September 2011–September 2012)
43 John—Believe:879 (October 2009–April 2012)
A Red Christmas (December 2012)
The Bible from 30,000 Feet (July 2007–April 2009)
The Biography of God (October 2008–March 2009)
Church Who Needs It (March 2009–August 2009)
From the Edge of Eternity (April 2008–September 2008)
Jesus Celebrating All That He Is (December 2011)
Job Meets Jesus (August 2009–October 2009)
Keep Calm and Marry On (June 2012–November 2012)
Product Details
Title: Skip Heitzig Sermon Archive
Author: Skip Heitzig
Number of Sermons: 997
About Skip Heitzig
Skip Heitzig (b. 1955) was born and raised in southern California. After his wayward teen years, converted to the faith through a Billy Graham crusade in 1973, and began studying under Chuck Smith at Calvary Chapel, Costa Mesa, until 1981. After moving to Albuquerque, New Mexico, and his wife began a home Bible study which grew into Calvary Albuquerque. He holds a BA, an MA, a DD, and a PhD (Philosophy, Biblical, and Theological Studies, Trinity Southwest University).