Walter A. Elwell Reference Collection (8 vols.)

Walter A. Elwell Reference Collection (8 vols.)
•
Runs on Windows, Mac and mobile.
Overview
Well known for his desire to make leading biblical research available to everyone, Walter A. Elwell is one of evangelicalism's leading editors of biblical reference works. The Walter A. Elwell Reference Collection equips you with eight works that provide both guides for Bible study and biblical perspectives on modern-day issues. Topics include Bible commentary, theology and evangelical theologians, apologetics, missions, Christian psychology and counseling, and education. Well researched, convenient, and accessible these works are useful for scholars, preachers, students, teachers, and lay-people alike.
The Logos Bible Software edition of the Walter A. Elwell Reference Collection is designed to encourage and stimulate your study and understanding of the Christian faith. Scripture passages link directly to your English translations and to the original-language texts, and important apologetic concepts link to dictionaries, encyclopedias, and a wealth of other resources in your digital library. In addition, you can perform powerful searches by topic and find what other authors, scholars, and theologians have to say about theology, world missions, and Christian education.
Key Features
Full of reference works on theology, Bible commentary, apologetics, Christian psychology, education, and more
Useful for research, sermon preparation, or personal study
Written and edited by leading theologians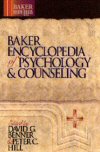 Baker Encyclopedia of Psychology and Counseling
Editors: David G. Benner and Peter C. Hill
Edition: 2nd
Publisher: Baker
Publication Date: 1999
Pages: 1,278
The Baker Encyclopedia of Psychology and Counseling incorporates the latest findings from the most capable authors on key topics, issues, and movements in the field of psychology. With over 1,400 entries (articles and cross-references), this massive volume has everything the Christian psychologist or counselor needs to identify disorders, trends, techniques, and other essential concepts. And each article has been reviewed for the second edition to reflect the current literature in the field.
An all-star cast of Christian psychologists offer state-of-the-art synopses of their field's major concepts, theories, and therapies. A valuable resource for any Christian student, scholar, or practitioner of psychology.
—David Myers, professor of psychology, Hope College
A classic has just become better! The substantial content of this new edition will make it an even more useful treasure-house of information for the Christian mental health professional.
—James R. Beck, Denver Seminary
The second edition of The Baker Encyclopedia of Psychology and Counseling , written from a Christian perspective, is a great resource and reference work. Editors David Benner and Peter Hill are to be commended for a job well done!
—Siang-Yang Tan, professor of psychology, Fuller Theological Seminary
The second edition of The Baker Encyclopedia of Psychology and Counseling is a comprehensive compendium of knowledge about psychology written by noted experts. Coverage is up-to-the-minute. This will be an invaluable reference book for years. I heartily recommend it to practicing mental health professionals, academicians, trainees, and libraries.
—Everett L. Worthington Jr., professor of psychology, Virginia Commonwealth University
I have always held this work in the highest regard and consider it to be one of the decade's most invaluable resources. It is exceptionally comprehensive, and the second edition even surpasses the first. What I particularly value about the encyclopedia is that it is a phenomenal resource for integrating psychology and theology. The contributors are all outstandingly integrative and not only present the facts about psychology but critique these facts forthrightly and helpfully. Any Christian concerned for the truth about the human condition, not just those in the helping professions, will find this outstanding publication a great resource. I certainly have. Aside from its value to Christians I believe the encyclopedia is also a great resource for all psychologists and counselors. In fact I have recommended it to some of my non-Christian contacts on several occasions.
—Archibald D. Hart, professor of psychology, Fuller Theological Seminary
Since 1985 The Baker Encyclopedia of Psychology and Counseling has been the single-volume reference for a comprehensive treatment from a Christian perspective. With this second edition the best is now better. David Benner and Peter Hill are pillars of academic integrity (and endurance) in the integration field.
—Gary W. Moon, president, Psychological Studies Institute
The Baker Encyclopedia of Psychology and Counseling is a must-have reference tool for Christian counseling professors, clinicians, pastors, and students.
—Timothy Clinton, president, American Association of Christian Counselors
The Baker Encyclopedia of Psychology and Counseling is a must for any person involved in pastoral or Christian counseling. Not only does this second edition contain what one would expect in an encyclopedia, but it also includes articles to bless and equip the counselor. . . . I heartily recommend this valuable tool. It is a must for any serious counselor's library and will be of use for many years to come.
—Tom Gill, Ministries Today
The Baker Encyclopedia of Psychology and Counseling factually presents the major current findings in the field, treated comprehensively from a Christian point of view.
— Journal of Christian Healing
David G. Benner (PhD, York University; CPsych, College of Psychologists of Ontario) is professor of psychology at Redeemer College. Dr. Benner serves as chief psychologist for a children's mental health center and is the founding director of the Institute for Psychospiritual Health. He has written numerous books, including Strategic Pastoral Counseling and Care of Souls.
Peter C. Hill (PhD, University of Houston) teaches psychology at Grove City College. He has published a number of scholarly articles.

This major reference volume includes over five hundred articles explaining the theological message and key themes of both Old and New Testaments. It includes articles on abortion, money, altars, pride, promise, the second coming, Jerusalem, and many others. More than 125 of the best evangelical Bible scholars provide insights from the biblical languages. Yet anyone using the volume does not need to know Hebrew or Greek. Bibliographies, indexes, and cross-references make this a useful volume for pastors, students, teachers, and lay people.

Evangelical Dictionary of World Missions
Editor: A. Scott Moreau
Publisher: Baker
Publication Date: 2000
Pages: 1,072
The Evangelical Dictionary of World Missions contains more than 1,400 articles on the theory, practice, theology, and history of missions. A comprehensive, one-volume reference, it not only provides a wealth of information on the topic of world missions, it also offers a contemporary study of the subject from an evangelical perspective. Over three hundred missionaries, theologians, and educators from a variety of cultural, denominational, and ethnic backgrounds contribute their expertise to provide a broad survey of the history of world missions as well as current trends and research.
In terms of both its comprehensiveness and its accessibility, the EDWM is a signal achievement, not only for evangelical missiology but for Christian missiology as a whole. It will be consulted widely.
—Robert Schreiter, International Bulletin of Missionary Research
A timeless resource. With easy turns of the page, background to the state of contemporary world mission thinking is at the reader's fingertips. As such, EDWM stands as a remarkable reference book for students and teachers in Christian Mission in our age. A priceless guide to world mission, it gives a panoramic view of debates, discussion and people that have been involved in Christian mission since its beginnings. . . . In addition to a subject index is a whole separate and equally essential bibliographical index. The Dictionary is worth having just for its indices and overviews of mission events, theory and people.
—Rob Goodwin, TCZ Journal of Theological Reflection
Moreau and his fellow editors are to be congratulated for producing a volume that can and will be used with confident gratitude by all who seek clear and trustworthy information on mission related subjects.
—Jonathan J. Bonk, Evangelical Missions Quarterly
To best fulfill the Great Commission in the years ahead, the Church would do well to look at what it has done and is doing in this area. This volume will aid in this endeavor.
—Presbyterian Layman
The Evangelical Dictionary of World Missions provides another easy-to-use tool for research and reflection on the mission of God's people. This volume is a readily accessible overview of mission which is irenic toward differing perspectives, interdenominational in outlook, and still firmly committed to the inspiration and authority of the Bible in orienting us to the task God has entrusted to the Church. . . . It is heartily recommended for those who have a serious interest in the mission of the church.
—Mark Young, Bibliotheca Sacra
A. Scott Moreau received his doctorate in missions from Trinity Evangelical Divinity School. He is associate professor of missions and intercultural studies at Wheaton Graduate School. He worked with Campus Crusade for Christ in Africa and taught for eight years at the Nairobi International School of Theology. He also served as Deputy Administrator for the Accrediting Council for Theological Education in Africa. Dr. Moreau is the author of The World of the Spirits and acted as associate editor for Twentieth-Century Dictionary of Christian Biography.

Evangelical Commentary on the Bible
Editor: Walter A. Elwell
Publisher: Baker
Publication Date: 1996
Pages: 1,072
The purpose of this commentary, is to help the average reader of the Bible understand what the text says. Using the NIV as a basis for its comments, this commentary is a totally new work, not a reprint or a revised edition. Thirty-eight contributors representing some of the finest American evangelical scholars present their articles in clear, easy-to-understand language. Includes outlines and introductions to each book of the Bible and extensive discussions of key biblical doctrines.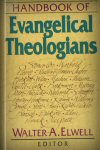 Handbook of Evangelical Theologians
Editor: Walter A. Elwell
Publisher: Baker
Publication Date: 1997
Pages: 465
The 33 featured theologians reflect the breadth and diversity of the church. They range in date from Augustus H. Strong, born in the 1830s, to Alister McGrath, born in the 1950s. The number includes theologians who have had a significant impact, including Gordon Clark, Francis Schaeffer, Louis Berkhof, Millard Erickson, Carl Henry, J. I. Packer, John R. W. Stott, and others. In addition to biographies of each individual, each chapter reflects what the subjects regarded to be their theological task. Their central ideas are fit into the jigsaw of modern evangelical development.

Challenges to Christianity come from a variety of people and belief systems, and Christians are continually searching for the appropriate responses to critics of their faith. The Baker Encyclopedia of Christian Apologetics is a definitive one-volume resource designed to equip believers for Christian defense against the full range of opposing arguments.
Norman L. Geisler has taught at university and graduate levels for nearly 50 years and has spoken, traveled, or debated in all 50 states and in 26 countries. He holds a BA and MA from Wheaton College, a ThB from William Tyndale College, and a PhD in philosophy from Loyola University.
After his studies at Wheaton, he became the graduate assistant in the Bible-philosophy department at the college. He has since taught Bible, apologetics and philosophy at Detroit Bible College, Trinity Evangelical Divinity School, and Dallas Theological Seminary, and was the dean of Liberty Center for research and scholarship in Lynchburg, VA. In 1992, he cofounded and served as the president of Southern Evangelical Seminary in Charlotte, North Carolina, until 2006. Currently, he is a professor of theology and apologetics at SES.

Fifteen years after its original publication comes a thoroughly revised edition of the Evangelical Dictionary of Theology. Every article from the original edition has been revisited. With some articles being removed, others revised, and many new articles added, the result is a completely new dictionary covering systematic, historical, and philosophical theology as well as theological ethics.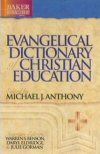 The Evangelical Dictionary of Christian Education has something for everyone who is serious about Christian education: church leaders, students, and professors. More than 850 articles survey the field, integrating biblical and theological concepts with contributions from education, psychology, anthropology, sociology, and philosophy. The articles explore the history, philosophy, and theology of Christian education and provide insight into educational methodology, learning theory, and practice.
Michael J. Anthony is professor of Christian education at Talbot School of Theology at Biola University. He has written and edited several books, including Introducing Christian Education: Foundations for the Twenty-first Century and Perspectives on Children's Spiritual Formation, available from Logos Bible Software in the B&H Marriage and Family Collection.
About Walter A. Elwell
Walter A. Elwell (PhD, University of Edinburgh) is emeritus professor of biblical and theological studies at Wheaton College. He has edited numerous biblical reference works, including the Baker Theological Dictionary of the Bible and the Evangelical Dictionary of Theology.
More details about these resources