The Works of William Tyndale (3 vols.)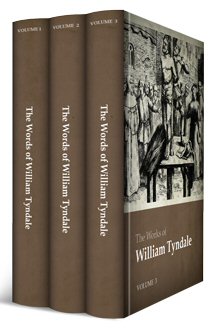 Overview
The Works of William Tyndale presents the writings of one of the most the important figures of the English Reformation and Western history as a whole. Tyndale's English translation of the Bible (the Tyndale Bible) was the first complete English Bible to be translated directly from the Greek and Hebrew texts. With the timely invention of the printing press, the Tyndale Bible was also the first mass produced English Bible, making Scripture accessible to commoners for the first time in history. Tyndale's literary skill in translation gave rise to early modern English and left an indelible mark on the language that can still be seen today in well-known phrases like "in the twinkling of an eye" and "the powers that be." In the end, Tyndale paid for this great legacy with his life. He is memorialized in Foxe's Book of Martyrs as the man "who, for his notable pains and travail, may be worthily called an apostle of England."
Included in these volumes are Tyndale's other influential works, such as The Obedience of a Christian Man, which was instrumental in King Henry VIII's decision to separate the Church of England from Rome. Carefully edited with an extensive biographical sketch, introductions, and marginal notes, Henry Walter competently presents Tyndale's works in a pleasant and readable format. Explore more deeply than ever the significance of this Christian pioneer through his theological, exegetical, and expositional writings.
In the Logos editions, these valuable volumes are enhanced by amazing functionality. Scripture and ancient-text citations link directly to English translations and original-language texts, and important terms link to dictionaries, encyclopedias, and a wealth of other resources in your digital library. Perform powerful searches with the Topic Guide to instantly gather relevant biblical texts and resources, enabling you to jump into the conversation with the foremost scholars on William Tyndale, the history of Bible translation, and Reformation history. Tablet and mobile apps let you take the discussion with you. With Logos Bible Software, the most efficient and comprehensive research tools are in one place, so you get the most out of your study.
Key Features
Extensive biographical sketch of Tyndale
Carefully edited texts with marginal notes and introductions
Samples of various versions of Tyndale's translations
Scripture and general indexes for easy reference
Tyndale's complete theological, exegetical, and expositional writings
Product Details
Title: The Works of William Tyndale
Author: William Tyndale
Editor: Henry Walter
Publisher: Cambridge University Press
Volumes: 3
Pages:1,216
Individual Titles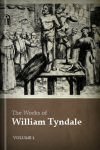 This volume begins with a short biography of Tyndale by Henry Walter, followed by several doctrinal writings and introductions to various books of the Bible from the Pentateuch and New Testament. Doctrinal issues covered include a treatise on the sacraments, a lengthy work on the proper way for Christian rulers to govern, and several writings on the use of Scripture, including the introduction to his 1526 English New Testament.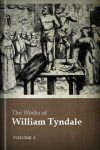 This volume of Tyndale's works includes his expositions of the Gospels of Matthew and John, his exegetical notes on Matthew 1–21, and his The Practice of the Prelates, in which he denounced Henry VIII's divorce from Catherine of Aragon to Mary Anne Boleyn.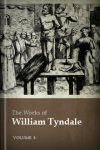 This volume presents Tyndale's defense of his The Practice of the Prelates in which he denounced Henry VIII's plan to divorce. Also included is a treatise on the Lord's Supper examining John 6 and 1 Corinthians 11.
About William Tyndale
William Tyndale (1494–1536) was an English biblical scholar and foundational figure leading up to the Reformation. Tyndale was educated at Oxford and Cambridge and developed a reputation as a gifted linguist, fluent in French, Greek, Hebrew, German, Italian, Latin, and Spanish. Influenced by Erasmus and Luther, he translated the New Testament and the Pentateuch from Greek and Hebrew into English—against the wishes of the Roman Catholic Church. Betrayed to the authorities, Tyndale was condemned as a heretic and burned alive in 1536.
About Henry Walter
Henry Walter (1785–1859) was an Anglican rector of Hasilbury Bryan, Dorset, fellow of St. John's College, Cambridge, and professor of natural philosophy at the East India Company's College at Haileybury.