The Way of the Lord Jesus (3 vols.)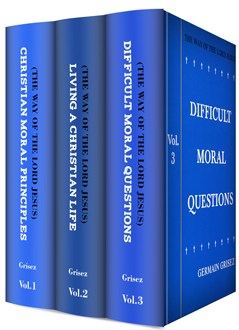 Overview
The Second Vatican Council called for a thorough-going renewal of moral theology, so that it would be centered on Jesus Christ, enriched by Scripture, and grounded in the fundamental truths of Catholic faith. The new approach was to integrate two ways of viewing Christian life—as a calling to divine intimacy, with its fulfillment in God's coming kingdom, and as a service of love for the life of this world, even during the present age.
The Way of the Lord Jesus responds fully to Vatican II's mandate. It presupposes and vigorously defends the truth of the Catholic Church's moral teachings—most of which all Christians handed on until, beginning in the nineteenth century, their consensus was gradually eroded by compromises with secularism. Furthermore, The Way of the Lord Jesus is Christocentric, richly nourished by Scripture, and based on the central truths of faith. Its explanation of Christian moral teachings shows them to be, not rules, but truths about what really is good for human beings. The entire work is shaped by the teaching of Vatican II, explained and richly developed by Pope John Paul II, that God calls each and every Christian to a personal vocation uniquely his or her own—a whole, complete life of good works prepared in advance as his or her own way of holiness (see Eph 2:10).
In Logos, these theological texts become connected with the rest of your library, allowing you to dig into the theological depths of your library faster. Cross-references to Church documents, the writings of saints and Church Fathers, and Greek, Hebrew, and Latin texts will bring you right to the source text in your library. Access these volumes on your mobile device, tablet, or laptop, and have them everywhere you go without the weight of heavy textbooks.
Key Features
Rich and thorough moral theology for the modern age
A Christocentric theological focus
Ideal for seminary students, pastors, and professors
Individual Titles

The Way of the Lord Jesus, vol. 1: Christian Moral Principles
Author: Germain Grisez
Publisher: St. Paul's / Alba House
Publication Date: 1993
Pages: 1,005
Volume one of Germain Grisez's three-volume work is constructed primarily as a textbook in fundamental moral theology for students in Catholic seminaries. However, those already ordained to the priesthood, teachers of religion, parents concerned about the catechetical formation of their children, and others will find this book helpful as well. Some questions naturally arise regarding this monumental undertaking. Why, for example, should so extensive a project be carried out in one field—that of moral theology? And why should seminary students devote so much of their time to this one subject? The answer is that morality is characteristic of human actions whose free and intelligent choice make human beings like unto God. This volume specifically covers the fundamentals of Christian moral principles.
With this volume, Professor Grisez tries to respond in the area of fundamental moral theology to the Church's call for renewal. He has paid close attention to the guidelines [calling for a treatment which avoids legalism and individualism, works in close touch with Scripture and Tradition as interpreted by the Magisterium, integrates moral with dogmatic and spiritual theology, articulates a Christian humanism, and focuses upon the mystery of Christ], and his work seeks to articulate a true vision of the Christian moral life as the life of one united with the Lord in the Eucharist and following Him according to one's personal vocation. The scope of Grisez''s undertaking is breathtaking. Because of the depth and originality of his work, it surely will be criticized from many points of view. Such constructive criticism will further the renewal to which he has made an authentic contribution. Meanwhile, this book offers a very valuable source for educated Catholics generally and deserves consideration for use in courses on Christian moral principles.
—William Cardinal Baum, prefect, Congregation for Catholic Education
Your most recent work has all the earmarks of an important, reliable, very much needed contribution to what over the past generation has been the turbulent field of moral theology mined with newly formulated principles of the behavioral sciences inconsistent with Christian faith. You have attempted to guide man through those minefields toward his heavenly goal, rather than to pander to him as if he could look forward to nothing beyond the grave. Please God that your highly competent efforts and those of your collaborators will prove a milestone in the reversal of present, erroneous moral trends, marking the end of another silly season and a return to moral sanity in seminary and pulpit alike.
—Silvio Cardinal Oddi, Congregation for the Clergy
Render[s] a great service not only to your students and to teachers looking for a textbook that would be modern, practical and orthodox, but also to the Church as a whole and to many bishops and priests who feel the need to update their theological formation.
—Edouard Gagnon, PSS, Pro-President, Pontifical Council for the Family
This book will be useful to many readers other than students in formal courses: to priests, to high school and college teachers of theology, and to parents anxious about the sound formation of their children. I will do everything I can to speak about it and to make it known.
—John Joseph Cardinal Carberry, archbishop emeritus of Saint Louis

The Way of the Lord Jesus, vol. 2: Living a Christian Life
Author: Germain Grisez
Publisher: St. Paul's / Alba House
Publication Date: 1997
Pages: 974
This second volume in Germain Grisez's monumental study treats the specific moral responsibilities common to lay people as well as those common to clerics and religious. Like volume one, Christian Moral Principles, the chapters in this work are divided into questions and answers based upon the conviction that the whole of the unique life to which God calls each Christian is his or her personal vocation. Each vocation embraces the whole of one's life, not merely part of it, for God calls each believer—a calling not limited to the specific "vocations" to priesthood or religious life, marriage or the single state—to love and serve Him with the whole of his or her heart, mind, soul, and strength. Vatican II adopted this inclusive understanding of vocation because it is eminently conducive to the integration of faith and daily life. Christian morality goes beyond the concept of laws imposed by God to an approach that promotes the good to be found in this world without going to the extreme of secular humanism which offers redemption without the cross. Insofar as Christians who try to fulfill their personal vocations are cooperating with Jesus, they are not left to their own resources. They are bolstered by God's grace. Hence, this volume deals with faith, hope, charity, justice, mercy and the other virtues, using them to illuminate and unify many specific norms of Christian morality.
Living a Christian Life is, like its predecessor volume, exhaustive and encyclopedic. The contents range from faith and reverence for God (chapter one) through patriotism, politics and citizenship (chapter 11). Like its predecessor, too, it seems destined to have an impact even on those who disagree with it in whole or part. Dissenting theologians generally avoid engaging Grisez's ideas, and the dissenting community as a whole has tried to deal with him politically by ignoring him, but anyone seriously doing moral theology today must take him into account. At the halfway mark of his summa of moral theology, that looks likely to remain true far into the future.
—Russell Shaw, Catholic Insight
Living a Christian Life, the second volume of Germain Grisez's masterwork The Way of the Lord Jesus, is a brilliant response to the Council's call to renew moral theology. Here Grisez carefully explains and defends the Church's moral teachings, including her most controversial norms, in a way that is entirely free from legalism and voluntarism or much pre-conciliar work in moral and pastoral theology. . . . His work represents the most important advance in the field of moral theory at least since the Christian humanist movement and scholastic revival of the sixteenth century. . . . The insights, explanations, and arguments of Living a Christian Life, I predict, will provide those called upon to follow the way of the Lord Jesus, as well as those entrusted with teaching Christ's Gospel into the next millennium, with resources far too valuable to ignore.
—Robert P. George, department of politics, Princeton University
Grisez's new volume is a major contribution to his new synthesis of Catholic moral theology. It deserves the widest possible audience.
—James G. Hanink, professor of philosophy, Loyola Marymount University

The Way of the Lord Jesus, vol. 3: Difficult Moral Questions
Author: Germain Grisez
Publisher: St. Paul's / Alba House
Publication Date: 1997
Pages: 959
Like the other two volumes, this one is intended primarily for use as a seminary text or instructional resource. But unlike the earlier volumes, which mainly present common Catholic teaching and reflect on it theologically, this volume deals with questions not yet the subject of explicit or clearly applicable Church teachings. Conscientious lay people facing challenging moral questions and those from whom they seek advice will find here guidance not available elsewhere: if not replies to their questions, a model for thinking about questions more or less like those they have. The 200-plus questions dealt with in this book really are difficult. Most of them are more difficult than it initially might seem. Quite often, the proposed reply qualifies or disagrees with something asserted or assumed by the questioner. The reader must be prepared to be challenged. The focus is always on trying to help a questioner form his or her own conscience and make good choices. Public opinion polls and the opinions of supposed experts are never treated as morally authoritative. Legalistic minimalism and impracticable idealism are avoided. Legitimate alternative ways of dealing with problems are often suggested. The motive of hope—intending heaven and fearing hell—regularly overarches and undergirds every other motive proposed for living the truth of a well-formed conscience.
Grisez is arguably the premier Catholic moralist writing today and his ideas are always stimulating and richly deserve the attention paid to them. This third volume of The Way of the Lord is no exception.
—Kevin L. Flannery, SJ, Gregorianum, vol. 79
The issues explored in the case studies reflect the moral dilemmas encountered by lay members of the Church in the business of ordinary daily living: money, marriage, medical matters, deceitful use of computers, business dilemmas, practices of garages and maintenance mechanics, smoking, alcohol and drugs, legal and insurance practices, as well as religious, spiritual and prayer life are all brought under review. The method is exploratory, not legalistic, and the style of teaching is not dictatorial.
—Francis P. McHugh, Theological Book Review, vol. 10, no. 3
Reading Grisez's book helps immensely to develop a habit of sound moral thinking and good practical judgment. Such a habit is needed and especially when the spirit of the times says, 'Follow your conscience,' and is not conducive to good moral health.
—Mary Rosera Joyce, St. Cloud Visitor
Difficult Moral Questions can be a valuable tool in the formation of both clergy and their lay collaborators. Grisez's answers. . . are orthodox and thoughtful—though, as he himself concedes—they are not infallible. Reasonable people might differ over the specifics of his advice in this case or that, even while agreeing wholly with the principles from which his conclusions are drawn. Likewise with Grisez's theories about 'basic human goods' and the 'modes of responsibility,' which certainly undergird much of what he says (and which is well-summarized in the appendices), but which never lead him to conclusions contrary to the Church's magisterium. Most important, Grisez humbly declares that if his answers do lead in practice to judgments contrary to Church teaching, people should follow the Church, not his answers—the antithesis of what we get from dissenting moral theologians today who either explicitly or implicitly invite people to agree with them over against the Church. In short, Grisez has contributed yet again to the Church's growing repertoire of contemporary yet wholly orthodox works of Catholic moral theology.
—Mark Brumley, managing editor, Catholic Faith Magazine, vol. 5, no.2
Product Details
Title: The Way of the Lord Jesus
Author: Germain Grisez
Publisher: St. Paul's / Alba House
Volumes: 3
Pages: 2,938
About Germain Grisez
Germain Grisez, PhD, is the Harry J. Flynn Professor of Christian Ethics at Mount Saint Mary's College, Emmitsburg, Maryland. He received his BA at John Carroll University; his MA and PhL from the Dominican College of St. Thomas Aquinas; and his PhD from the University of Chicago. Along with philosopher John Finnis, who teaches at Oxford and Notre Dame, Grisez launched a new, theoretically sophisticated version of natural law theory, sometimes referred to as the "New Natural Law Theory."
Sample Pages from the Print Edition