The Puritan in Holland, England, and America (2 vols.)
The Puritan in Holland, England, and America (2 vols.)
•
Runs on Windows, Mac and mobile.
Overview
Douglas Campbell's classic two-volume work, The Puritan in Holland, England, and America, examines Puritanism—a product of reformation and producer of revolution—as the ideal that spurred the development of religious and civil freedom first in Holland, then in England and America. Campbell tells the story of how the initially persecuted Puritans' doctrine and beliefs became a cultural force that eventually helped develop the spirit of limited government, religious freedom, and mass public education. Campbell first grew interested in the topic in law school and it became a lifelong research project. He traveled to England and Holland, fulfilling professional duties and continuing his research on the side. He was finally able to record the text of his work when a permanent illness forced him out of actively practicing law. Campbell's passion shines in his logical writing and insight.
With Logos, Campbell's history is fully indexed for instant search results by word or topic. All of your dictionaries, encyclopedias, and other research tools are only ever a few clicks away. Supplement Campbell's classic account with the best in modern scholarship on church history, as well as other classic accounts of Puritan history, and primary Puritan sources. The best in Bible software is making study everywhere easier.
Key Features
Classic account of the spread and influence of Puritanism in Europe and America
Richly detailed and cohesive historical narrative
Individual Titles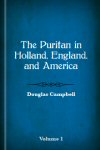 Contents
Preface
Introduction: The People and Institutions of the United States
Chapter I: The Netherlands and its People, Agriculture, Manufactures, Commerce, and Art
Chapter II: The Guilds, the Towns, the State, Education, Religion, and Morals of the Netherlands
Chapter III: Revolution in the Netherlands
Chapter IV: Independence Declared, Assassination of William of Orange, Religious Tolerance Established
Chapter V: England before Elizabeth
Chapter VI: Private Life, Education, Religion, and Morals in Elizabethan England
Chapter VII: Public Life, Administration of Justice, Trade, Treatment of Ireland, and Piracy in Elizabethan England
Chapter VIII: The Jesuits and the Puritans in England
Chapter IX: Queen Elizabeth and the Puritans
Chapter X: Dutch Influence on English Puritanism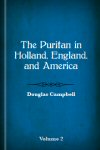 Contents
Chapter XI: The Scottish Kirk and Its Influence on English and American Puritanism
Chapter XII: The English in the Netherlands
Chapter XIII: The Invincible Armada
Chapter XIV: The Development of a National Puritan Literature in England
Chapter XV: Development of Puritanism, Calvinistic Theology, the Jewish Sabbath, and Civil Liberty under Elizabeth
Chapter XVI: The Brownists, the Baptists, and the Quakers
Chapter XVII: King James and the Puritans
Chapter XVIII: War in the Netherlands
Chapter XIX: War Concluded in the Netherlands
Chapter XX: The Netherland Republic
Chapter XXI: The Netherland Republic and the English Commonwealth
Chapter XXII: The Netherland Republic and the United States
Chapter XXIII: The Scotch-Irish, the Puritans of the South, Conclusion
Product Details
Title: The Puritan in England, Holland, and America
Author: Douglas Campbell
Edition: 4th, Revised and Corrected
Publisher: Harper & Brothers
Volumes: 2
Pages: 1,192
About the Author
Douglas Campbell was an attorney in nineteenth-century New England and a member of the American Historical Association. His work The Puritan in Holland, England, and America, was commended by British prime minister W. E. Gladstone as a "deeply interesting" work of "great value and importance."
More details about this resource