Ten Epochs of Church History (10 vols.)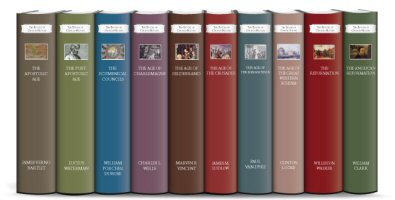 Overview
This collection presents detailed works by nineteenth-century writers describing 10 distinct eras of church history—from the missionary journeys of Paul to the Anglican Reformation. When it was released, the Ten Epochs of Church History series addressed a burgeoning sense of historic inquiry that marked that time period. Unlike the scholarly histories that came before, these fascinating accounts were written in hopes of engaging parishioners of all ages and backgrounds.
Volume one begins in AD 29 with the work of the apostle Paul and the first missionary journeys to Europe and Asia. The series continues with descriptions of Eusebius, Clement, and several other Church Fathers, as well as ecumenical councils that addressed major doctrinal issues throughout the Post-Apostolic age. Next, the influences of both Charlemagne and Hildebrand are examined followed by a detailed description of the Crusades. The informative yet accessible tone continues in volumes on the Renaissance, Great Western Schism, Reformation, and Anglican Reformation.
Before its publication, few church documents offered impartial, engaging historical narratives for the churchgoer. This collection presents both detailed factual information and the perspectives of prominent theologians of the time on that history—a valuable combination for any modern reader or scholar. The Logos edition makes this resource even more relevant, saving you time and strengthening your study. Move quickly from the table of contents to your desired section, and search entire volumes and collections by topic, title, or Scripture reference.
Key Features
Contains 10 volumes of engaging historical description and analysis
Covers major eras of church history from the Apostolic age to the Anglican Reformation
Includes extensive indexes in each volume
Product Details
Title: Ten Epochs of Church History
Editor: John Fulton
Publisher: Charles Scribner's Sons and Christian Literature Company
Volumes: 10
Pages: 4,640
About the Editor
John Fulton was an Episcopal author and lecturer, and editor of The Church Standard.
More details about these resources