Works of William Porcher DuBose (7 vols.)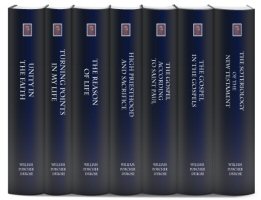 Overview
This collection contains the sermons and papers of the American Episcopal priest William Porcher DuBose. These seven works embody the legacy of DuBose, considered by many to be the greatest theologian the US Episcopal Church has produced.
The volumes in this collection are decidedly Christ-focused. Together, The Gospel in the Gospels and The Gospel according to Saint Paul offer a complete understanding of Jesus' life, demonstrating DuBose's keen expositional abilities and love for the Gospel. According to the author, "My own position is that, while the Gospel as an act or fact is complete in Jesus Christ himself, the rationale of its operation in human salvation is best interpreted and stated by St. Paul. My true objective point has, therefore, been the completer construction of the Gospel according to St. Paul." In High Priesthood and Sacrifice, DuBose examines the book of Hebrews in detail, always bringing his exposition back to the purpose, position, and work of Christ. The remaining volumes continue DuBose's study of Christology and soteriology, and also expand upon important topics such as the church's function, purpose, and ministry practices.
The Works of William Porcher DuBose is a valuable resource for church leaders, students of church history, or anyone interested in the development of early American Episcopalian thought. The Logos edition makes studying these works easier than ever. Perform comprehensive searches by topic to compare the perspectives of theologians and other scholars. Scripture text appears on mouseover in your preferred translation and clicking any word brings up reference information from lexicons and other resources in your library, saving time and adding depth to your research.
Key Features
Includes the major works of a great American Episcopalian theologian
Contains autobiographical reflections on DuBose's Civil War experience
Presents DuBose's complete construction of the Gospel
Product Details
Title: Works of William Porcher DuBose
Author: William Porcher DuBose
Volumes: 7
Pages: 2,026
About William Porcher DuBose
William Porcher DuBose (1836–1918) was born into a wealthy Huguenot family in South Carolina. He attended the Citadel and the University of Virginia, where he studied Greek and the other languages which supported his later work as a theologian. When the Civil War broke out, DuBose left seminary to serve as an officer and chaplain for South Carolina. He was wounded twice at the second battle of Manassas, taken captive, then later released.
An ordained priest, he served at St. Stephen's Episcopal Church near his home in Winnsboro, South Carolina after the war. In 1871, he became the chaplain of the University of the South, and in 1877 he began working as a professor in the department of theology he helped build. He served as dean from 1894 until his retirement in 1908.
More details about these resources