Select Expositions of Martyn Lloyd-Jones (3 vols.)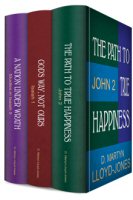 Select Expositions of Martyn Lloyd-Jones (3 vols.)
•
Baker 1998–1999
Runs on Windows, Mac and mobile.
Overview
This collection includes three works by D. Martyn Lloyd-Jones—one of the twentieth century's leading voices in British evangelical doctrine. A gifted preacher and writer, he served as minister of the Westminster Chapel in London for 30 years. The resultant wisdom and experience found in his written works has had a profound influence upon the Christian church and the lives of many worldwide. The volumes in this collection examine specific portions of Scripture—Isaiah 1 and 5, and John 2—providing clear expositions and practical applications. The Select Expositions of Martyn Lloyd-Jones is an invaluable resource for in-depth devotional reading, lesson preparation, or group Bible study.
The Logos version integrates seamlessly into your personal digital library and allows you to access dictionaries and other reference resources with a click. Read your preferred Scripture translation alongside Lloyd-Jones' texts for a more robust study of Isaiah 1, 5, and John 2.
Key Features
Offers exposition of Isaiah 1, 5, and John 2
Includes timeless Scripture applications and illustrations
Provides detailed examination of the six "woes" found in Isaiah 5
Individual Titles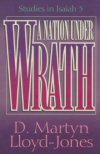 A Nation under Wrath: Studies in Isaiah 5
Author: Martyn Lloyd-Jones
Publisher: Baker
Publication Date: 1998
Pages: 190
The words of the prophet Isaiah fell upon deaf and stubborn ears 2,800 years ago—and they still do today. What can we discern from the prophetic warnings leveled at Israel nearly three millennia ago? Is the depravity that caused God's favored nation to ultimately earn his wrath paralleled by the patterns of sin in contemporary society?
In A Nation under Wrath, D. Martyn Lloyd-Jones focuses on the six "woes" of Isaiah 5—words that ring with chilling familiarity. He addresses the problems of a world that has turned its back on God: materialism, moral perversion, humanism, substance abuse, and sin in high places. He reflects upon the ways in which God dealt with the people of Israel and skillfully draws out principles to help us as we pray and work for a just society today. True to Lloyd-Jones' timeless style, these words resound with a contemporary note, challenging us to preach and live the Gospel in an age that is crying out for new hope.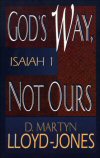 D. Martyn Lloyd-Jones was well known for his New Testament expositions, but in this book readers are given the rare opportunity to experience his skillful exploration of an Old Testament prophetic text. His expositions of Isaiah 1 provide a summary of Isaiah's entire message and of God's way of salvation. Lloyd-Jones lays out the root cause of human trouble and need, the false ways people try to escape from or meet it, and God's only way of real deliverance. This book's rich content—rooted in Scripture—is evangelistic as well as prophetic.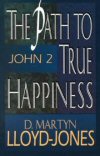 The Path to True Happiness: John 2
Author: Martyn Lloyd-Jones
Publisher: Baker
Publication Date: 1999
Pages: 224
In The Path to True Happiness, Martyn Lloyd-Jones expounds from John's Gospel in order to bring out its amazing theme: that we may have life more abundant through the coming of the Son of God into this world. Lloyd-Jones reveals that the path to true happiness and blessing comes through knowing Christ, who is presented in the Gospel of John. Preachers and Bible teachers, Christians looking for content-filled devotional reading on a popular section of Scripture, and anyone familiar with Lloyd-Jones's clear, inimitable style will appreciate this insightful exposition on the second chapter of John.
About Martyn Lloyd-Jones
D. Martyn Lloyd-Jones (1899–1981) is recognized as one of the last century's most gifted preachers and writers. Lloyd-Jones was influential in the Reformed wing of the British evangelical movement in the twentieth century.
Lloyd-Jones first studied medicine, but left that field and went to Wales in 1927 to follow his calling to preach. He became the minister of a Welsh Presbyterian Church in Abervon, South Wales where he ministered for a decade.
In 1929, Lloyd-Jones went to London where he was appointed the associate pastor of Westminster Chapel working alongside G. Campbell Morgan. This ministry lasted for 30 years until Lloyd-Jones retired in 1968. He is the author of several books and commentaries, including Exposition of Ephesians, the Studies in the Book of Acts series, and Seeking the Face of God.
More details about these resources