T&T Clark Anglican Church Life Collection (5 vols.)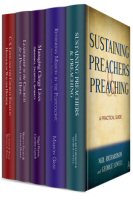 T&T Clark Anglican Church Life Collection (5 vols.)
•
Runs on Windows, Mac and mobile.
Overview
The T&T Clark Anglican Church Life Collection assembles a variety of resources for understanding the modern Anglican Church, its illustrious history, and those who are currently serving in it. The five volumes in this collection cover topics such as the role of the church in C. S. Lewis' life, modern church leadership, insights into the life of the clergy and ways to support them, and new perspectives on mission work in postcolonial regions. Whether you are a scholar, a student, clergy, or a layperson, these engaging works will be valuable additions to your library.
Logos Bible Software makes these texts easier to study than ever before. With Logos' advanced features, you can perform powerful searches by topic or Scripture reference—finding, for example, every mention of "shepherd" or "Matthew 28:19."
Key Features
Offers a variety of perspectives on the role of the church in C. S. Lewis' life
Includes practical guides for supporting preachers and clergy
Presents a "circumambulatory" method for viewing mission work
Individual Titles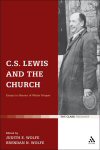 C. S. Lewis, himself a layperson in the Church of England, has exercised an extraordinarily wide influence on the faithful of Anglican, Roman Catholic, Evangelical, and other churches, all of whom tend to naturally claim him as one of their own. One reason for this diverse appropriation is the elusiveness of the church—in the sense both of his own denomination and of the wider subject of ecclesiology—in Lewis' writings.
The essays contained in this volume critically examine the place, character, and role of the Church in Lewis' life. The result is a detailed and scintillating picture of the interactions of one of the most distinctive voices in twentieth-century theology with the contemporaneous development of the Church of England—with key concepts in ecclesiology and interdenominational matters.
. . . a significant addition to the scholarly work on Lewis . . . The authors of this book typically strike just the right balance between a survey of the figure at the heart of the particular chapter and a presentation of some specific examples of their theological interests.
—Church Times
. . . this is a thought-provoking collection . . . and it stands well beside Hooper's own most impressive monument, the magnificent three-volume annotated edition of Lewis' letters.
—Oxford Journals
This collection of splendid essays portrays a deeply spiritual Lewis from many perspectives. It is an essential read for everyone with interest in any phase of his life.
—Theological Book Review, vol. 23, no. 2
Dr. Judith Wolfe is a fellow in theology at St. John's College at the University of Oxford. She has written widely on the interfaces between theology, philosophy, and literature. She is general editor of the Journal of Inklings Studies.
Brendan N. Wolfe is a past president and secretary of the Oxford C. S. Lewis Society and executive editor of the Journal of Inklings Studies (formerly the C. S. Lewis Chronicle). A DPhil candidate in late antique studies and historical linguistics at the University of Oxford, he is a regular contributor to the Bryn Mawr Classical Review and coeditor of two forthcoming volumes on C. S. Lewis.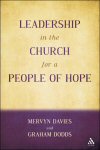 This volume offers a practical and theologically sound introduction to leadership in the church. Authors Mervyn Davies and Graham Dodds explore church leadership in the context of the twenty-first century and discuss how to adapt while still maintaining the fundamentals. Without simply importing a secular model, this work gives lessons from contemporary leadership studies and insights from the social sciences and history.
In times of tumultuous change—especially for the church—either insulation or invention is a natural response: reverting to assertions about eternal truth, or casting about in hopes of catching current wisdom. This book takes neither course; rather, by surveying a wide range of theologians from ages past and present, it provides an historical warrant for employing creative imagination in developing Christian leaders. This book is an especially articulate appeal for the role of empowered lay leadership in the reformation of the Church
—David J. Schlafer, Homiletical Formation
Mervyn Davies is scholar-in-residence at Sarum College, Salisbury, and honorary senior lecturer in the Department of Theology and Religious Studies at Bristol University, UK.
Dr. Graham Dodds is principal of the School of Formation, Diocese of Bath and Wells, and an advisor of the bishop of Bath and Wells in educational matters.
Managing Clergy Lives: Obedience, Sacrifice, Intimacy
Authors: Nigel Peyton and Caroline Gatrell
Publisher: T&T Clark
Publication Date: 2013
Pages: 216
Managing Clergy Lives gives a unique insight into the everyday lives of Church of England parish priests. It examines how male and female priests manage their everyday commitments to God, the church, and their personal relationships. This book shows how the vocational commitment of priests to their ordinal vows remains steadfast in a quickly changing world. For today's clergy, the ordained life means obedience, sacrifice, and a loss of intimacy, embodied in spiritual self-discipline and the ultimate dedication of body and soul to God.
Written by an Anglican bishop in Dundee and a senior lecturer from Lancaster University, Managing Clergy Lives opens a window into clergy households in terms of personal relationships, spirituality, and work–home balance. Drawing upon in-depth interviews with 46 rural deans, this work reports their everyday experiences in their own words. The book reveals stories behind the enduring commitment within the Church and gets behind the scenes in order to understand the staying power of men and women who are "becoming priests" over the course of a lifetime.
Dr. Nigel Peyton is a widely experienced Anglican priest and was archdeacon of Newark in the Diocese of Southwell and Nottingham. For his doctorate, he researched the enduring vocational commitment of contemporary Church of England parish clergy, engaging practical theology with the social sciences and critical management insights. In 2011, he was elected bishop of Brechin in the Scottish Episcopal Church.
Dr. Caroline Gatrell is senior lecturer in the School of Management at Lancaster University. Her research centers on relationships in the context of the body, health, work–life balance, family practices, and employment. She is the author of Hard Labour: The Sociology of Parenthood and Embodying Women's Work.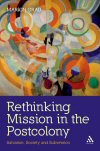 Blending astute analysis with detailed case studies, Marion Grau presents an original perspective on mission work in postcolonial lands. Grau explains, "I have been interested in what shapes and forms religious and cultural identities, what Christian mission has meant in the past, and what its postcolonial incarnations might look like." Exchanges between missionaries and Zulu and Maori people are used to illustrate the conflicted religio-cultural identity formation that occurs in postcolonial regions.
Rethinking Mission in the Postcolony remains a well-researched and, due [to] its circumambulatory method, refreshingly nonlinear monograph. Careful readers will be exposed to a selection of theoretical and historical analyses that can help to both expose the complexities involved in cross-cultural contact and craft a polydox theology of mission.
—Journal of Postcolonial Networks
Marion Grau is associate professor of theology at the Church Divinity School of the Pacific, a member school of the Graduate Theological Union in Berkeley.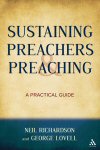 George Lovell and Dr. Neil G. Richardson have written a comprehensive guide to supporting preachers to better serve their congregations. This work covers everything from sustainable, effective preaching to building support service networks to the public life of a preacher. It blends theology with practical experience, resulting in a useful tool for preaching in the modern world.
This is a page turner—sweeping us along with its energy, uncovering one layer after another, introducing us to one facet of truth after another. Yet it also stands as a work of reference, a text book, a vade mecum. Two seasoned preachers have laid bare their art and we can all feel inspired, encouraged, goaded, [and] challenged by their work.
—Lord Griffiths, superintendent minister, Wesley's Chapel, London
The book . . . will be useful for those who teach preachers and those responsible for providing refresher courses.
—Theology, vol. 115, no. 1
Whether you are looking for a more manageable creative process or aspire to start a school for preachers, there is plenty here to help a preacher think more carefully about it—and more clearly.
—Jana Childers, professor, San Francisco Theological Seminary
George Lovell is a Methodist minister and consultant in the field of ministry and mission. He has published widely and was awarded a Lambeth Palace Doctor of Divinity degree by the Archbishop of Canterbury in 2006.
Dr. Neil G. Richardson was tutor in New Testament studies and later principal of Wesley College in Bristol. He served as president of the British Methodist Conference in 2003–2004.
Product Details
Title: T&T Clark Anglican Church Life Collection
Publisher: T&T Clark
Volumes: 5
Pages: 1,192
More details about these resources