Zondervan Textbook Bundle (8 vols.)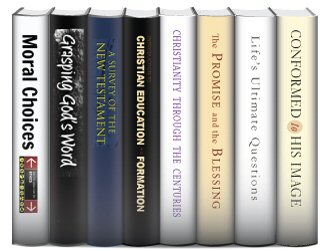 Overview
The Zondervan Textbook Bundle provides everything a first-year or second-year Bible college student would need in the course of their studies. Spanning Christian history, philosophy, ethics, New and Old Testament studies, and spiritual formation, these texts have established themselves as high standards for their respective fields.
Whether you're a professor, pastor, student, or interested layman, these texts give you introductory access to college-level curricula. Discover the latest text to use in your coursework, or add these texts to your reading to grasp a better understanding of the subject matter that's relevant to you. The Zondervan Textbook Bundle puts these subjects at your fingertips.
In Logos, these texts become open doorways to greater learning. Explore Greek and Hebrew words with a click, and, with mouseover, follow references to the Bible, primary source texts, or other modern texts in your library. Take notes on any page, and they automatically sync across devices, showing your notes whether you're on your tablet, smartphone, or computer. Logos makes learning fast, convenient, and fun.
Key Features
Standard textbooks for college-level studies in multiple fields
The latest editions of some of the most widely used texts
Logos digital editions for syncing, fast searches, and better management of your notes
Product Details
Title: Zondervan Textbook Bundle
Publisher: Zondervan
Volumes: 8
Pages: 3,936
Moral Choices: An Introduction to Ethics
Author: Scott Rae
Edition: 3rd
Publisher: Zondervan
Publication Date: 2009
Pages: 384
With its unique union of theory and application and its well-organized, easy-to-use design, Moral Choices has earned its place as the standard text for college ethics courses. This third edition offers extensive updates, revisions, and brand new material, all designed to help students develop a sound and current basis for making ethical decisions in today's complex postmodern culture.
Moral Choices outlines the distinctive elements of Christian ethics while avoiding undue dogmatism. The book also introduces other ethical systems and their key historical proponents, including Plato, Aristotle, Augustine, Thomas Aquinas, and Immanuel Kant.
After describing a seven-step procedure for tackling ethical dilemmas, author Scott Rae uses case studies to address some of today's most pressing social issues. He guides students in thinking critically and biblically about:
Abortion
Reproductive technologies
Euthanasia
Capital punishment
Sexual ethics
The morality of war
Genetic technologies and human cloning
Ethics and economics
Scott Rae (PhD, University of Southern California) is professor of Christian ethics at Talbot School of Theology, Biola University, La Mirada, California.

Grasping God's Word: A Hands-On Approach to Reading, Interpreting, and Applying the Bible
Authors: J. Scott Duvall and J. Daniel Hays
Edition: 3rd
Publisher: Zondervan
Publication Date: 2012
Pages: 512
Grasping God's Word has proven itself in classrooms across the country as an invaluable help to students who want to learn how to read, interpret, and apply the Bible for themselves. The third edition, revised based on feedback from professors, will continue to serve college-level students and lay learners well in their quest to gain a firm grasp on the rock of God's word. Old Testament scholar J. Daniel Hays and New Testament expert J. Scott Duvall provide practical, hands-on exercises to guide students through the interpretive process. To emphasize the Bible's redemptive arc and encourage correlation across the canon, the authors have included a call to "cross into the rest of Scripture" as an additional step in the interpretive journey. This edition has also been rearranged for clarity and includes updated illustrations, appendices, bibliography, and assignments.
J. Scott Duvall is professor of New Testament at Ouachita Baptist University. He is the coauthor with George H. Guthrie of Biblical Greek Exegesis: A Graded Approach to Learning Intermediate and Advanced Greek and with Terry G. Carter and J. Daniel Hays of the textbook Preaching God's Word: A Hands on Approach to Preparing, Developing and Delivering the Sermon.
J. Daniel Hays is dean of the Pruet School of Christian Studies and professor of Old Testament at Ouachita Baptist University. He is the author of From Every People and Nation, and he has co-authored Grasping God's Word; Preaching God's Word; Journey into God's Word; The Story of Israel: A Biblical Theology; Iraq: Babylon of the End Times?; Apocalypse; and The Dictionary of Biblical Prophecy

Survey of the New Testament
Author: Robert H. Gundry
Edition: 5th
Publisher: Zondervan
Publication Date: 2012
Pages: 592
Robert Gundry's now-classic survey of the New Testament has been a mainstay for college and graduate courses around the world, having been used by thousands of professors and students. This fifth edition includes updates and revisions throughout and a fresh, full-color design. One thing about A Survey of the New Testament that has not changed: its premise. Unlike most New Testament surveys, this book leads students to actually read the Bible. Topics and issues discussed in the text are linked whenever possible with assigned readings that expose the reader to the entire New Testament. Comments on the readings provide additional help. This latest digital work includes these new and improved features:
New full-color design with more photos and improved maps
Links to relevant websites
Outlines, study goals, summaries, and review questions for each chapter
Phonetic pronunciations for unfamiliar names and terms
Breakouts with illustrative quotes from ancient, nonbiblical literature
Updated bibliographies
Robert H. Gundry is a scholar-in-residence and professor emeritus of New Testament and Greek at Westmont College in Santa Barbara, California. Among his books are Mark: A Commentary on His Apology for the Cross; Matthew: A Commentary on His Handbook for a Mixed Church Under Persecution, Soma in Biblical Theology, and Jesus the Word According to John the Sectarian.

Introduction to Christian Education and Formation: A Lifelong Plan for Christ-Centered Restoration
Author: Ronald T. Habermas
Publisher: Zondervan
Publication Date: 2008
Pages: 256
A bold and unique hybrid among resources for Christian educators, students, and pastoral staff, this enterprising book blends the voices of a single author and ten contributing experts into a global conversation on Christian formation and nurture. It effortlessly transcends all ages and all cultures, as it positions Christianity vibrantly alive from cradle to grave.
This introductory text on Christian education-formation includes extensive graphical illustrations and accompanying online appendixes, providing a wealth of resources not only to be used in the classroom but to be lived out in the life of the church in the world.
Ronald T. Habermas has taught in Christian higher education for more than 25 years and he has served on the staff of local churches for more than a dozen years. He is a member of the North American Professors of Christian Education and holds degrees from William Tyndale College, North American Baptist Seminary, Wheaton Graduate School, and Michigan State University. Dr. Habermas is the author of many journal articles and several books including The Complete Disciple. Currently he researches and writes on various projects, while doing adjunct teaching.

Christianity through the Centuries: A History of the Christian Church
Author: Earle E. Cairns
Edition: 3rd
Publisher: Zondervan
Publication Date: 1996
Pages: 560
Building on the features that have made Christianity Through the Centuries an indispensable text, the author not only explains the development of doctrines, movements, and institutions, but also gives attention to "the impact of Christianity on its times and to the mark of the times on Christianity." The third edition of Christianity Through the Centuries brings the reader up-to-date by discussing events and developments in the church into the 1990s. This edition has been redesigned with:
New chapters examine recent trends and developments (expanding the last section from 2 chapters to 5)
New photos, with over 100 photos in all—more than twice the number in the previous edition
Twenty-one new-and-improved maps and 39 charts
Earle E. Cairns (PhD, University of Nebraska) was professor emeritus at Wheaton College in Wheaton, Illinois. He was a member of the American Society of Church History, the American Historical Association, and the Conference on Faith and History.

The Promise and the Blessing: A Historical Survey of the Old and New Testaments
Author: Michael A. Harbin
Publisher: Zondervan
Publication Date: 2005
Pages: 688
The Bible is a collection of writings that together tell a unified story. But exactly how do all the pieces fit together?
In a single volume, The Promise and the Blessing connects the dots of the Old and New Testament books to reveal the big picture of salvation history. Organized chronologically rather than canonically, this book traces the flow of Israel's history and shows how the New Testament proceeds out of the Old. It begins with God's creation of the cosmos and the initial problem of the fall of man. Then it traces God's solutions to that problem as he selects first one man, Abraham, then his line, and then the nation of Israel to provide the Messiah. Finally, it focuses on the Messiah himself and looks at how the gospel of Jesus was spread throughout the known world.
The Promise and the Blessing is easy to use and ideal for anyone who wants to understand the grand narrative of the Bible. It features numerous beautiful, full-color photos, as well as sidebars and brief, fascinating breakouts of supplementary information. Maps, illustrations, summaries, and insightful notes help to illuminate the text.
Field-tested in the classroom, The Promise and the Blessing is designed for Old and New Testament survey classes and will provide all readers of the Bible with a better understanding of how the drama that began in Eden winds through Israel's history to its fulfillment in Jesus Christ.
Michael A. Harbin (ThD and ThM, Dallas Theological Seminary) is the chair of the biblical studies, Christian education, and philosophy department at Taylor University, and is the author of To Serve Other Gods.

Life's Ultimate Questions: An Introduction to Philosophy
Author: Ronald H. Nash
Publisher: Zondervan
Publication Date: 1999
Pages: 400
Life's Ultimate Questions is unique among introductory philosophy textbooks. By synthesizing three distinct approaches—topical, historical, and worldview/conceptual systems—it affords students a breadth and depth of perspective previously unavailable in standard introductory texts. A basic textbook on introduction to philosophy, Life's Ultimate Questions is from a renowned teacher and communicator and can be used in Christian and secular classrooms alike. This book explores:
The philosophies of naturalism, Plato, Aristotle, Plotinus, Augustine, and Aquinas
The Law of Noncontradiction
The existence of God
The mind-body problem and survival after death
Epistemology, truth, indeterminism, ethics, human nature, and more
Ronald H. Nash (PhD, Syracuse University) was professor of philosophy at Southern Baptist Theological Seminary in Louisville, Kentucky. He is the author of numerous books, including The Concept of God and Faith and Reason.

Conformed to His Image: Biblical and Practical Approaches to Spiritual Formation
Author: Kenneth D. Boa
Publisher: Zondervan
Publication Date: 2001
Pages: 544
What does a relationship with God look like and how do we obtain it? It is vital for church leaders to grapple seriously with this question, for pat answers no longer suffice. Lives well-lived, not just words eloquently spoken, must become our response. The quality of our relationship with God is what will influence the health, potency, and witness of the church in an increasingly complex and hostile world.
Designed for use as a college or seminary course, Conformed to His Image helps us build our lives on a fully biblical perspective. Exploring twelve approaches to Christian spirituality in depth, Dr. Kenneth Boa corrects our tendency to pick and compartmentalize. Pointing the way instead to an integrative, whole-life approach, Dr. Boa shows how each spiritual paradigm discussed is just one important facet in the gem of authentic and powerful New Testament living.
With chapter overviews and objectives, questions for personal application, a glossary, and a list of key terms, Conformed to His Image will prove a defining text for the student, pastor, and church leader of today—and tomorrow.
Kenneth D. Boa is engaged in a ministry of relational evangelism and discipleship, teaching, writing, and speaking. He holds a BS from Case Institute of Technology, a ThM From Dallas Theological Seminary, a PhD from New York University, and a DPhil from the University of Oxford in England. Dr. Boa is the President of Reflections Ministries, an organization that seeks to provide safe places for people to consider the claims of Christ and to help them mature and bear fruit in their relationship with Him. He is also president of Trinity House Publishers.