Joan of Arc Collection (2 vols.)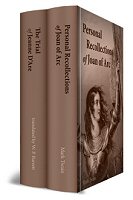 Overview
In the history of the world, there has never been another like Joan of Arc. Her God-ordained mission to liberate fifteenth-century France from English occupation is the subject of historical and theological debate, along with the legitimacy of the surviving source texts. Yet despite the historical difficulties, her life and influence in fifteenth-century France has been well documented, and her influence on Western civilization—and even medieval Christianity—is undeniable.
Discover Joan of Arc through her own words and through the pen of Mark Twain. The Joan of Arc Collection brings you the translated manuscripts of her condemnation trial, where she represented herself in her defense, as well as the thoroughly researched and gripping novelization of her life, Personal Recollections of Joan of Arc.
The Logos editions of these works provide remarkable insight to her life and trial. French or Latin words in these texts can be looked up instantly by dictionaries in your library, and similar documents can be viewed side by side in Logos' desktop or mobile apps.
Key Features
Provides accurate translations of her trial proceedings, including her own words
Includes the popular novel by Mark Twain
Individual Titles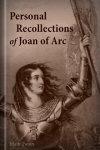 Written from the perspective of Sieur Louis de Conte—Joan of Arc's ficticious secretary—this beloved novel stands as a respected source of well-researched, yet ficticious, narrative. Originally published anonymously (Twain feared if readers saw his name, they would expect a humorous narrative), this volume has since seen dozens of reprints, republications, and a massive distribution. The novel follows three main phases of her life: her youth, her time as commander of the French military, and her trial and execution. The whole work is presented as a translation of a journal kept by the ficticious Sieur Louis de Conte, translated by the ficticious Jean Francois Alden.
To us in [the United States], Joan is the greatest woman that ever lived. But to France she is the very life, the very spirit of the nation. To understand the France of today you must know Joan of Arc and her glorious story. Never in the history of the world has there been such another. And through all the centuries, no one told her story in all its majesty and simplicity until it was told by an American; Mark Twain. . . . Read Joan of Arc if you would know Mark Twain in all his greatness—the most amazing story in the world—accurate as history, spiritual in idea, beautiful in execution.
—Harper & Brothers, publishers
Mark Twain (1835–1910), born Samuel Langhorne Clemens, is one of the most renowned American novelists of the nineteenth century. Famous for The Adventures of Tom Sawyer and Adventures of Huckleberry Finn, Twain wrote over a dozen novels, hundreds of short stories, essays, plays, poems, children's books, travel guides, and more. He was an adamant supporter of abolition, spoke out against imperialism, criticized organized religion, and dabbled in new sciences and technology. He is widely regarded as one of America's foremost novelists.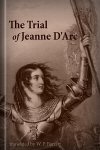 The Trial of Jeanne D'Arc
Translator: W.P. Barrett
Publisher: Gotham House
Publication Date: 1932
Pages: 544
A standard reference source for historical research on Joan of Arc, this volume is an English translation of one of the Latin copies of the first trial of Joan of Arc—also known as the "condemnation trial"—where the English-supporting Inquisition found Joan guilty of heresy and condemned her to death at the stake.
The trial record demonstrates astounding intellect from the 19-year-old Christian girl with a peasant background. When asked under oath whether she was in God's grace, she answered: "If I am not, may God put me there; and if I am, may God so keep me," thus evading the scholarly trap they had set for her. If she had simply answered "no," she would have confessed her own guilt; if she had said "yes," she would have convicted herself of heresy (Church doctrine held that no one could be certain of being in God's grace).
Product Details
Title: Joan of Arc Collection
Volumes: 2
Pages: 1,024
About Joan of Arc
Joan of Arc (1412–1431) (Jeanne d'Arc in French) was born in Domrémy, a village in northeastern France. She is widely recognized throughout history as a renowned military leader, as a Christian mystic and saint, and is the most thoroughly documented person of her century. To this day, she has been the only person—of either sex—to lead a national army against another nation's army at the age of 17.
Joan was said to have spoken with angels, and that these angels either inspired or instructed her to fight against the English occupation of France. She took up arms and led the French armies against English occupational forces, driving them out of Orleans in a stunning and unexpected victory. Because of this victory, she is commonly referred to as "the Maid of Orleans" (la Pucelle d'Orleans in French). She proceeded to liberate Troyes and captured strategic bridges along the route to Reims, which lay deep within English territory. After reclaiming Reims from the English, she was personally invited to the coronation of King Charles VII, the heir to the French throne.
She was later captured by the English in the battle at Margny. She was tried under Bishop Pierre Cauchon of Beauvais, a supporter of the English occupation, who unfairly tried her for heresy—the only charge that was worthy of the death penalty. She was condemned and burned at the stake at just 19 years of age in Rouen, France, on May 30th, 1431.
Joan of Arc is the subject of much modern-day criticism and admiration. This dynamic 19-year-old has been the source of constant inspiration across Western civilization, being featured by Shakespeare, Voltaire, Tchaikovsky, George Bernard Shaw, Mark Twain, Leonard Cohen, and many, many more. She is honored as a saint in Catholic and Anglican traditions, has been nationally recognized by French leaders since Napoleon, and is frequently featured in contemporary pop culture and media.
More details about these resources