Eisenbrauns Old Testament Studies Collection (3 vols.)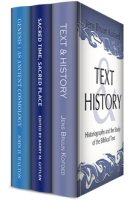 Eisenbrauns Old Testament Studies Collection (3 vols.)
•
Runs on Windows, Mac and mobile.
Overview
The Eisenbrauns Old Testament Studies Collection will add to your understanding of Old Testament culture while also addressing significant, sometimes controversial, topics of modern scholarship. The ancient Near Eastern mode of thought is not at all intuitive to modern readers, but our understanding of ancient perspectives can only approach accuracy when we penetrate ancient texts on their own terms rather than imposing our modern worldview. This collection's three volumes use thorough research and analysis to draw connections between archaeology, historical culture studies, and specific Scripture passages.
With Logos Bible Software, this collection is completely searchable, making the text more powerful and easier to access for scholarly work and personal study. Scripture text appears on mouseover in your preferred translation, and the Logos version integrates into your digital library, so your dictionaries and other reference tools are only ever a click away.
Key Features
Analyzes specific Old Testament passages in relation to ancient cultural context
Discusses the relationship between archaeology and the dating of biblical texts
Includes a range of scholarly perspectives
Individual Titles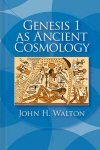 In Genesis 1 as Ancient Cosmology, John Walton presents comparative studies of ancient texts and their cosmologies. The first half of the book focuses on the ancient texts that inform our understanding of Near Eastern cosmology. Egyptian, Sumerian, and Akkadian texts are the primary focus, but occasionally Ugaritic and Hittite are included as appropriate. Walton posits that functional ontology was pervasive in ancient writing because bringing about order and functionality was the very essence of creative activity.
The second half of the book is devoted to a fresh analysis of Genesis 1:1–2:4. Walton studies significant Hebrew terms and shows that, like the rest of the ancient Near East, the Israelite texts use a functional cosmology that is constructed with temple ideology in mind. He contends that Genesis 1 was never an account of material origins but that, as in the rest of the ancient world, the purpose of this "creation text" was to outline functions for the components of the cosmos. All of this demonstrates that, when we read Genesis 1 as the ancient document it is rather than trying to read it in light of our current world view, the text recovers the energy it had in its original context. At the same time, it provides a new perspective on Genesis 1 in relation to what have long been controversial issues.
The book makes an important contribution to the understanding of Genesis 1 in its ancient Near Eastern context and makes some provisional steps towards 'a more vital biblical theology of creation.'
—Izaak J. de Hulster, researcher, University of Göttingen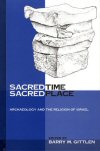 Sacred Time, Sacred Place is a collection of 12 scholarly papers from the American Schools of Oriental Research. These works bring together the disciplines of archaeology and biblical studies, encourage and enhance dialogue on the subject, and begin a study of Israelite religion based on new methods of examining textual and archaeological data.
The studies are based around four themes: the relationship between text and artifact; the relationship among images, archaeology, and religion; how holy places, particularly temples, can be better understood through contemporary structural studies; and death—how mortuary practices, texts concerning beliefs about the dead, and a comparison of the various sources of data can lead us to a fuller understanding of the experience of death and dying among the Israelites. Articles include:
"Religion Up and Down, Out and In" by Jonathan Z. Smith
"Theology, Philology, and Archaeology: In Pursuit of Ancient Israelite Religion" by W. G. Dever
"Philology and Archaeology: Imagining New Questions, Begetting New Ideas" by Ziony Zevit
"Israelite Figurines: A View from the Texts" by Karel van der Toorn
"On the Use of Images in Israel and the Ancient Near East: A Response to Karel van der Toorn" by Jack M. Sasson
"Preamble to a Temple Tour" by Ziony Zevit
"Solomon's Temple: The Politics of Ritual Space" by Elizabeth Bloch-Smith
"The Four-Horned Altar and Sacred Space: An Archaeological Perspective" by Seymour Gitin
"Ritual as Symbol: Modes of Sacrifice in Israelite Religion" by Baruch A. Levine
"Death in the Life of Israel" by Elizabeth Bloch-Smith
"Tombs and Offerings: Archaeological Data and Comparative Methodology in the Study of Death in Israel" by Wayne T. Pitard
"How Far Can Texts Take Us? Evaluating Textual Sources for Reconstructing Ancient Israelite Beliefs about the Dead" by T. J. Lewis
This collection of essays places the ancient Israelite religion both methodologically and spatially in a broader context and will be useful not just to biblical scholars but to every student of religion.
—Pavel Cech, lecturer, Charles University, Prague
Barry M. Gittlen received his PhD from the University of Pennsylvania and has been involved with field archaeology in Israel for decades. Dr. Gittlen is chairman of the Mid-Atlantic region of the American Schools of Oriental Research and teaches at Towson University.

During the past two or three decades, the value of the Hebrew Bible as a testimony to the history of Israel has come under siege. As the date of the text has been pushed later and later, often into the Hellenistic era, it has been devalued accordingly. In Text and History, Jens Bruun Kofoed steps forward to address the methodological issues that lie behind the use of the biblical text as a source for historical information. He describes methods for using the biblical text honestly, and by both discussing presuppositions underlying various methodologies and evaluating specific test cases, shows that a late date does not reduce the text's value as a source of historical information. Taking modern genre research and authorial intent into account opens new vistas for evaluating the reliability of ancient texts and creates a way forward from the current impasse.
Text and History represents a substantial effort toward ending the impasse that has gripped the debate over the use of biblical texts in the study of the history of ancient Israel. Recognizing the acute need for a careful study of the assumptions and principles underlying historiographic practice within the biblical guild, Kofoed offers such a study, with results that will be helpful to historically interested biblical scholars of any methodological and philosophical persuasion and that should, as the author hopes, offer a useful springboard for future research.
—D. Matthew Stith, pastor, Community Presbyterian Church
Kofoed may be commended for his careful scholarship. He asks the questions of an honest historian. No historian is impartial, and Kofoed is no exception. He seeks a strong argument for concluding decisively that Kings reports accurate history. However, while his desire motivates him to find conclusive evidence, he does not push further than warranted and is always willing to offer more modest conclusions than it appears he had hoped for.
—Michael R. Licona, associate professor in theology, Houston Baptist University
Jens Bruun Kofoed lectures at the Copenhagen Lutheran School of Theology.
Product Details
Title: Eisenbrauns Old Testament Studies Collection
Publisher: Eisenbrauns
Volumes: 3
Pages: 780
More details about these resources